Bay Area Sloop 'Pursuit' Brings Back Fond Memories
Last month we shared the news that the beautiful M-Class sloop Pursuit is looking for a new owner (or owners) who can bring the boat back up to her rightful glory and race readiness. Milly Biller commented on the story, "I wish I was a millionaire. I see no more noble way for someone richer than I to spend their money." And Memo Gidley shared a memory of Pursuit and her former owner, Ron MacAnnan. "I remember Ron as a good friend of my dad, and wish Ron was still around adding some great character and personality to the Sausalito waterfront and the S.F. Bay. And the same goes for Pursuit, a great-looking vessel to see! I hope she finds a new owner to get her back out on the water!"
We also heard from Bay Area sailor Fred Huffman (star of a recent Good Jibes podcast episode), who also remembers seeing Pursuit in her glory days.
"I remember this beautiful yacht from my childhood in San Pedro when she was docked in California Yacht Anchorage in the 1940s and '50s. I never sailed on Pursuit, but she was certainly the belle of the fleet.
"I remember that in the late 1950s and early 1960s there were three M-Boats racing, sometimes racing against one another, in races in Southern California. (I must point out that I might be off in my years by a decade or two.) The three were Pursuit, Windward (her hull was varnished) — tragically, Windward went aground and was totally wrecked on the beach in Yelapa Bay, near Puerto Vallarta — and [the third] Patalita.
"Patalita was purchased by Howard Ahmanson, who renamed her Barlovento and brought her up to 'yacht' and racing condition. He raced her extensively, including races deep into Mexico, and Transpac races. I had several friends who raced on her, including my longtime sailing buddy Boo Hanratty. (Boo and I are the same age and we still sail together all the time.)"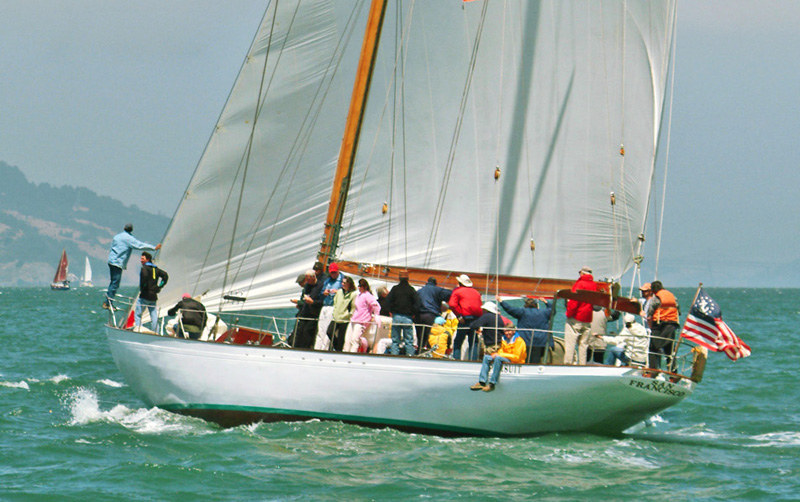 "Sometime in the early '70s Pursuit had been entered in the ocean race from Long Beach to Mazatlán. To prepare her for the race, she was hauled out in San Pedro Boat Works for over a month as the yard workers worked on her for hundreds of man-hours, striving to get her in shape to make the boat seaworthy and more or less race-ready in time to make the start line.
"The final days they worked on Pursuit literally around the clock and, incredibly, they launched the boat only a day or two before the start as the work continued. On race day the crew threw the sails aboard and somehow they made it to the start area.
"Coincidently, Barlovento was also entered in the race, and although both boats were M-Class sloops, in total contrast to Pursuit's seemingly haphazard and rushed race preparations, Barlovento was in perfect racing trim, and with her usual highly experienced crew aboard she was ready to smother her ridiculous rival in the six-day race to Mazatlán.
"So what happened? The long and short of it is that Pursuit thoroughly outsailed Barlovento and beat her to the finish line in Mazatlán. That was really one of the craziest outcomes of any race I can recall — and there are dozens and dozens of races in my mental race journal.
"Some months after Ron's death, I saw Pursuit 'on the hard' in a shipyard in Richmond, and she definitely looked like she needed a complete rebuild. I'll be surprised if somewhere in this world there isn't a super-rich person who will take on the massive challenge to restore Pursuit. Such things are happening all the time these days."
Sadly, Ron MacAnnan died in 2018. It was reported in SFGate that he drowned after falling from Pursuit into the water at the Sausalito Yacht Harbor. He was 92.
Receive emails when 'Lectronic Latitude is updated.
SUBSCRIBE