Problems with Mexican Paperwork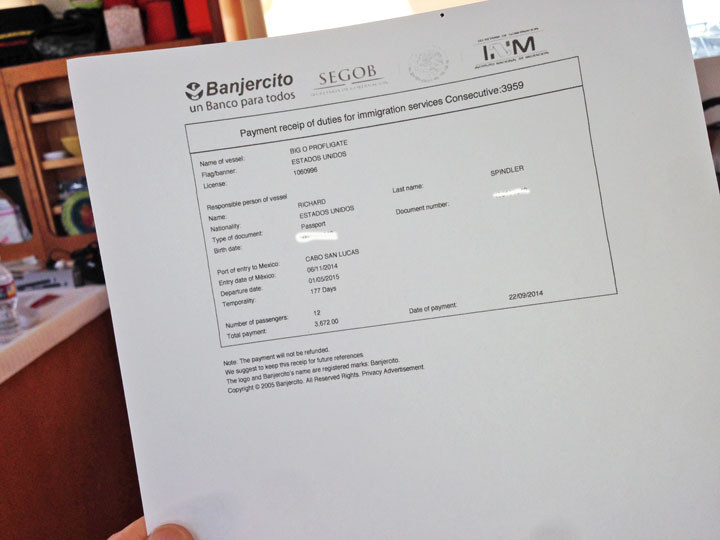 There are two important documents you need when cruising Mexico. The first is your tourist visa. The second is a Temporary Import Permit (TIP) for your boat.
If you already have a boat in Mexico with a TIP, you'll almost certainly want to get a new TIP. That's because starting with next year, if your boat has a dinghy and outboard, or a sailing dinghy, or a Jet Ski less than 4.5 meters, they have to be listed on your TIP or they will be considered to have been imported without duty having been paid. You're going to need registration numbers for everything.
TIPs cost about $50 and are available online or at a Banjercito (the Mexican military bank.) At least they are supposed to be available online. More on that in a minute.
This morning we went online and applied for a tourist visa and for a new TIP for Profligate. We got halfway there.
Getting a tourist visa was, after some mild confusion with the form, not too difficult and didn't take more than 10 minutes. When they asked for Port of Entry, they listed 'Baja California Sur', which is good for everyone doing the Baja Ha-Ha. The key thing to remember is each crew member needs to apply for a tourist visa separately, and to keep the receipt. Keeping the receipt is critical, because that's what you'll trade at Immigration for a 'real' tourist visa.
We didn't have as much luck getting a TIP. But the first thing to remember is to apply at www.banjercito.com.mx/registroVehiculos. And yes, this is a site for "Vehicles," but it's for boats, too.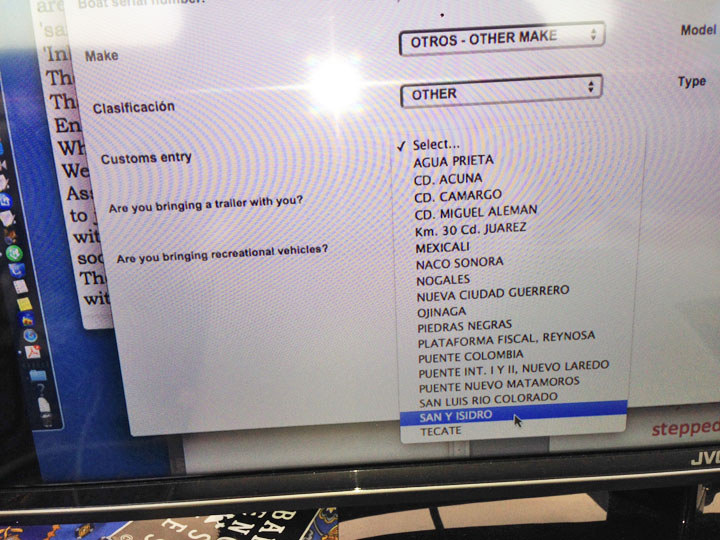 The first problem that some people run into is that there is a pull-down menu for Boat Manufacturer, but hardly any sailboat manufacturers' names are included. Fortunately, there is a place for "Otros." Select that. When it comes to type of boat, "Sailboat" is inexplicably missing. Select "Otros" again. If you keep going, under Classification, you'll be able to pick "Inboard Sailboat."
There is also a place for Port of Entry, and wonder of wonders, it includes "Baja California Sur." Alas, when you get down a little farther, it asks for the Customs Entry, and all the places listed are landlocked, such as Tecate. No Cabo. No Ensenada. At this point we stopped the application process. This problem has been known for months. Why it hasn't been corrected is beyond us.
We are currently consulting with Tere Grossman, President of the Mexican Marina Owners Association, who is asking government officials what mariners are supposed to do. Perhaps they will tell us to just pick a Customs Entry like "Tecate." Or perhaps they'll tell everyone to wait until they get to a place with a Banjercito, be it Ensenada, La Paz or Mazatlan. Cabo doesn't have one. We'll let you know in 'Lectronic as soon as we find out, and we'll be sending an email to all Ha-Ha entries.
There is no reason to freak out at this point, as the normal procedure is for applicants to get their TIP within seven business days of applying. But time is running short, so stay tuned.
Receive emails when 'Lectronic Latitude is updated.
SUBSCRIBE