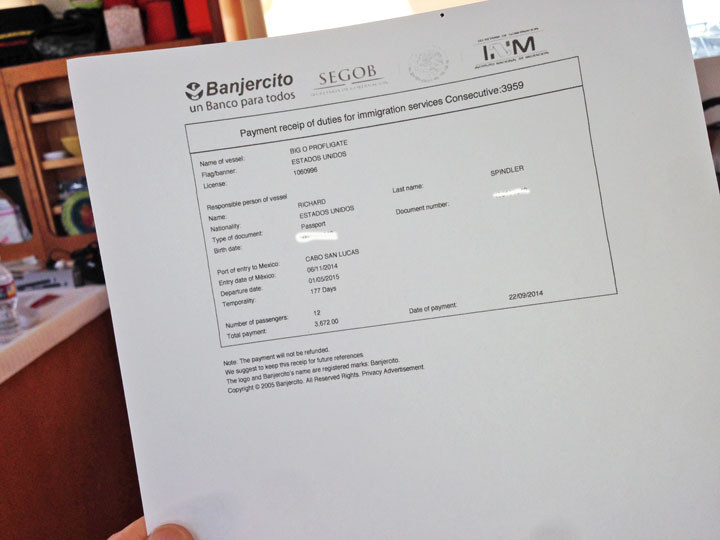 There are two important documents you need when cruising Mexico. The first is your tourist visa. The second is a Temporary Import Permit (TIP) for your boat.
If you already have a boat in Mexico with a TIP, you'll almost certainly want to get a new TIP. That's because starting with next year, if your boat has a dinghy and outboard, or a sailing dinghy, or a Jet Ski less than 4.5 meters, they have to be listed on your TIP or they will be considered to have been imported without duty having been paid. You're going to need registration numbers for everything.
TIPs cost about $50 and are available online or at a Banjercito (the Mexican military bank.) At least they are supposed to be available online. More on that in a minute.
This morning we went online and applied for a tourist visa and for a new TIP for Profligate. We got halfway there.
Getting a tourist visa was, after some mild confusion with the form, not too difficult and didn't take more than 10 minutes. When they asked for Port of Entry, they listed 'Baja California Sur', which is good for everyone doing the Baja Ha-Ha. The key thing to remember is each crew member needs to apply for a tourist visa separately, and to keep the receipt. Keeping the receipt is critical, because that's what you'll trade at Immigration for a 'real' tourist visa.
We didn't have as much luck getting a TIP. But the first thing to remember is to apply at www.banjercito.com.mx/registroVehiculos. And yes, this is a site for "Vehicles," but it's for boats, too.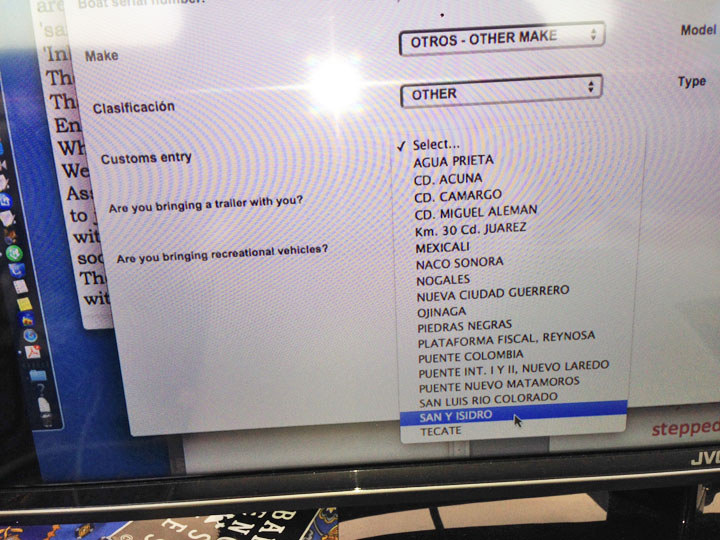 The first problem that some people run into is that there is a pull-down menu for Boat Manufacturer, but hardly any sailboat manufacturers' names are included. Fortunately, there is a place for "Otros." Select that. When it comes to type of boat, "Sailboat" is inexplicably missing. Select "Otros" again. If you keep going, under Classification, you'll be able to pick "Inboard Sailboat."
There is also a place for Port of Entry, and wonder of wonders, it includes "Baja California Sur." Alas, when you get down a little farther, it asks for the Customs Entry, and all the places listed are landlocked, such as Tecate. No Cabo. No Ensenada. At this point we stopped the application process. This problem has been known for months. Why it hasn't been corrected is beyond us.
We are currently consulting with Tere Grossman, President of the Mexican Marina Owners Association, who is asking government officials what mariners are supposed to do. Perhaps they will tell us to just pick a Customs Entry like "Tecate." Or perhaps they'll tell everyone to wait until they get to a place with a Banjercito, be it Ensenada, La Paz or Mazatlan. Cabo doesn't have one. We'll let you know in 'Lectronic as soon as we find out, and we'll be sending an email to all Ha-Ha entries.
There is no reason to freak out at this point, as the normal procedure is for applicants to get their TIP within seven business days of applying. But time is running short, so stay tuned.
Mexican government sources confirmed over the weekend that the dead body of British sailor and scuba instructor Paul Whitehouse, 45, was found in the mangroves adjacent to La Paz Bay. This brings the tally of expat sailors killed by Hurricane Odile to three. Previously, the body of Whitehouse's British partner, Simone Wood, 47, was also found in the mangroves, and German native Guenter Trebbow, 76, was found drowned aboard his submerged boat.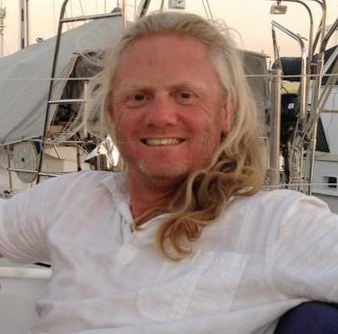 Overall tallies of those killed by the Category 3 storm vary, but we have seen none that put the total above 10, which is remarkable when you look at the photos. Some aerial images we've seen of barrios look as though they have endured a nuclear explosion.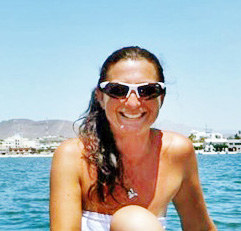 As Southern Baja communities struggle to return to some measure of normalcy, a variety of relief organizations are providing aid. We have no way to assess which of these are the most worthwhile, of course, but we trust the advice of several longtime Baja residents who recommend the following:
Commodore of Club Cruceros Shelly Ward (of La Paz Yachts) set up this special site to aid La Paz cruisers whose boats were lost or damaged. "I can guarantee you the funds will be put in our emergency fund and used to help people in need," says Shelly.
Dennis and Susan Ross of Ross Marine Services praise the efforts of: Barbara Spencer's Foundation, Care For Kids La Paz, and Judy Peterson's children's foundation, FANLAP.
If you planning to sail south this fall or winter and want to aid the recovery effort, we recommend that you wait until the dust has settled and see what items and services will still be needed by the time you arrive.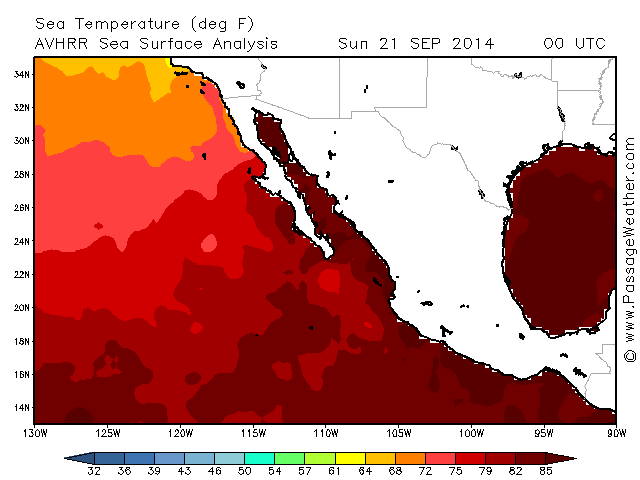 We don't exactly know what to make of it, but it can't be bad. As the Grand Poobah of the Baja Ha-Ha rally, we follow the water temperature situation in tropical Mexico very closely. What we've noticed in the last few days is that it's dropped noticeably. It seemed only days ago that it was 85° everywhere in the tropics. This is significant, because tropical storms need water for fuel. The cooler the water, the less likely the chance of a tropical storm developing or surviving.
We don't pretend to be experts on hurricane conditions, of course, and maybe it's just surface cooling caused by a couple of hurricanes passing through in the last week or so.
On the other hand, Mike Wilson of the Mazatlan-based S&S 44 Tortue reports that "It's cooling down nicely in Mazatlan." It seems a little early for the mainland to start to cool, but if it's not just a one-day thing, that would be great.
Wilson reminds us that it was 11 years ago when he, his wife Melissa, and many others had to weather Hurricane Marty, which ripped up La Paz. Largely because of the different wind direction, it did much more damage to boats than Odile, even though it wasn't as strong.
Receive emails when 'Lectronic Latitude is updated.
SUBSCRIBE