Princess Tai Ping Rammed in Taiwan
Princess Tai Ping, the 54-ft Chinese junk that visited the Bay Area last October, was run down by a freighter off Taiwan on Sunday. Thankfully, all 11 crew, including three Americans, survived with mostly minor injuries. The collision occurred less than a day from the completion of a 14,000-mile round trip to the Americas and back that 'proved' what has long been speculated: that 15th Century Chinese vessels had the capability to come here then sail back home.
Sailor and adventurer Nelson Liu, now 62, conceived of the project and built the Princess in 2007. He has been aboard as captain during the entire voyage, which started last June. As part of her concurrent mission of cultural exchange and goodwill, most of the rest of her crew were sailors from many nationalities who hopped aboard for various legs. She also made stops in Los Angeles, San Diego and Hawaii before heading for home.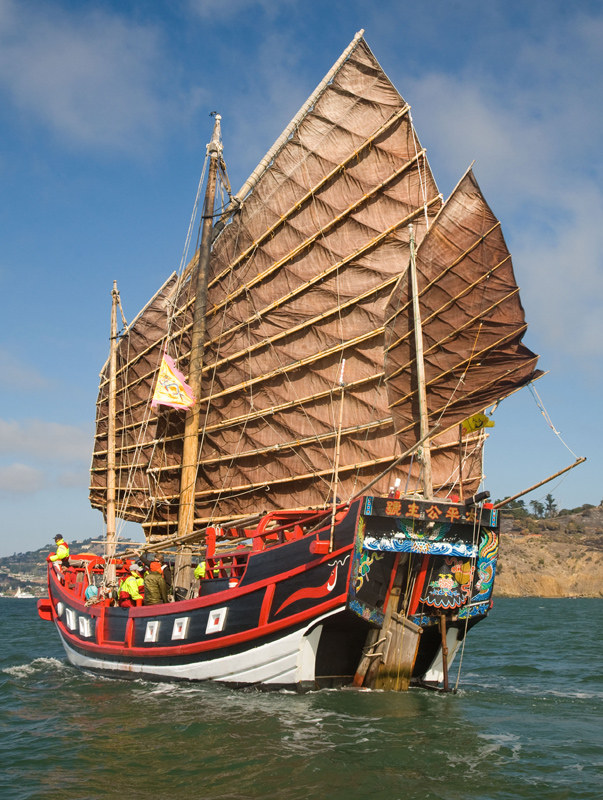 The incident occurred about 2:40 a.m Taiwan time. Bound for Keelung, the Princess was about 30 miles off the fishing port of Suao in northeastern Taiwan when the northbound freighter Champion Express rammed her, reportedly cutting the junk in half. The crew were thrown into the ocean where they would remain for five hours before rescue. All crew suffered from mild hypothermia and were treated and released. The worst injuries were suffered by one of the Americans, Thomas William Cook (also noted as William Cook Thomas). He was released after five hours in the hospital.
One of the worst aspects of the accident was that Captain Liu had talked to the freighter only minutes before the collision and done what they requested. The engineless junk was rammed anyway. The Champion Express reportedly stopped momentarily, but did not return nor render any assistance — not even a radio call — before resuming their course. In a real bit of cultural exchange and goodwill, the EPIRB aboard the Princess alerted the U.S. Coast Guard to the emergency. They contacted Taiwanese authorities, who performed the rescue.
"We had earned 99 marks (out of 100)," said Liu from his hospital bed. "It would have been nice to have that last mark."
Receive emails when 'Lectronic Latitude is updated.
SUBSCRIBE