Prada Cup Round Robins Start Tomorrow
Ready or not!
It's all on for the Prada Cup Challenger 'trio' as the dance begins tomorrow evening.
The three Challengers, Luna Rossa Prada Pirelli, Ineos Team UK and American Magic, will begin a series of elimination Round Robins tomorrow at 9 p.m. PST that will determine who faces Emirates Team New Zealand for the America's Cup Finals Match beginning on March 6.
Over the next two weeks, a winner will be determined among the three teams. That team will receive a bye until the Prada Cup Finals beginning on February 13. The remaining two teams will face off on January 29 in a best-of-seven series to pick who will face off against that team. There's a break between the different elimination rounds to allow for boat modifications.
Don't expect to see the same boats line up that we saw just a few short weeks ago. So, if your date looks a little different than when you picked them up, they do. No, it is not a full moon! Much has changed, and not just with appearances.
Forget all the chitter-chatter and squabbling about proprietary racecourse graphics and visuals or whether there will be pre-regatta practice races. There were!
How about the America's Cup Arbitration Panel?
In typical fashion, they were working full-time as the lawyers and rule-mongers have been about as busy as the builders and crews with multiple hearings in the last few weeks alone.
With issues on many fronts, be it clock management or mark and boundary positioning, there was enough indecision on the plate to order up a couple of practice days courtesy of an Arbitration Panel decision just a few days ago to further test the Race Management System (RMS).
But back to the water — at least for a minute!
First off, the British are better, way better. Just when they were ready to be written off and ditched, the culmination of a million little things has apparently come together in just the nick of time.
Team leader and skipper Ben Ainslie was able to push the boat hard through its maneuvers and it appeared that the foil mechanisms were much more adaptive to the different tactics of the day. The team definitely had pace, which hadn't really been lacking, it was just everything else.
Plus, I'm sure the new main didn't hurt, and it appears that their radical skeg got a bit of a 'shave' too.
The Italians have been rather quiet, which is unlike them, so that means that they must be up to something!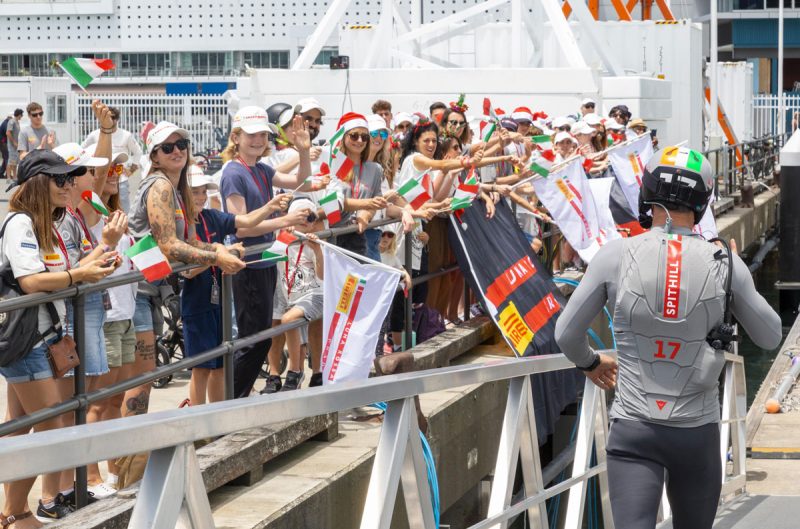 But the news of the day was carried by the Kiwis in dramatic fashion. In a breezy southwesterly and optimum wind range from 16 to 18 knots, Emirates Team New Zealand helmsman Peter Burling was pressing downwind against INEOS Team UK when, in an apparent jibe gone wrong, Te Rehutai took a massive nosedive and catapulted onto its side. There was no apparent damage, and the foiling monohull was quickly righted with the aid of the team's chase boat.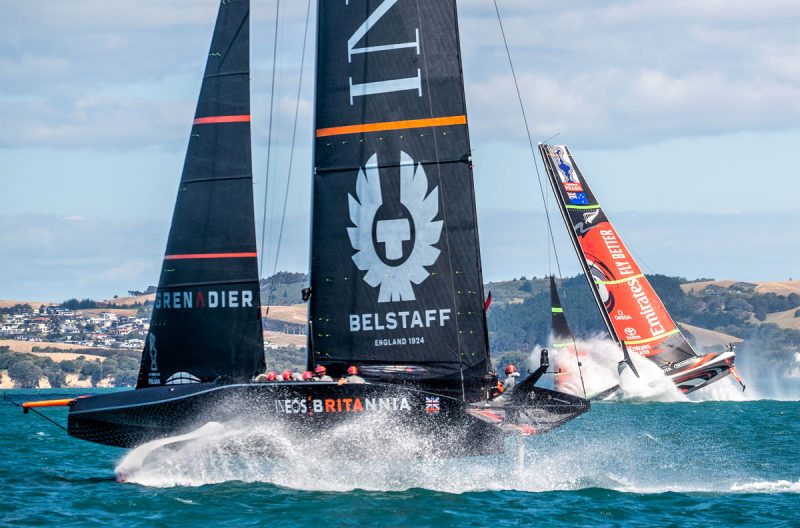 "We got a little too high in the jibe and stopped pretty quick," said Burling. "It was a pretty big load case on the bow when the boat hit, so we just wanted to do some checks, but everything functionally on the boat was working pretty well. That same kind of maneuver on the cat in Bermuda and you'd be in hundreds of pieces."
"Obviously the capsize wasn't ideal, but it's a fantastic opportunity to really push ourselves and push the boat hard against an opponent," added ETNZ skipper Glen Ashby.
Patriot created a little 'American magic' last week with a surprising visual difference in their hull with a new, larger bustle/skeg that's far deeper than before.
Unlike that of other teams, American Magic's skeg/bustle does not run all the way to the back of the boat and stops around half to two thirds back from the bow after recent surgery on its bottom sides. The desired effect is to create better aerodynamics between the hull and the water's surface. The modified end plate will hopefully increase the aerodynamic efficiency of the rig. Together with the extension of the bustle, it's meant to develop increased power in lighter winds.
With American Magic, it's not all about what's underneath, as their boat has sprouted some radical-looking 'batwing' battens on the upper area of its mainsail. It is highly likely that the modified hull was meant to work in conjunction with the turbo effect of the reinforced main. These 'batwings' have nothing in common with the batwing that appeared on the back ends of both BMW Oracle and Alinghi's gigantic multihulls in their America's Cup match in 2010.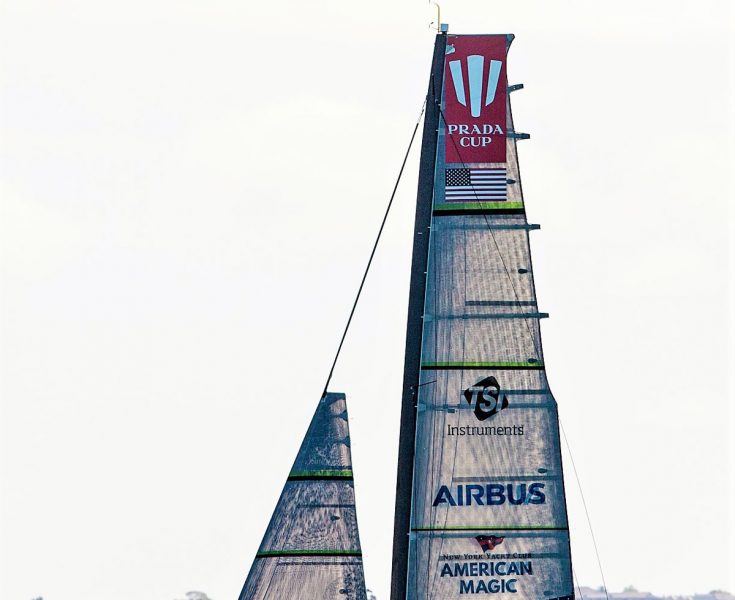 In addition, American Magic/NYYC was more than outspoken with their concerns over the RMS systems, so much so that they led the effort in front of the Arbitration Panel in advocating that, "The race management system is a complex electronic system supplied and provided by the organizers, and it includes the media system on board each AC75.
"All competitors have experienced serious failures, which fundamentally curtailed their ability to race and foil the boat safely," stated American Magic, which also wanted to address data privacy concerns. "It is vitally important that all the data from Patriot that the organizers receive during these rehearsals is treated with absolute confidentiality."
Coutts Initiates Legal action
If there weren't enough off-the-water drama to satisfy the pundits' appetites, SailGP's CEO and America's Cup legend Sir Russell Coutts piled on with a late-breaking legal action against Sir Ian Taylor's company Animation Research during the broadcast of the pre-Christmas racing.
Coutts has warned that if graphics used by Taylor's company are used in the upcoming Prada Cup or later in broadcasting the 36th America's Cup, High Court action alleging breach of copyright will be filed. The graphics in question are the ones that are used in what is known as the popular LiveLine system developed for Larry Ellison and Coutts by Stan Honey in the 2013 America's Cup.
Taylor has said that it could, "seriously impact the coverage of both the upcoming Prada Cup and the America's Cup itself."
In response, Coutts told the New Zealand Herald that "We are simply seeking to safeguard IP (intellectual property) that we invested millions of dollars to develop over the last decade."
Back to what counts for the Prada Cup
Who's up and who's not? Look for American Magic and Luna Rossa Prada Pirelli to be at the top, with the vastly improved Brits right there. This will be a nail-biter until the last race, and suddenly the Kiwis don't look so formidable.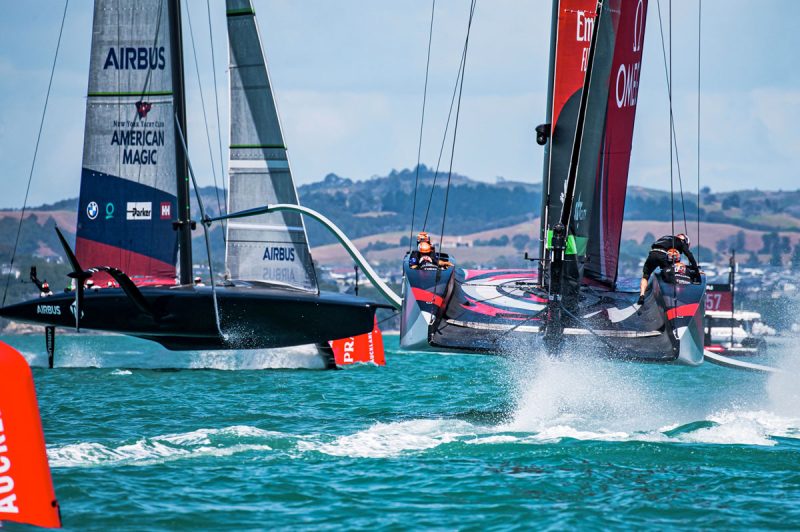 All Kiwi helmsman Peter Burling has to do is look back into America's Cup history at Dennis Conner. Sometimes it's a lot easier to win the Auld Mug than it is to defend her! Just saying…
See www.americascup.com.
Receive emails when 'Lectronic Latitude is updated.
SUBSCRIBE