Episode #25: Nicki Bennett on How to Buy Your First Boat
This week's host, Ryan Foland, is joined by fellow Good Jibes host Nicki Bennett to chat about taking the plunge on your first boat and finding peace in the sailing community. Nicki is the Sales and Marketing Specialist at Latitude 38. She grew up sailing to the Channel Islands on the weekends with her best friend's family, and always dreamed of coming back to it.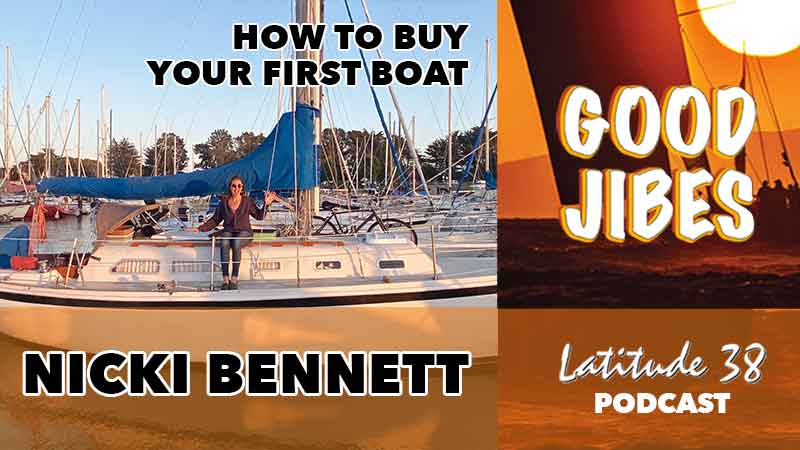 She joined Latitude 38 in 2020 and fulfilled a lifelong dream of owning her own boat. Hear how to find the right boat for you, captain your own boat, get comfortable with change, her favorite moments and lessons from hosting Good Jibes, and the things she's learned from just getting on the water. This episode covers everything from battling back from rough waters to committing to a new boat.
Here's a small sample of what you will hear in this episode:
How does being a guest compare to being a host?
What is a story that shaped Nicki as a sailor?
Where did her dream of sailing come from?
How did she make the jump to getting her own boat?
What make and model is her boat?
Why is community & sailing so important to her?
How does the romanticized view of sailing compare to reality?
What's Nicki's favorite lesson from hosting Good Jibes?
Learn more at https://www.latitude38.com/lectronic/author/nicki-bennett-2/
Listen to the episode on Apple Podcasts, Spotify, Google Podcasts, and your other favorite podcast spots – follow and leave a 5-star review if you're feeling the Good Jibes!

Check out the episode and show notes below for much more detail.
Show Notes
Nicki Bennett on How to Buy Your First Boat
Subscribe here to receive Latitude 38 to your home each month.
Receive emails when 'Lectronic Latitude is updated.
SUBSCRIBE