'Pantera's Bob Smith Finally Identified
Rich Boren of the Hudson Force 50 Third Day and La Paz Cruisers Supply wrote us with an update on the loss of Bob Smith and his catmaran Pantera. Rich reports: "I've been emailing back and forth with Bob Smith's daughter who today received the DNA testing results back confirming that the body found on the beach around Nov 20 was indeed Bob Smith from SV Pantera. The family is of course devastated, and sadly, they don't have money to pay for a proper cremation. Lori and I are going to pay for it either by ourselves or by raising some money from his friends. We knew Bob and it's the least we can do for him and the family. Folks wanting to donate a few bucks toward his cremation can send them to my PayPal account at [email protected]. Any extra money will be donated to a local kids charity in Bob's name.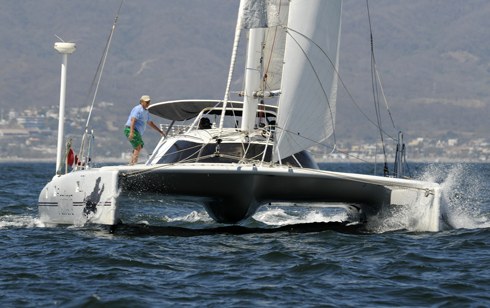 "We met Bob back in 2008 when we first came to La Paz after doing the Baja Ha-Ha, and he was a gem of the cruising community. Seeing his rocket-ship-fast catamaran Pantera anchored just off the La Paz malecon was part of La Paz experience. I'll always remember the night he called for "help" on the radio at 4 a.m. His cat was in distress, and his rowing dinghy was stolen (later recovered) so he was asking for help getting to shore to see a vet. My wife and I dinghied over. After waking him up, the emergency vet found that the cat was fine . . . it was just in heat!! The entire cruising fleet laughed about that one for weeks with jokes on the radio net."
Bob Smith was a talented, gregarious and revered member of the Mexico cruising community who built his high-tech, super-fast cruising cat in Vancouver. He singlehanded from British Columbia to Mexico and back several times, sailed in the Baja Ha-Ha, and enjoyed over a decade of cruising Mexico and the Sea of Cortez.
Receive emails when 'Lectronic Latitude is updated.
SUBSCRIBE