Overwhelmed by the 'Conception' Fire, We Ask: What Now?
We are still reeling from the tragic Conception fire, which killed 34 divers off Santa Cruz Island a week ago today. We are also haunted by the question of, what now? In over 40 years of publishing Latitude 38, we've run many stories about boat fires, but never one with such an unimaginable loss of life.
One of those lost was part of our local sailing family. Kristy Finstad, 41, owned a dive company in Santa Cruz. She sailed in the Baja Ha-Ha with Bill Lilly aboard Moontide, has been featured in Changes in Latitudes, and sailed in the Pacific Puddle Jump with boatmate Dan Chua aboard their Maxim 38-ft cat Te Poerava. She was the daughter of Bill Finstad, who was one of the first scuba instructors back in 1972, and who had a dive shop/ adventure-travel dive business right next to O'Neill in Santa Cruz Harbor.
Like many of you, we are overwhelmed with grief for the victims and their loved ones. Though we've never been on a dive trip with Truth Aquatics, earlier this year, we took a liveaboard dive trip on a boat with similar accommodations. The cabins were below with a single aft stairway leading abovedeck, and a vertical escape ladder leading to a closed hatch at the other end of the central hallway. The thought of a fire aboard and having to escape never crossed our minds until last weekend. Now we're wondering: Would we have been able to find our way in the smoke and chaos, climb the ladder, and open the hatch? Could it be opened? We never checked.
So where do we go from here? As we await the recovery of the Conception and the results of the National Transportation Safety Board investigation, we think the best way to acknowledge and pay tribute to those lost is to take a hard look at our own vessels and redouble our efforts to make them as safe as possible for every soul.
For our own boats we should ask: Are our fire extinguishers up to date? Are the bilge blowers working? Do we have enough bilge pumps and do they work? Do we have the proper sound-producing device and up-to-date flares? We think it's a good time to take advantage of the Coast Guard Auxiliary's longstanding service of free courtesy inspections.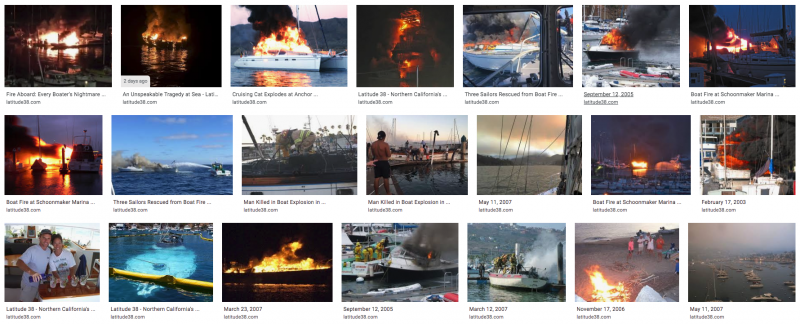 It's a sad truth of human nature that we often don't pay enough attention to what could happen until it does happen. As with earthquakes, ship sinkings and plane crashes, it's only after these horrific events and their devastating cost in innocent lives that the lessons become crystal clear. While we often recoil at the idea of new regulations, it is from disasters like the Conception that rules and guidelines emerge, making it safer for all of us. As hard to imagine as it is right now, the Conception tragedy will eventually do the same for the diving community — and perhaps all of recreational boating. The changes it brings will greatly reduce the chances that something like this will ever happen again.
Going forward, we encourage all boaters to let the officials do their jobs, and have respect for the victims' families, the surviving crew, and Truth Aquatics, who by almost every account have been an exemplary, safety-conscious and well-run marine business for decades. The 'instatwit' nature of modern news demands instant explanations when time and space are needed to accurately discover and process the details of a tragedy of this scale. The tragic Ghost Ship fire investigation and trial just concluded after nearly three years,  with a hung jury and disputed 'facts'.
The Conception tragedy did not involve a sailboat but involved sailors and those with whom we share the sea. That family includes everyone who loves Mother Ocean and all the beings, human or otherwise, who live in or upon it. Our hearts go out to the families and everyone impacted by this event. We'll keep you updated with findings as they are revealed.
Until then, do what you can to refresh all your safety systems and say a prayer for the victims while we wait to learn what's both useful and true.
Receive emails when 'Lectronic Latitude is updated.
SUBSCRIBE