In Wednesday's 'Lectronic, we wondered if anyone had been heading south at the height of the storm that wreaked havoc in the Bay Area on Tuesday. Napa sailor Trevor Steel alerted us yesterday to the overdue status of his friend John Dour. Dour, 45, sailed under the Gate last Friday aboard his Ericson 27 Maria on his first offshore trip, bound for San Diego, and had not been heard from since. "I'd been in touch with Coast Guard Search and Rescue," says Steel, "and yesterday we decided that John should be considered overdue." The Coast Guard put out a call for mariners to keep a sharp eye out for Maria but had not begun searching.
Around 6:30 p.m., Steel's phone rang — it was Dour. He was sailing in light winds about 20 miles off Pt. Loma and all was well.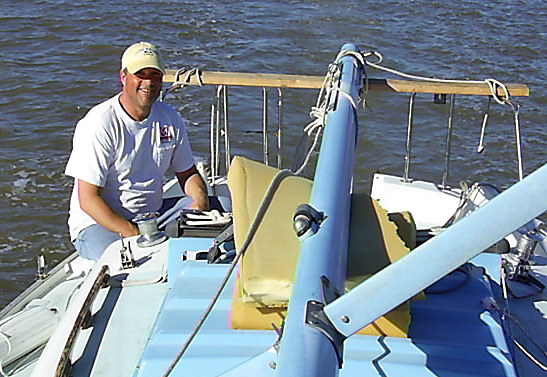 Dour's story is fascinating. An out-of-work carpenter, he moved from Biloxi to the Bay for the sole purpose of buying a boat and teaching himself to sail. "I'd been reading the online version of Latitude for years," Dour told us this morning from the safety of the Police Dock in San Diego. "In fact, I found my boat in Latitude!" Over the next 18 months, Dour lived aboard near Benicia, worked when he could, refitted his boat, and sailed as often as possible. "My good buddy Trevor told me that if I could sail on San Pablo Bay, I could sail anywhere," Dour laughed. "Fuckin' liar!"
When Maria sailed under the Gate last Friday, the NOAA forecast was calling for light winds until early the following week, when a storm was predicted to hit the coast no farther south than Monterey. Knowing he'd be south of Monterey by then, Dour struck out. "The wind was so light, I motored most of the way to Pt. Conception," Dour recalls. "I was about 120 miles west of San Nicholas Island at 9 a.m. Tuesday morning. That's when the storm hit. That's when my life began to suck!"
In the building winds and seas, Dour struck everything off the deck except his kayak, which he lashed to the windward side of the boat to protect his portlights. He then fashioned a sea anchor out of an old Danforth, some chain and rode, and a blown-out jib. "I'd just thrown it off the bow when I saw a shark's fin," he said. "It was five feet off the bow and I thought, 'Shit, the sharks are circling already!' Turns out it was just a mola (sunfish)." Dour then rigged his lee cloth and settled in for a wild ride. "I was really wishing I'd brought more than a 12-pack!"
About 19 hours later, the winds had eased, though the seas were still heavy and confused. Dour plotted his position and he'd drifted north at a little over a knot — not too shabby for his first time lying ahull to a sea anchor. Unable to retrieve the set-up, Dour was forced to cut it away to get back underway. It was a slow trip in, but he pulled into a slip in San Diego last night around 11 p.m., none the worse for wear. Dour says he'll spend a few weeks enjoying wearing shorts in San Diego before heading south to Mexico.
Receive emails when 'Lectronic Latitude is updated.
SUBSCRIBE