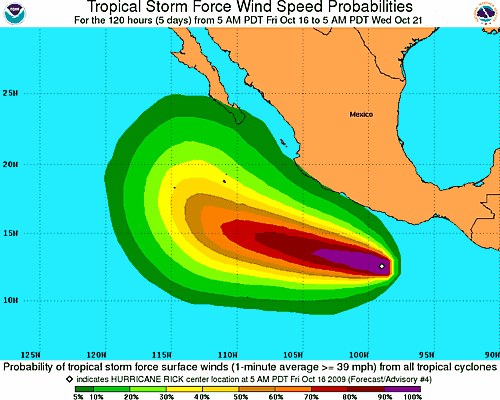 The last thing anybody with a boat in Baja or with a boat entered in the Baja Ha-Ha wants to hear is that Rick, now a tropical storm 315 miles SSE of Acapulco, is expected to develop into a hurricane by Sunday.
While currently still very far to the southeast of Baja and headed northwest out to nowhere, some computer models suggest that there is a chance Rick could sweep north and threaten Cabo and La Paz with what would by then probably be winds of tropical storm force or less. For those with boats in Baja that survived Jimena in late August and early September, just the thought of the possibility of another blow is not at all welcome. People need to keep a close eye on Rick for possible changes in direction and/or force. Everybody is hoping is that it will either continue on to the west or pull a 'Patricia' — Patricia was last week's weak tropical storm that flamed out before hitting Cabo. But only time will tell.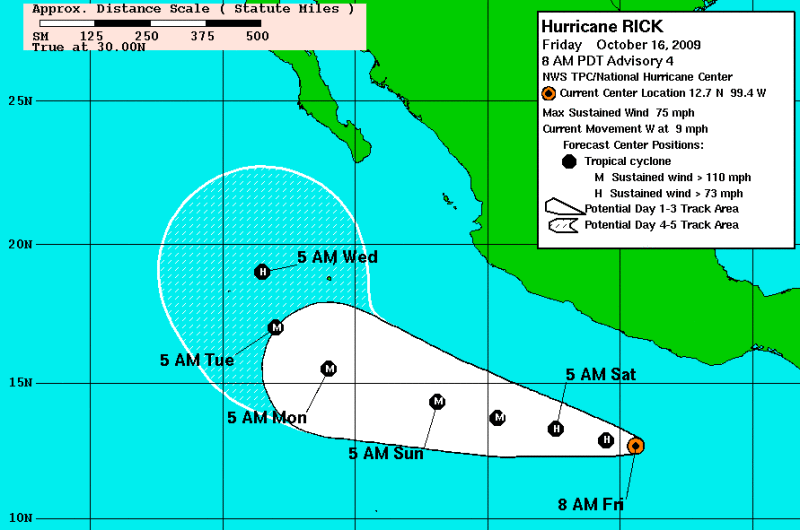 The two things needed for hurricane development are light wind shear aloft and very warm water. If there are strong winds aloft, hurricanes have trouble developing. Unfortunately, this is an El Niño year, so upper level winds are lighter than normal. But ever shorter days and lower air temperatures are what cool ocean temperatures, and that's been happening. We spoke with Neil Shroyer of Marina de La Paz this morning, who reports that air temperatures in La Paz have undergone their typical October drop. He also notes that the weather charts show water temps on the Pacific Coast of Baja dropping, too. At Turtle Bay, for example, it's down to about 75 degrees, far beneath what would support a tropical storm.
What's all this mean for the Ha-Ha? "The fact that there hasn't been a tropical storm or hurricane in the last 50 years that crossed the Ha-Ha track is encouraging," says the Grand Poobah, "but it's no guarantee of anything. As such, we, along with Commander's Weather, our professional weather forecasting service, are monitoring the situation very closely. Rick would obviously not be a threat to the Ha-Ha fleet, as it will have come and gone far to the south well before our start. Some experts tell us that by churning the waters, Rick will make it less likely that there will be another storm in its wake. Nonetheless, we need to be on guard for conditions that are conducive to the development of storms.
"The nice thing about the Ha-Ha is that we have options," continues the Poobah. "All the way to Turtle Bay, and while in Turtle Bay, we will keep evaluating the situation further south. Given today's weather equipment, tropical storms don't just pop up out of nowhere. The formation of one can be seen quite a bit in advance. But we'll remind everyone that, in the past, both the Atlantic Rally for Cruisers and the Caribbean 1500 have found it necessary to delay their events because of the weather. If the situation called for it, the Ha-Ha would also be delayed."
For right now, the Poobah recommends that everyone remain cautiously optimistic, and for their own edification, review Mexico's hurricane history.
Receive emails when 'Lectronic Latitude is updated.
SUBSCRIBE