Narco Cartel Violence Comes to La Paz
"Tiki and I had a close call with narco violence La Paz on Mother's Day," reports Michael Kehir of the Moss Landing-based Yorktown 35 Merilon, "as we were 10 minutes away from being in the wrong place at the wrong time. It happened last Thursday, which was Mother's Day in Mexico. We'd gone to Bismarcito's on the malécon to get some fish tacos, but the place was packed with Mexican families, so we left. When we returned 90 minutes later, it was still packed, so we spent some time talking with a gringo carpenter who had installed some cabinets on our boat. When there still weren't any tables available at Bismarcito's, we decided to eat at the restaurant next door. Ten minutes later, 10 shots were fired.
"While we didn't see what happened, the next day the carpenter told us that one of three guys who had been standing next to us at Bismarcito's condiment counter fired a shot in the air to get everybody to duck. One guy in the crowd got up and started to run, but was tackled by two or three men who weren't armed. The guy with the gun then fired nine shots into the victim's head, executing him in front of his mother, wife and daughter. This all happened where we had been standing 10 minutes before. Everybody fled the scene without paying — except for our carpenter friend. He got a look at the perpetrators and wrote down the license plate of the getaway car. He gave a statement to the police. I'm not sure how smart that was."
According to the next day's papers, the victim was a nephew of a powerful figure in the Leyva-Beltran narco gang.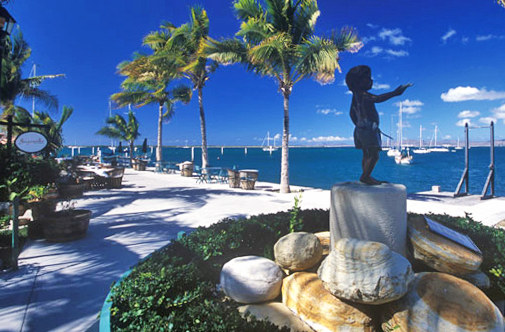 This incident follows the April 27 murder of well-known Canadian drug smuggler Tom Gisby, who was executed in a precise — one bullet to the head, one to the heart — attack at the Starbucks coffee shop just 100 or so yards from Paradise Marina in Nuevo Vallarta. Gisby had been the target of several attempts on his life in Canada and Mexico, following the assassination of some drug rivals at places such as luxury hotels in Vancouver. According to Canadian authorities, Gisby was the sixth Canadian drug figure to be gunned down in Mexico in the last couple of years.
The current narco situation in Mexico is that two major forces, the Zetas and the Sinaloa cartel, are ruthlessly battling it out for dominance. Smaller organizations are aligning themselves with one group or the other. While no tourists were targeted or hit in the incidents at Nuevo Vallarta and La Paz, it's nonetheless disturbing that the violence occurred in tourist areas that had previously been immune to such violence. We're told that life has rather quickly returned to normal in both places. But if there are additional similar incidents in these tourist areas, it will not be good for Mexico. Personally speaking, we're still cool with the situation in Mexico, particularly in the cruiser areas. After all, it's no worse than many places in the U.S. Regardless, we're keeping a close eye on the situation, and will keep you apprised of any further incidents.
Mexico elects a new President in July, who will take office later in the year. Many hope that his/her approach to the narco gangs — even if it's semi-cooperation — will reduce the violence. While it seems as if there is no reason to expect a drop in narco violence in Mexico, based on what's happened in Los Angeles and much of the rest of the United States, you never know. In '93, the homicide rate in the City of Angels was a staggering 30.5 per 100,000. Now — with economic and other conditions certainly no better — the murder rate has plummeted to just 5.5 per 100,000 or about one-sixth of what it used to be. Indeed, across the United States the murder rate has dropped by nearly half since the early '90s. Nobody seems to know why, but let's hope the same thing happens in Mexico.
To keep things in perspective, here are some interesting facts from the Baja Insider:
In 2010, more than two-thirds of the cities in the United States had higher murder rates than Tijuana, which had the highest murder rate in Baja. Indeed, New Orleans, Baltimore, Detroit and Washington, D.C., all had murder rates that were at least double that of Tijuana.
In 2010, the murder rate in Mexico was 13.2 per 100,000. If you deduct direct combatants in the drug wars, it was 5.8 per 100,000, or about the same as the United States. Compare that with Honduras, which has a murder rate of 72.3 murders per 100,000, and El Salvador, Nicaragua and Guatemala, all of which had more than 60 murders per 100,000. In other words, the murder rate in Mexico, even when you include victims of the drug war, is but a small fraction of that in Central American countries. How many of you were aware of that?
Receive emails when 'Lectronic Latitude is updated.
SUBSCRIBE