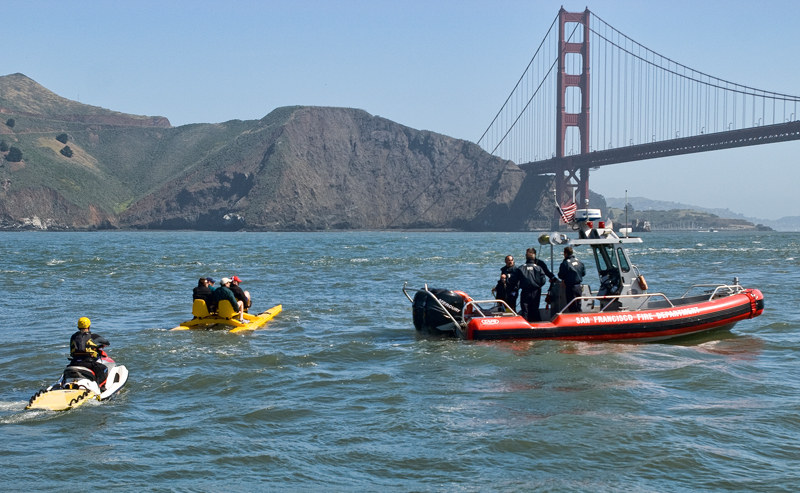 Readers may have heard the story from Friday that detailed the adventure three New York tourists and a local had when they took their paddle boat under the Golden Bridge and had to be rescued after they got caught in the three-knot ebb that was running. Local news outlets reported that the quartet — plus what a Cockapoo dog — got "caught in a rip tide" and were no longer in control of the paddle boat when they called 911 for help. San Francisco Fire Department's Lt. Paul McDonagh told waiting news cameras at Crissy Field that, "The dog was smarter than the other four. None of them had on life preservers or flotation devices, except for the dog."
What you may not have heard was that a local cruising boat was first on the scene to assist the paddleboaters. Bill Alexander and crewmembers Brian Forster and Eric Bishop chose that morning to head south aboard Alexander's Tiburon-based Catalina/Morgan 440 Bonnie Lass, bound for Catalina, when they heard the Coast Guard issuing a pan pan about the paddle boat. "It was a little after 10 a.m. and we were about 30 minutes out of Sausalito," recalls Forster. "We heard the call on the VHF, turned the corner and said, 'Oh, there they are.'"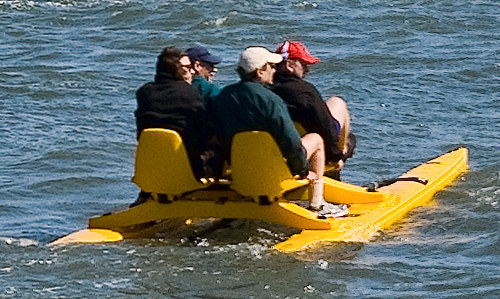 Forster says the little boat was about a 1/2 mile west of the South Tower. With the wind blowing about 15 knots and two- to three-ft seas running, Bonnie Lass made tracks to go to the paddleboaters' aid. "We were the first boat there and tried to take them under tow, but they were sideways to us and almost tipped over." After the third failed attempt to get the boat secured under tow, the SFFD boat and a PWC arrived, so the Bonnie Lass crew was excused from the scene.
"We left thinking we had banked a little karma for the trip south," says Forster. "But apparently not."
The Bonnie Lass crew ran into a little engine trouble about 24 hours after leaving the Gate. "The wind was on the nose so we were motoring," Forster recalls. "We were off Big Sur when we heard a big bang and grinding noise." They quickly turned off the engine and sailed to Morro Bay, using their dinghy to push Bonnie Lass into a slip. A diver diagnosed the problem: a broken feathering prop. A new prop is on its way to Alexander, but changing weather and crew time restraints may delay his departure.
Forster says that Alexander and his wife Lorell, both vets of the '10 Baja Ha-Ha, have sold everything and are retiring aboard Bonnie Lass. They plan to cruise Mexico, Panama, the BVI and so on. We hope to share more of their adventures in future Changes in Latitudes, but in the meantime, hats off to the crew for going to the aid of fellow mariners — no matter how foolish they were.
Receive emails when 'Lectronic Latitude is updated.
SUBSCRIBE