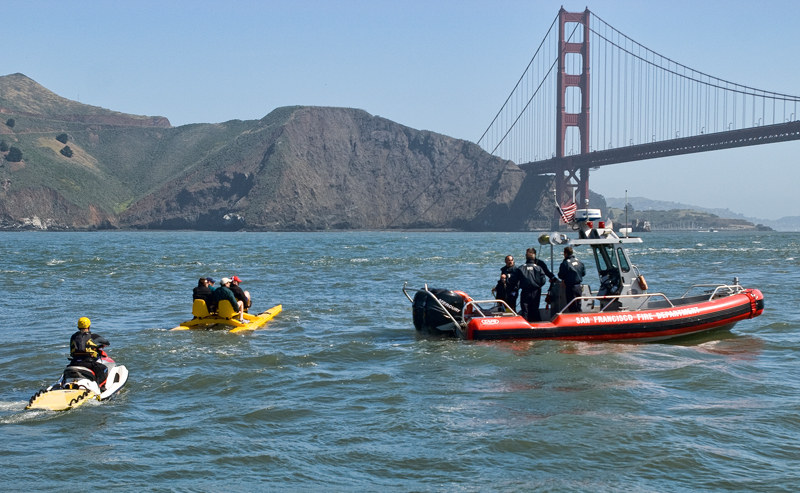 Readers may have heard the story from Friday that detailed the adventure three New York tourists and a local had when they took their paddle boat under the Golden Bridge and had to be rescued after they got caught in the three-knot ebb that was running. Local news outlets reported that the quartet — plus what a Cockapoo dog — got "caught in a rip tide" and were no longer in control of the paddle boat when they called 911 for help. San Francisco Fire Department's Lt. Paul McDonagh told waiting news cameras at Crissy Field that, "The dog was smarter than the other four. None of them had on life preservers or flotation devices, except for the dog."
What you may not have heard was that a local cruising boat was first on the scene to assist the paddleboaters. Bill Alexander and crewmembers Brian Forster and Eric Bishop chose that morning to head south aboard Alexander's Tiburon-based Catalina/Morgan 440 Bonnie Lass, bound for Catalina, when they heard the Coast Guard issuing a pan pan about the paddle boat. "It was a little after 10 a.m. and we were about 30 minutes out of Sausalito," recalls Forster. "We heard the call on the VHF, turned the corner and said, 'Oh, there they are.'"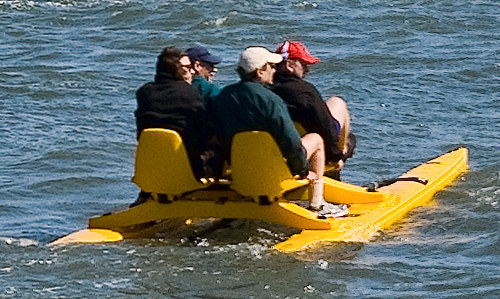 Forster says the little boat was about a 1/2 mile west of the South Tower. With the wind blowing about 15 knots and two- to three-ft seas running, Bonnie Lass made tracks to go to the paddleboaters' aid. "We were the first boat there and tried to take them under tow, but they were sideways to us and almost tipped over." After the third failed attempt to get the boat secured under tow, the SFFD boat and a PWC arrived, so the Bonnie Lass crew was excused from the scene.
"We left thinking we had banked a little karma for the trip south," says Forster. "But apparently not."
The Bonnie Lass crew ran into a little engine trouble about 24 hours after leaving the Gate. "The wind was on the nose so we were motoring," Forster recalls. "We were off Big Sur when we heard a big bang and grinding noise." They quickly turned off the engine and sailed to Morro Bay, using their dinghy to push Bonnie Lass into a slip. A diver diagnosed the problem: a broken feathering prop. A new prop is on its way to Alexander, but changing weather and crew time restraints may delay his departure.
Forster says that Alexander and his wife Lorell, both vets of the '10 Baja Ha-Ha, have sold everything and are retiring aboard Bonnie Lass. They plan to cruise Mexico, Panama, the BVI and so on. We hope to share more of their adventures in future Changes in Latitudes, but in the meantime, hats off to the crew for going to the aid of fellow mariners — no matter how foolish they were.
Consider this to be the official announcement of the first-ever SoCal Ha-Ha. The itinerary will be as follows:
Sept 9 — Potluck on the Santa Barbara waterfront
Sept 10 — Santa Barbara to Santa Cruz Island, 25 miles
Sept 11 — Lay day, Santa Cruz Island, hike and socialize
Sept 12 — Santa Cruz Island to Paradise Cove, 38 miles
Sept 13 — Paradise Cove to King Harbor, Redondo Beach, 22 miles
Sept 14 — King Harbor to Two Harbors, Catalina, 23 miles
Sept 15 — Lay day, Two Harbors, Catalina
Sept 16 — Adios from Two Harbors to your homeport
The event will be open to no more than 50 boats over 27 feet in length that were designed, built and have been maintained for open ocean sailing. Because there will be multiple crossings of possibly foggy shipping lanes, radar reflectors will be required, as well as either AIS receiver or radar, and an operating auxiliary engine. Sailing will be encouraged, but motoring will be allowed, as this is a rally not a race. All boats must be equipped with the normal offshore safety gear. Each boat must have a minimum of two crew, each with offshore overnight experience.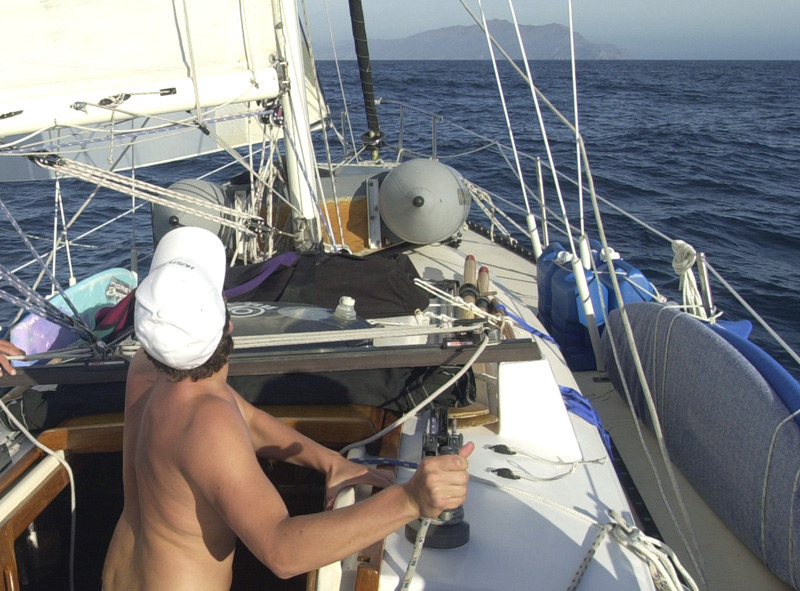 Since this will be a first running of the event, it will not be for wimps or whiners, but rather fun-loving and flexible folks. For example, berthing in Santa Barbara will be on a first-come, first-served basis through the harbor office. If no berths are available, you will have to anchor out. If that's not acceptable to you, this event isn't for you. As most of you know, there are no shore boats or shore facilities at Santa Cruz Island or at Paradise Cove. There will be no guaranteed reservations at Catalina, either, although if you're willing to go to the back side, there's never a problem finding room there. But if all this is too much uncertainty for you, this is not the event for you.
We plan on having a number of informal social gatherings during the event, including an afternoon potluck on the shore in Santa Barbara, a reception aboard Profligate for half the skippers and first mates at Santa Cruz Island one night, and for the other half of the skippers and first mates the next night at Paradise Cove. We've received the green light to moor up to 50 boats behind the breakwater at Redondo. This will require everyone cooperating to create several big raft-ups, and the anchoring boats will be required to anchor bow and stern. The folks at Redondo have also identified a place where we can land dinghies, but there is a proposal afoot in the King Harbor YC to offer a much warmer welcome. We'll know more about that possibility after their board meets this week. We're still working on social events for the two nights at Two Harbors, where it will just happen to be their BeerFest Weekend. But we plan to have potlucks each night, along with slide shows from the SoCal Ha-Ha as well as from 18 years of Baja Ha-Ha's.
The cost of the event will be a flat $200, but there will be swag and hopefully discounts from sponsors. We will be accepting entries starting on June 1 around noon, when that day's 'Lectronic Latitude is posted.
Ha-Ha or Ta-Ta?
"I love the idea of a Southern California Ha-Ha — SoCal Ha-Ha — but I don't like the name," one reader wrote. "Because when, in the future, people brag by saying, 'Oh yeah, I did the Ha-Ha,' I won't know if they meant the Baja Ha-Ha or SoCal Ha-Ha. I'm also thinking the name ought to have more of an identification with Southern California. As I was trying to think of the universal symbol for Southern California, two well-endowed women walked into the the Starbucks where I was sitting. It suddenly hit me — boobs are certainly one of the symbols of Southern California! So I struggled to come up with a euphemism for boobs that was at least vaguely related to 'Ha-Ha' and wasn't crude or vulgar. I mulled over the problem while the gals ordered coffee, but got nowhere. But as they left, one of them sort of smiled at me, so I said, 'Ta–ta,' meaning goodbye. Wait, that's it! Ta–Ta, which means all kinds of things, most notably 'goodbye', 'boobs' in a light and fun way, and 'yes', all of which work for me. So what do you think, the SoCal Ta–Ta?"
Who cares what we think, what do you potential participants think? Send your thoughts to Richard.
"Tiki and I had a close call with narco violence La Paz on Mother's Day," reports Michael Kehir of the Moss Landing-based Yorktown 35 Merilon, "as we were 10 minutes away from being in the wrong place at the wrong time. It happened last Thursday, which was Mother's Day in Mexico. We'd gone to Bismarcito's on the malécon to get some fish tacos, but the place was packed with Mexican families, so we left. When we returned 90 minutes later, it was still packed, so we spent some time talking with a gringo carpenter who had installed some cabinets on our boat. When there still weren't any tables available at Bismarcito's, we decided to eat at the restaurant next door. Ten minutes later, 10 shots were fired.
"While we didn't see what happened, the next day the carpenter told us that one of three guys who had been standing next to us at Bismarcito's condiment counter fired a shot in the air to get everybody to duck. One guy in the crowd got up and started to run, but was tackled by two or three men who weren't armed. The guy with the gun then fired nine shots into the victim's head, executing him in front of his mother, wife and daughter. This all happened where we had been standing 10 minutes before. Everybody fled the scene without paying — except for our carpenter friend. He got a look at the perpetrators and wrote down the license plate of the getaway car. He gave a statement to the police. I'm not sure how smart that was."
According to the next day's papers, the victim was a nephew of a powerful figure in the Leyva-Beltran narco gang.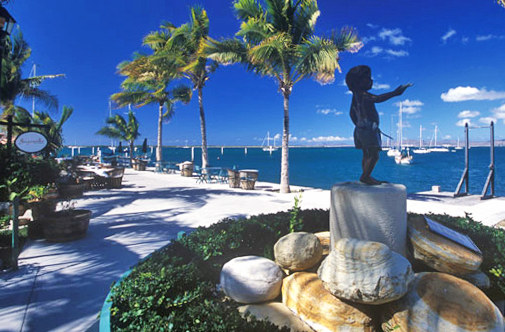 This incident follows the April 27 murder of well-known Canadian drug smuggler Tom Gisby, who was executed in a precise — one bullet to the head, one to the heart — attack at the Starbucks coffee shop just 100 or so yards from Paradise Marina in Nuevo Vallarta. Gisby had been the target of several attempts on his life in Canada and Mexico, following the assassination of some drug rivals at places such as luxury hotels in Vancouver. According to Canadian authorities, Gisby was the sixth Canadian drug figure to be gunned down in Mexico in the last couple of years.
The current narco situation in Mexico is that two major forces, the Zetas and the Sinaloa cartel, are ruthlessly battling it out for dominance. Smaller organizations are aligning themselves with one group or the other. While no tourists were targeted or hit in the incidents at Nuevo Vallarta and La Paz, it's nonetheless disturbing that the violence occurred in tourist areas that had previously been immune to such violence. We're told that life has rather quickly returned to normal in both places. But if there are additional similar incidents in these tourist areas, it will not be good for Mexico. Personally speaking, we're still cool with the situation in Mexico, particularly in the cruiser areas. After all, it's no worse than many places in the U.S. Regardless, we're keeping a close eye on the situation, and will keep you apprised of any further incidents.
Mexico elects a new President in July, who will take office later in the year. Many hope that his/her approach to the narco gangs — even if it's semi-cooperation — will reduce the violence. While it seems as if there is no reason to expect a drop in narco violence in Mexico, based on what's happened in Los Angeles and much of the rest of the United States, you never know. In '93, the homicide rate in the City of Angels was a staggering 30.5 per 100,000. Now — with economic and other conditions certainly no better — the murder rate has plummeted to just 5.5 per 100,000 or about one-sixth of what it used to be. Indeed, across the United States the murder rate has dropped by nearly half since the early '90s. Nobody seems to know why, but let's hope the same thing happens in Mexico.
To keep things in perspective, here are some interesting facts from the Baja Insider:
In 2010, more than two-thirds of the cities in the United States had higher murder rates than Tijuana, which had the highest murder rate in Baja. Indeed, New Orleans, Baltimore, Detroit and Washington, D.C., all had murder rates that were at least double that of Tijuana.
In 2010, the murder rate in Mexico was 13.2 per 100,000. If you deduct direct combatants in the drug wars, it was 5.8 per 100,000, or about the same as the United States. Compare that with Honduras, which has a murder rate of 72.3 murders per 100,000, and El Salvador, Nicaragua and Guatemala, all of which had more than 60 murders per 100,000. In other words, the murder rate in Mexico, even when you include victims of the drug war, is but a small fraction of that in Central American countries. How many of you were aware of that?
Receive emails when 'Lectronic Latitude is updated.
SUBSCRIBE