Mock Battle Stuns Spectators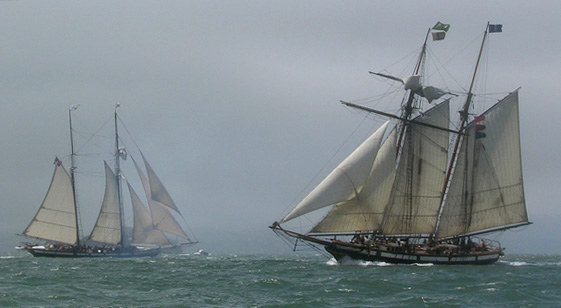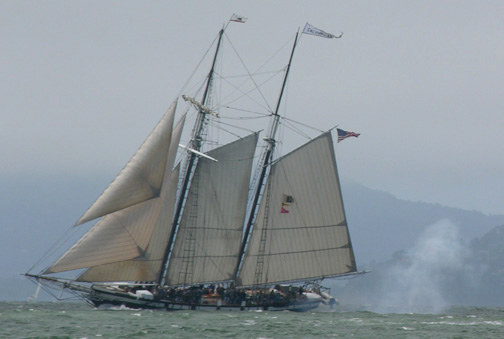 "Hey! Are those guys using live shells, or what!" At the end of what was supposed to be a mock sea battle Sunday between the visiting tall ships Lynx and Californian, spectators were stunned to see the latter ship's jib boom snap like a twig, as if struck by a cannon shot.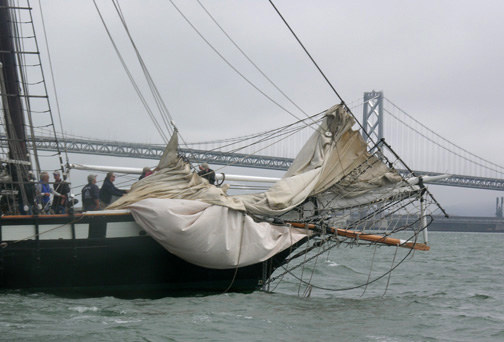 Turns out the breakage had nothing to do with Lynx' mock attack, but rather was due to a metal rigging element which failed and led to a chain reaction of stresses, with the jib boom being the weak link. It's all in a days work for the crews of such ships. We can remember a tall ship fest some years back when Lynx' jib boom snapped in strong winds right before the Parade of Sail was about to begin — sadly, it was her very first visit to the Bay. Hey, it happens. As Californian crewman Chuck McGohey explains, "That's why ships always used to carry plenty of extra spars back in the day."
McGohey figures the Californian will be repaired by the weekend, in plenty of time to make the next tall ship fest August 7 at Channel Islands Harbor. Speaking of departures for points south, we're told that Eagle will be departing the Bay this evening on the tide, around 7 p.m. If you're not busy after work, why not show her some Bay Area hospitality by sailing out the Gate alongside her — and tell her to come back and visit again soon.
Receive emails when 'Lectronic Latitude is updated.
SUBSCRIBE