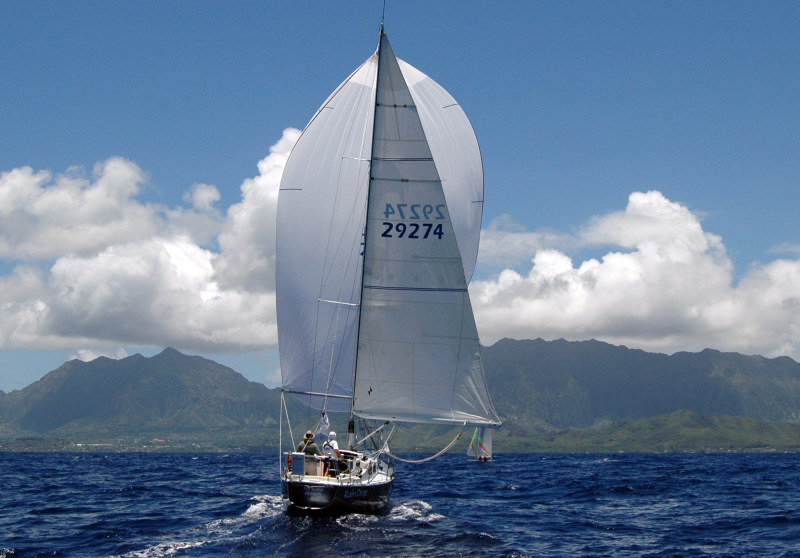 Joby Easton and Bill Huseby sailed Easton's immaculate Cascade 36 Rain Drop into Kaneohe Bay at 12:45 HST Saturday afternoon, claiming overall honors in the 2008 Pacific Cup. Twelve days, 2 hours, 54 minutes and 33 seconds after leaving San Francisco, the duo put the finishing touches on a decisive win, slipping in a little over 30 minutes ahead of Paul Cayard's SC 50 Hula Girl, as the latter chased her to the finish line off Kaneohe Bay. Following the welcoming, Huseby went down the dock as Cayard's crew received their leis and, in some cases, virgin mai tais. Hula Girl 'senior' crewmember Ralf Steitz noticed Huseby in the crowd, and congratulated him.
"Thanks for the push," Huseby responded. It sure didn't seem like they needed any 'push' given that the next closest boat in Doublehanded 1 isn't expected to finish until this afternoon. In Doublehanded 2, Andy Hamilton and Sarah Deeds crushed, sailing Hamilton's Moore 24 Bar-ba-loot to a 7-and-a-half hour win, finishing at 9:43 the next morning. Dave Rasmussen's Synergy 1000 Sapphire was next in after Hula Girl finishing just after 9 p.m. for second in Division D and third overall when Dean Daniels Hobie 33 Sleeping Dragon arrived seven hours later to correct to first in division and second overall.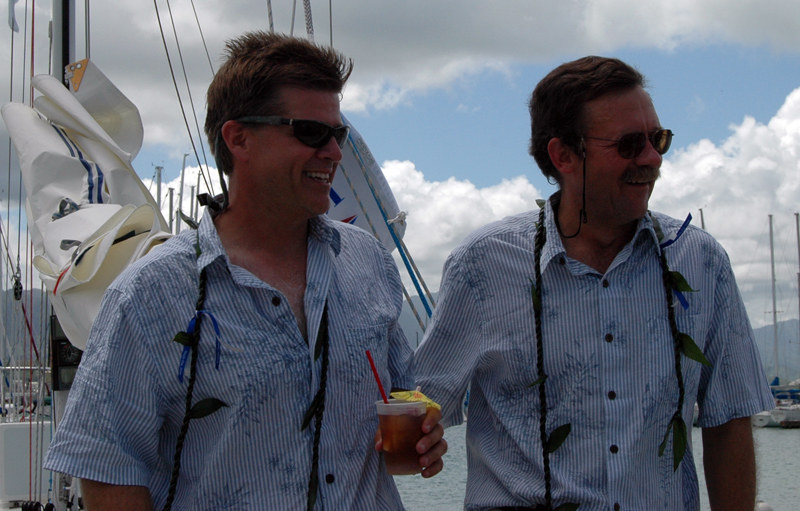 At the 100-mile check in, the crew of Steve Waterloo's Cal 40 Shaman decided that no matter what happened, they had to finish the race that day. So they reported their finish-line ETA as 23:59 on July 26. Despite a light patch 15 miles from the finish, they crossed the line at 23:47, taking what was one of the tighest divisions in the race. The entire way across, Shaman, Jim Quanci and Mary Lovely's Cal 40 Green Buffalo, Rodney Pimentel's Cal 40 Azure, James Partridge's Cal 2-46 Gaviota and Timm and Victoria Lessley's Cal 40 California Girl had been engaged in what resembled more of a buoy race often times with less than five hours separating them.
"We sailed within sight of California Girl for 96 hours at one point," Waterloo said. "Finally, we waited until Family Hour before gybing to lose them."
Green Buffalo was one of three boats to hit a whale during the race. "We were 300 miles out, in the middle of a beautiful afternoon doing about 11-knots in 22-knots of breeze," Quanci said. "I was down below and heard a 'BANG. . . BANG. . . bump, bump, bump. The boatspeed went down to two knots and the steering went stiff. I came up on deck and looked back and 40-ft sperm whale surfaced in our wake, turned and started following us."
The dazed cetacean dropped it's pursuit shortly therafter, and a thorough check of the boat revealed no damage — other than a spooked crew and a stiff steering system.
"The whole crew got real quiet," Lovely said. "When we finally did start talking after about an hour, we talked about what we'd take if we had to abandoned ship."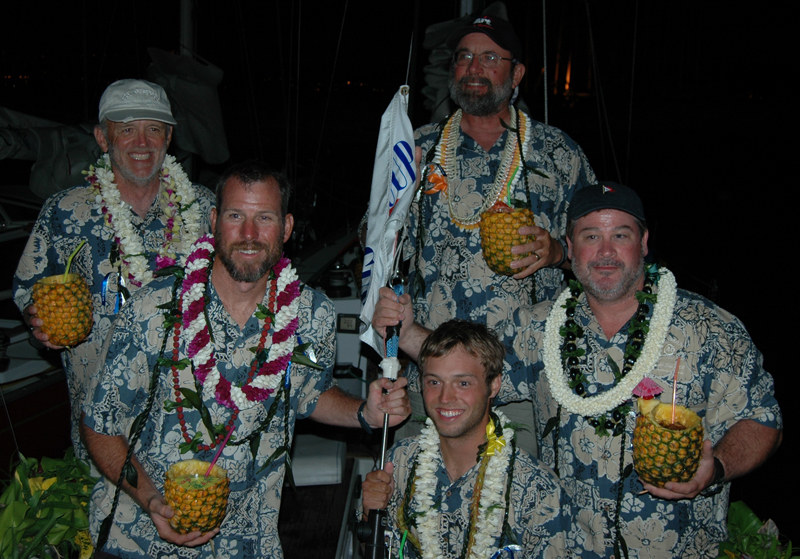 Divison B winner, Chris Gibbs' Wyliecat 39 Checkered Past, encountered a pilot whale who found its depth sounder irrestible and came for some bump-and-grind. That was the least of their problems. A couple days out from San Francisco, two D-rings on the wishbone boom that create outhaul tension failed, requiring navigator Geoff Ashton to climb the rig and effect a repair in thirty knots of breeze. Then, further across, their tiller exploded. Ashton and Grant Donesley repaired that, and the 'broken boat' sailed to a comfortable win in Division B.
In Division C, Michael Maloney's Express 37 Bullet consolidated on their gains made past the halfway point to handily win Division C. Ken Olcott's Schumacher 39 Recidivist unseated Hula Girl for the Division E lead, but the yet-to-finish Calkins 50 Sabrina has a half hour lead on corrected time as of this writing and will take the division if they can make it here by 1:30 p.m.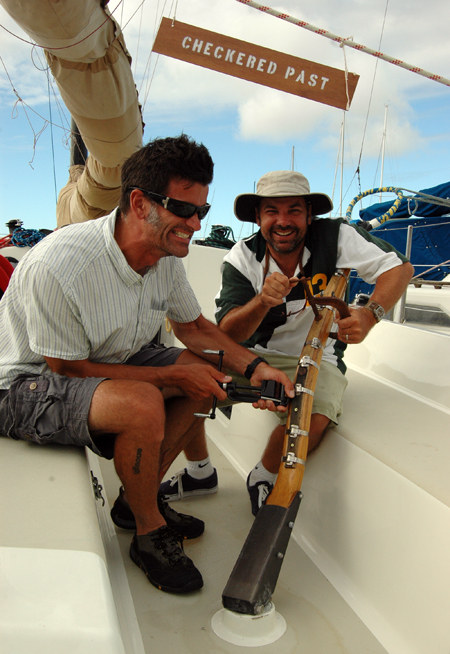 Philippe Kahn and Richard Clarke sailed the Open 50 Pegasus OP-50 to elapsed time honors with a time of 7 days, 15 hours, 7 minutes and 50 minutes, beating the previous doublehanded race record by almost three days. Division honors went to Chip Megeath's R/P 45 Criminal Mischief.
"We sailed a submarine across the Pacific," said 'criminal' Ty Reed about the wet 'n wild R/P 45. "It was an awesome trip."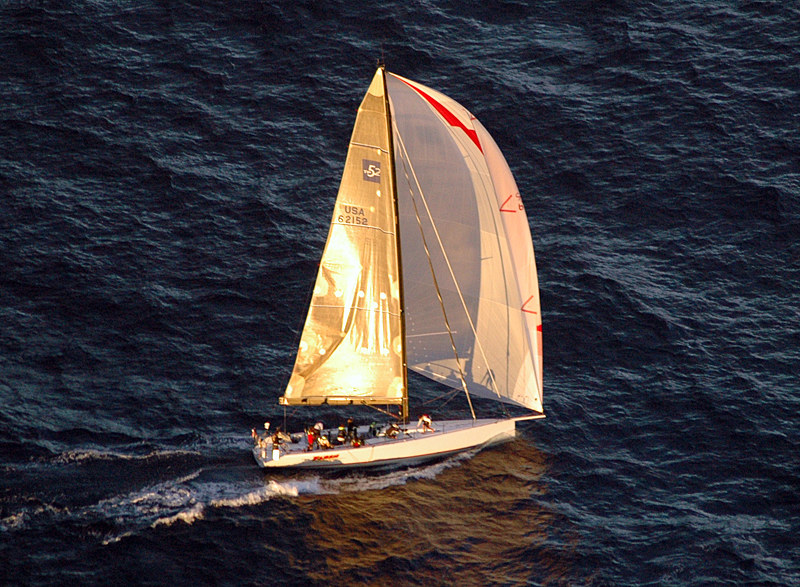 The welcoming crew here at Kaneohe YC is in overdrive. From the 'leis and trays' gals to the mooring committee, it's amazing how welcoming and genuinely excited about the event this group of volunteers is. For updates check out www.pacificcup.org.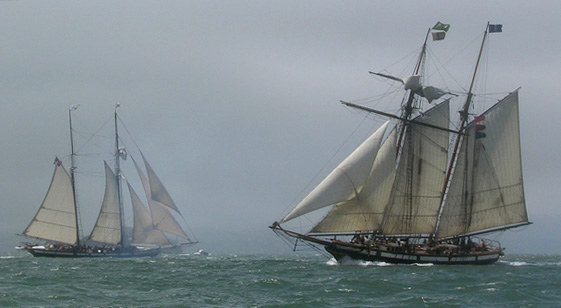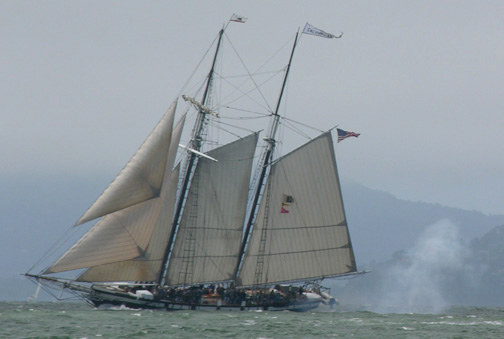 "Hey! Are those guys using live shells, or what!" At the end of what was supposed to be a mock sea battle Sunday between the visiting tall ships Lynx and Californian, spectators were stunned to see the latter ship's jib boom snap like a twig, as if struck by a cannon shot.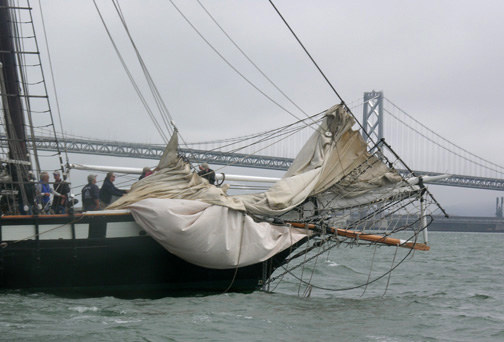 Turns out the breakage had nothing to do with Lynx' mock attack, but rather was due to a metal rigging element which failed and led to a chain reaction of stresses, with the jib boom being the weak link. It's all in a days work for the crews of such ships. We can remember a tall ship fest some years back when Lynx' jib boom snapped in strong winds right before the Parade of Sail was about to begin — sadly, it was her very first visit to the Bay. Hey, it happens. As Californian crewman Chuck McGohey explains, "That's why ships always used to carry plenty of extra spars back in the day."
McGohey figures the Californian will be repaired by the weekend, in plenty of time to make the next tall ship fest August 7 at Channel Islands Harbor. Speaking of departures for points south, we're told that Eagle will be departing the Bay this evening on the tide, around 7 p.m. If you're not busy after work, why not show her some Bay Area hospitality by sailing out the Gate alongside her — and tell her to come back and visit again soon.
The Grand Poobah wants to remind everyone that the Baja Ha-Ha will be hosting a free Ha-Ha Preview & Reunion at Two Harbors, Catalina, on August 9. It will be a super-casual event directed toward folks signed up or thinking about signing up for October's San Diego to Cabo San Lucas rally. But it will be open to everyone — folks who have done the Ha-Ha in the past, folks who are thinking about doing it at some point in the future, and even folks just looking for a place to sit.
The Preview & Reunion will start with a potluck BBQ at 6 p.m., during which time folks can discuss the pleasures — and problems — of cruising Mexico in the winter. Once it gets dark, there will be a new and best-ever Ha-Ha slide presentation, followed by a Q&A period. In addition, there will be hats and shirts as door prizes.
We hope to see as many of you there as possible. In fact, if you're planning on attending — the weather should be great — please send a RSVP to Richard.
Receive emails when 'Lectronic Latitude is updated.
SUBSCRIBE