Maybe Immigration Should be Plasti-Dipped
We've had a corrosion problem on a couple of Profligate components that have given us fits — and cost us a few bucks. The components are the electric motors — one drives the windlass, the other drives the electric mainsheet winch. Because of natural condensation in the areas they are located, the cases have gotten corroded, and the motors have had to be rebuilt.
Aussie friends Peter 'Verdo' Verdon and his lovely wife Gabriella tell us they have the solution. And it comes in a can. It's called Plasti-Dip, and is primarily used to coat the handles of tools to make them easier to grip and keep them from rusting. According to Verdo, you can paint a second coat over a wet first coat.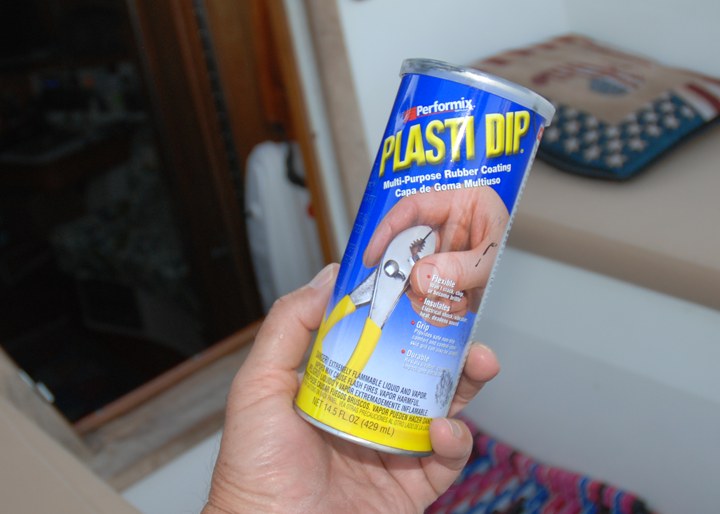 We have faith in the solution, because Verdo and Gabriella have been sailing and running big boats all over the world for many years. In fact, they both worked for Alinghi when the Swiss won the America's Cup in Valencia. In fact, Gabriella ended up being the head of security for that syndicate, and was given the responsibility of guarding the Cup during the wild 500-person celebration at the Alinghi compound. A very clever woman, she put the Cup case in one place, and hid the actual Cup beneath her desk behind a bunch of junk. That is until Ernesto Bertarelli came around to take it home — much to her relief.
Based how Verdo and Gabriella have been treated recently by U.S. Immigration, we think that branch of the government needs to be dipped into some Plasti-Dip. Having sold their house in Queensland, the couple came all the way to Alameda earlier in the summer to buy a Catalina 42 — "We can't believe we bought a production boat!" — on which to cruise the Pacific. Since that purchase, they've been pouring money into the boat, both in terms of parts and in local labor. And they'd had very good things to say about local vendors and workers.
Alas, their visa is running out just before the start of the cruising season. The couple, who obviously have means — as well as plenty of receipts that they've been pumping money into the local economy — were told by Immigration that they had to leave the country to get their visas renewed. They've spent over 30 hours with Immigration officials trying to get some relief. Nada. Disappointed, they figured they could make a quick trip to either Mexico or Canada, and would have a good time to boot. Alas, according to the wisdom of Immigration, the only two countries they can't go to get their visas renewed are Mexico and Canada!
Friends in similar situations have suggested they just blow off Immigration. After all, how many millions of people in the U.S. who have overstayed their visas and haven't had a problem? But wanting to be strictly legal, the couple will soon be flying to El Salvador for a week, spending $4,000 they would have preferred to spend on other marine goodies and services here in Northern California.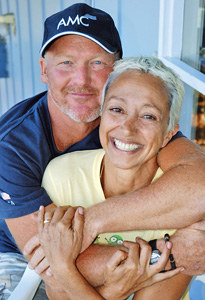 The odd background to it all is that President Obama just announced that illegal immigrants who don't have a felony criminal record will not be prosecuted for being in the country illegally. So on the one hand, our government is kicking out foreigners who are spending money like crazy here in California, while granting amnesty — and dishing out big financial benefits — to those who are in the country illegally. Makes a lot of sense, doesn't it?
The killer is that the folks at Immigration have told the Verdons that even after they spend a week in El Salvador, there is no guarantee that they'll be let back into the country to get their boat! The couple are taking their boat out for her first sail today, we hope it's a great one, good enough to make them forget how completely screwed up the government is.
Receive emails when 'Lectronic Latitude is updated.
SUBSCRIBE