Anyone who hasn't crewed a long-distance race might sometimes wonder about the sleeping arrangements during a race. With the Transpac race in full swing, we thought this would be a good time to share Max Ebb's story from our July issue of Latitude 38, in which Max shares his experience of 'hot-bunking' with seven other crew members. 
It was a damp and foggy night. We were racing down the coast, and the wind in the thick marine layer was light but reasonably steady. My watch was over and the schedule had me shifting to "standby" mode.
This boat uses a "volleyball style" watch rotation scheme. When conditions are not demanding, "standby" is the same as "off watch," so I unclipped my tether and went below to get some much-needed sleep. As usual, I hadn't slept a wink during my first two off-watches, but by the third off-watch I was ready for bedtime. And really looking forward to it, too. There's no better sleep than bundled into the quarter berth of a well-run race boat in smooth water and a steady breeze.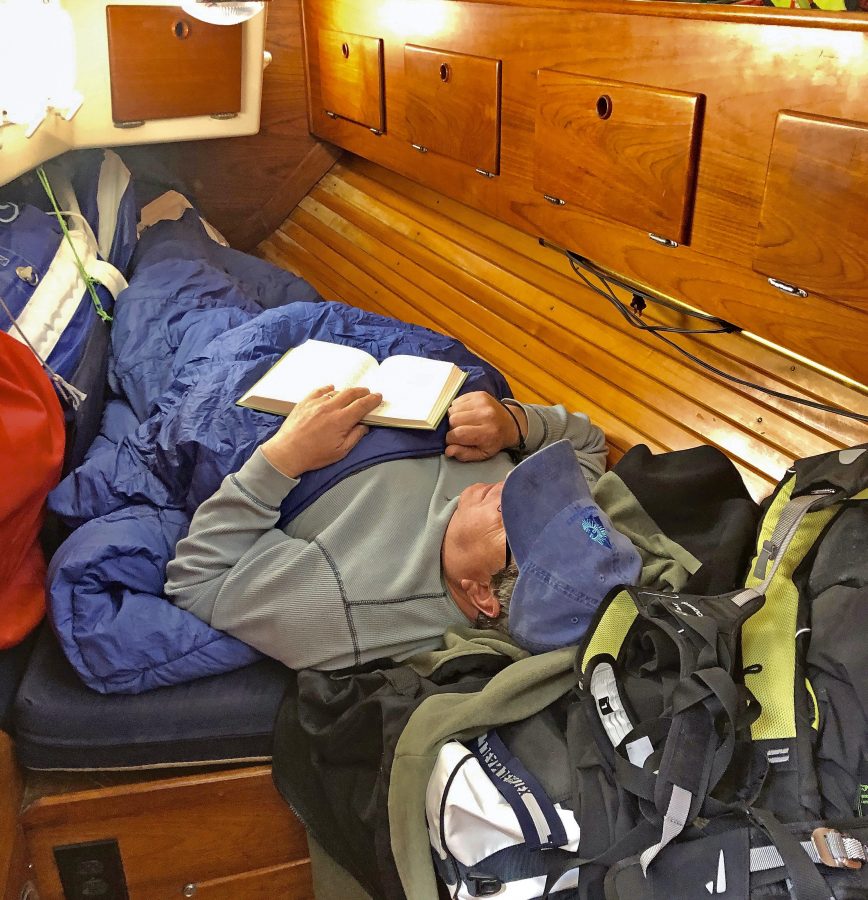 We had a racing crew of eight: seven watchstanders, plus Lee Helm at the chart table. She had managed to talk her way into not standing watches so she could be full-time navigator. "It's like, a 24-hour job," she insisted. "There are three weather models we need to follow, and each one updates every six hours, but the times they become available are staggered, so there's a new map to download, like, every two hours. And the High-Res Rapid Refresh 18-hour prog updates hourly, plus the real-time buoy reports, and I also monitor the tracker and AIS data from the fleet. I only have time for, like, short catnaps. But I still schedule myself for a watch on deck very late at night, when the crew attention span is lowest and they might need an extra push."
Lee had her own berth, and that left five berths for seven watchstanders. No problem. I expect to hot-bunk on a race boat, so two pairs of crew, on opposite sides of the rotation, would share their off-watch bunks. But when I came off watch, my bunkmate was still snoring away.
Continue reading at Latitude 38.com to find out how Max solved this problem.
Receive emails when 'Lectronic Latitude is updated.
SUBSCRIBE