Match Racing Galore, California-Style
Bunny Bash on the San Francisco Cityfront
If you want to test someone's mettle, ask them to match race J/22s in 18-22 knots and big ebb chop on the San Francisco Cityfront. That challenge was posed to the six teams entered in the Grade 5 Bunny Bash at St. Francis Yacht Club on Saturday, April 16. Those sailors certainly proved their mettle, impressing organizers, umpires and spectators with how well they battled one another and the elements.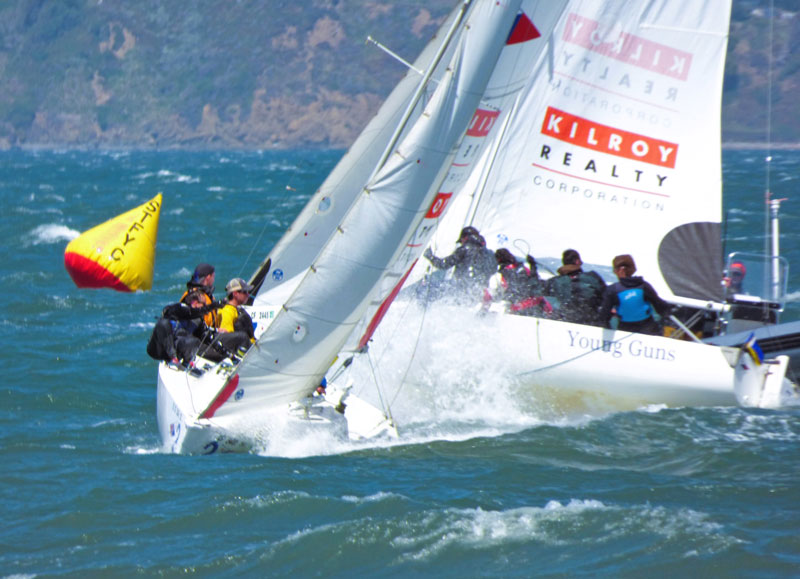 Tor Svendsen, 17, and his crew, Will Paulsen, Noah Barrengos and Mimi El-Khazindar, defeated Sam White 2-0 in the finals. They had run the table 5-0 in the Stage 1 Round Robin. Humble about his talent on the helm, Svendsen claimed, "The key to my success was truthfully my crew. Having so much experience on board really made my job as a skipper much easier."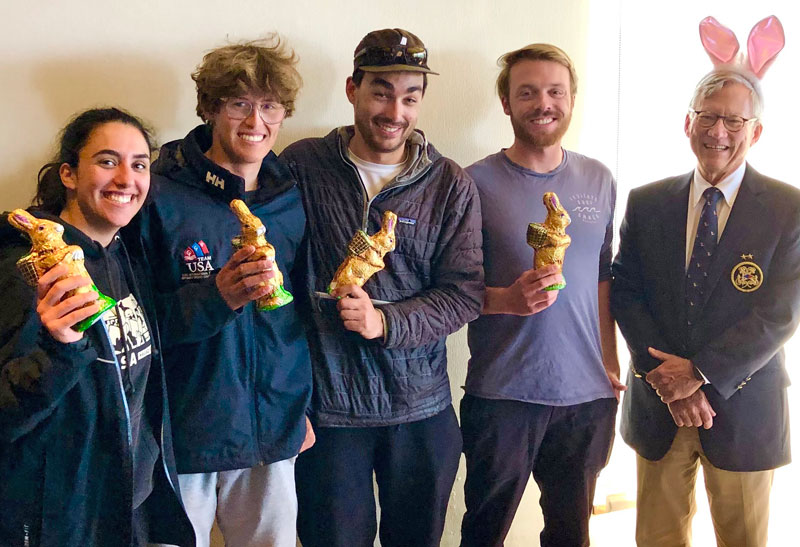 The regatta attracted avid sailors from other areas of the sport to play hard at a new game, but in an event where the stakes were lower and the mode was fun-forward. Skippers Justin Turcotte, 14, from the Peninsula Youth Sailing Foundation and Arthur Serra, 16, of StFYC led other youthful teams. Serra relished the "high intensity and heart-pounding" action, requiring "full concentration from start to finish."
Regatta co-chair Nicole Breault explained, "While in years past we have held clinegattas, this was the first straight-up entry-level match-race regatta we have run." The Bunny Bash followed a six-week clinic series that Breault coached (9 of the 16 raced). She concluded, "I was super-proud of how they played the game in tough conditions."
A growing number of Bay Area sailors of all ages are keen for more opportunities to engage in what Breault sometimes jokingly calls "combat sailing." This energy could fuel more grassroots organizing of match-racing clinics, intraclub racing and grade 4 and 5 regattas. And perhaps someday in the not-too-distant future some of these budding match racers will aspire to advance to the top ranks of the world tour.
Click here for complete results.
Ficker Cup in Long Beach
Long Beach YC hosted the Ficker Cup April 14-16 in stadium-style match races using Catalina 37s. Jeppe Borch of Denmark won in a rousing upset over defending champion Emil Kjaer, also of Denmark. American Peter Holz and his Windy City Racing team took third and Dave Perry fourth in the World Match Racing Tour WS Grade 2 qualifier. The Ficker Cup enjoyed stiff breeze, though not quite as much as the Bunny Bash up north.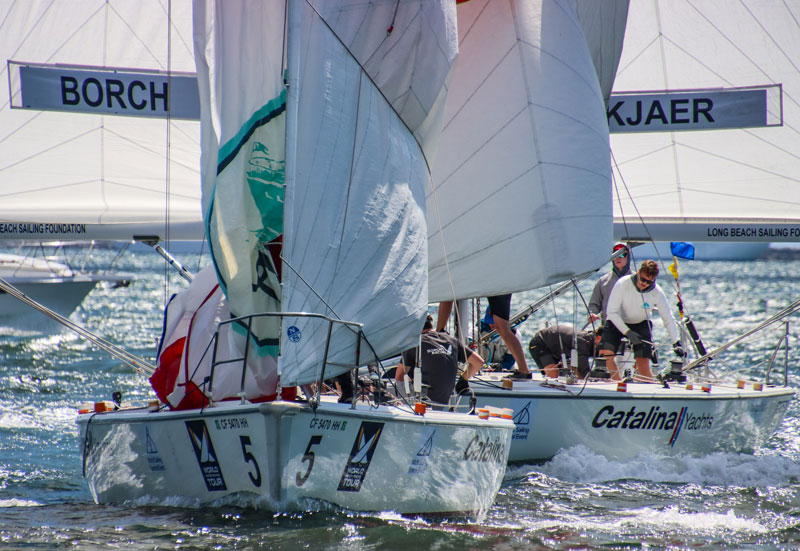 The top two finishers in the Ficker Cup qualify for the last two available spots in the Congressional Cup. Thus both Borch and Kjaer will join a top-notch international field of foes in the battle for the trophy and the Crimson Blazer.
Click here for complete results.
Congressional Cup Is Next
The 57th grade 1 Congo Cup will kick off with a rededication of the Congressional Cup Stadium. Long Beach mayor Robert Garcia will cut the ribbon at Belmont Veterans Memorial Pier tomorrow morning at 9 a.m. The Congressional Cup Stadium is where the 2028 Olympic sailing events will take place, situated directly off Belmont Pier between the oil islands White and Chaffee.
LBYC will host the Congo Cup this week, April 19-23. Spectators can watch the racing starting at 11:30 from Belmont Pier for free, with shaded stadium seating, food and drink vendors, and live commentary in a festive atmosphere. Visitors can also check out the new Congressional Cup Walk of Fame along the pier (Hollywood Blvd. style) featuring the names of past Congressional Cup champions.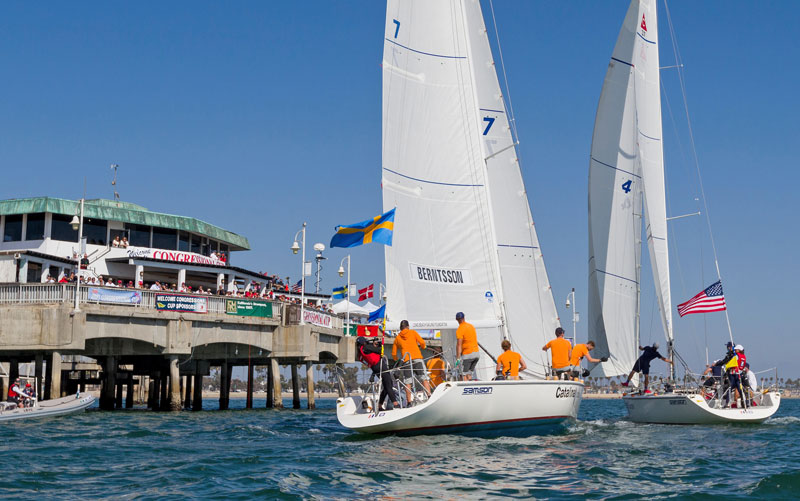 In addition to the two Danes who advanced from the Ficker Cup, the skippers include Ian Williams (GBR), the second-ranked match racer in the world. Williams won Congo Cup in 2011, 2012, 2017 and 2019 before sitting out last year's regatta due to travel restrictions. Taylor Canfield (USVI) is the winningest skipper in the regatta's history, with victories in 2014, 2015, 2016, 2018 and 2021. Nick Egnot Johnson (NZL, ranked #3), Harry Price (AUS), Chris Poole of Connecticut, and Johnnie Berntsson (SWE; last year's runner-up) return for another go. Pearson Potts, hailing from New Orleans, and Dave Hood of Long Beach YC are first-timers.
For complete info, see https://thecongressionalcup.com and www.wmrt.com.
Receive emails when 'Lectronic Latitude is updated.
SUBSCRIBE