'Maiden' Departs, Greta Thunberg Arrives
Maiden Sails Out the Gate for L.A.
A crowd of well-wishers gathered this morning to wish farewell to Maiden and her crew as they departed for the next leg of their world tour. The 58-ft 1979 Bruce Farr-design Disque D'Or III — one of the stars of the documentary Maiden — is on a 30-plus-city world tour to raise money for charities working to provide an education for young women in need. Maiden is due to arrive at Marina del Rey tomorrow at 2 p.m. and the captain and crew were more than ready to cast off the lines and head back out to sea. But first, there was the official bon-voyage reception at the St Francis Yacht Club, which has hosted the vessel since its arrival on August, 19.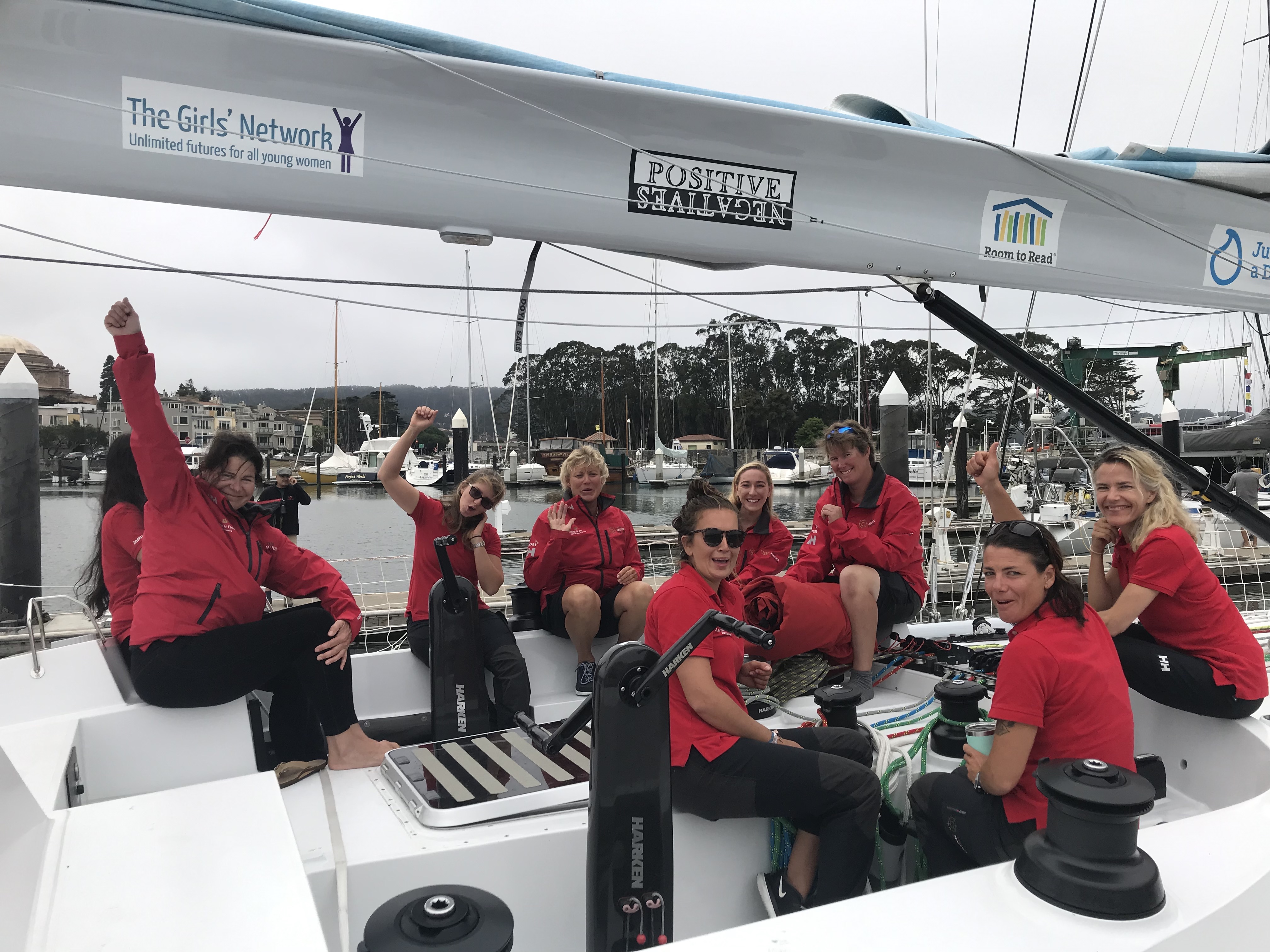 "We've had an absolutely fantastic stopover in San Francisco," said Kaia Bint Savage, The Maiden Factor's digital-content coordinator. In addition to conducting open-boat sessions to help promote the charities they support, some of Maiden's crew visited the local offices of Room to Read — an organization that delivers life-changing reading programs and materials to millions of children across the globe.
Room to Read's Chief executive officer Dr. Geetha Murali said that the crew received good insight into the work Maiden was supporting and was able to demonstrate the effectiveness of their support with documented case studies and reports. As part of Maiden's program, Murali was able to hand over a baton representing the "Relay of Hope" through which children's messages of support and encouragement are delivered to each other around the world.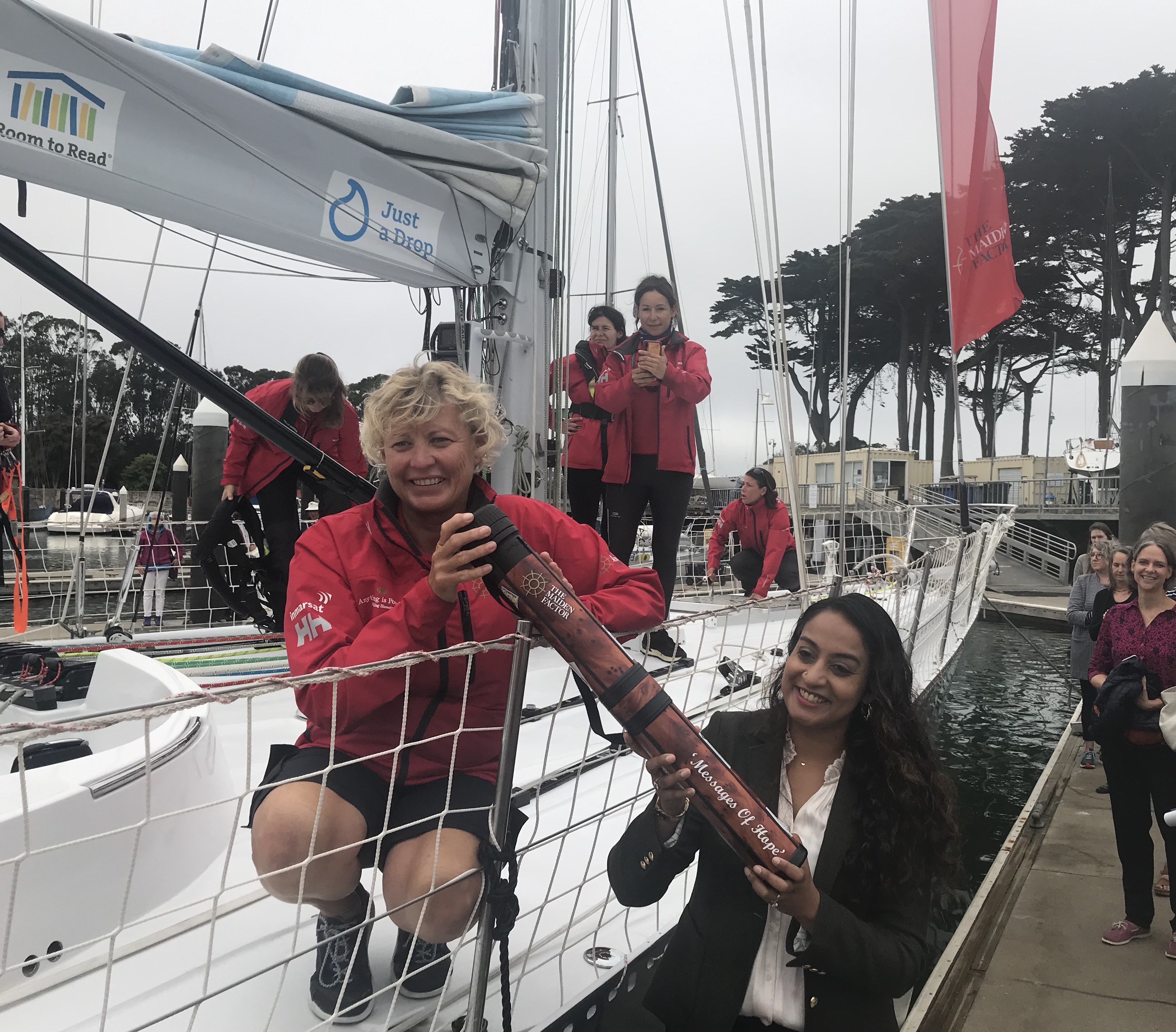 Maiden will spend approximately two weeks in L.A. before continuing her journey, with the next stops including Chile and Uruguay, and a date to round Cape Horn late in the year. Since their arrival in San Francisco, there've been some crew changes.  Among the newcomers are Lindsay Rosen from Seattle, and local sailors Kellie Ann Taylor and Sabrina Perell, who is a member of St FYC. Also on board is Ashley Perrin, a member of San Francisco YC who can be regularly seen sailing the Bay Area aboard her Moore 24. In addition to being a known local racing sailor, Ashley has amassed thousands of ocean miles Transatlantic and Pacific crossings along with world-recognized events such as the Fastnet.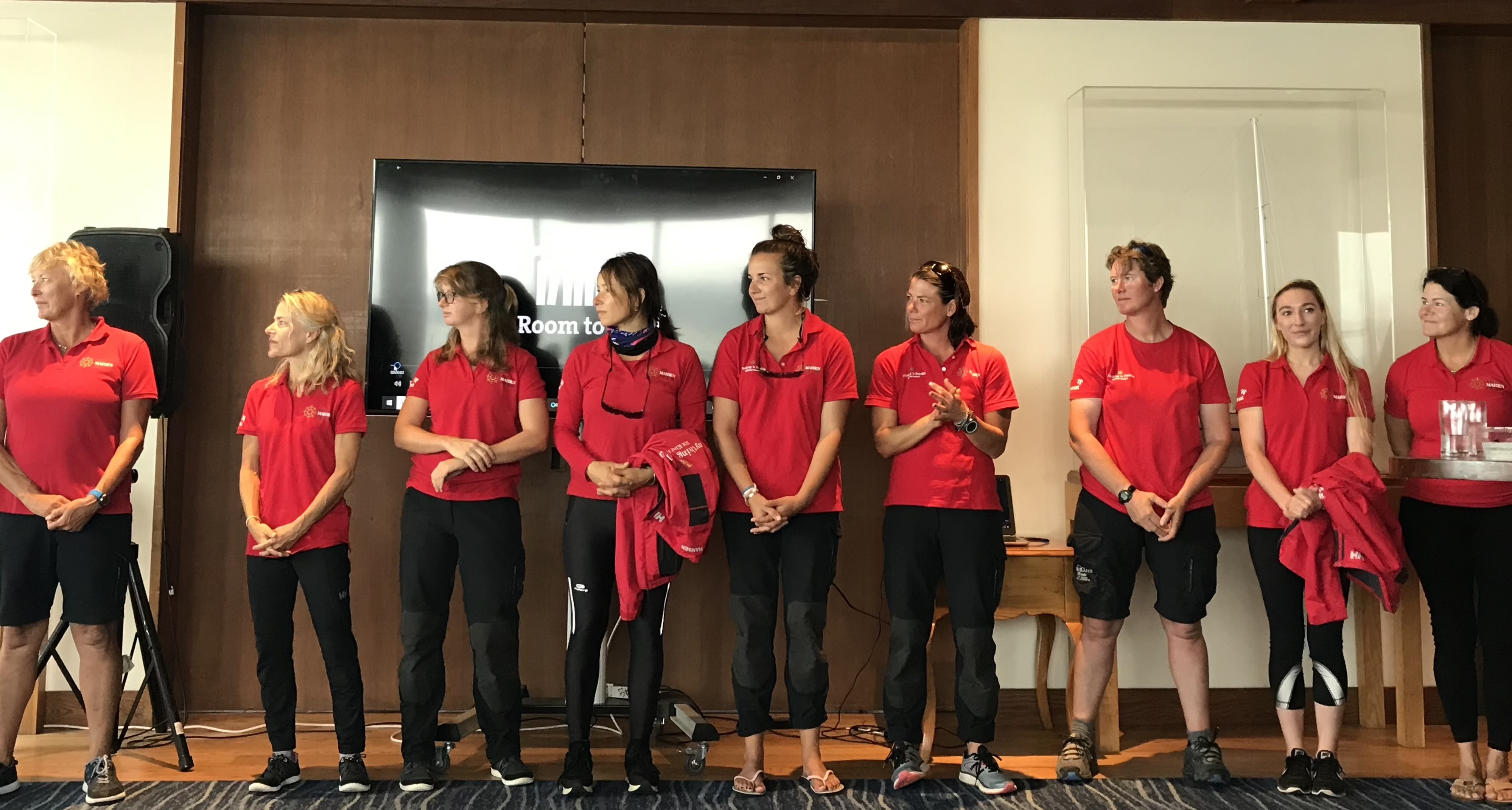 Stay tuned as we continue to bring you updates and news of Maiden and her crew on their  60,000-nautical-mile journey.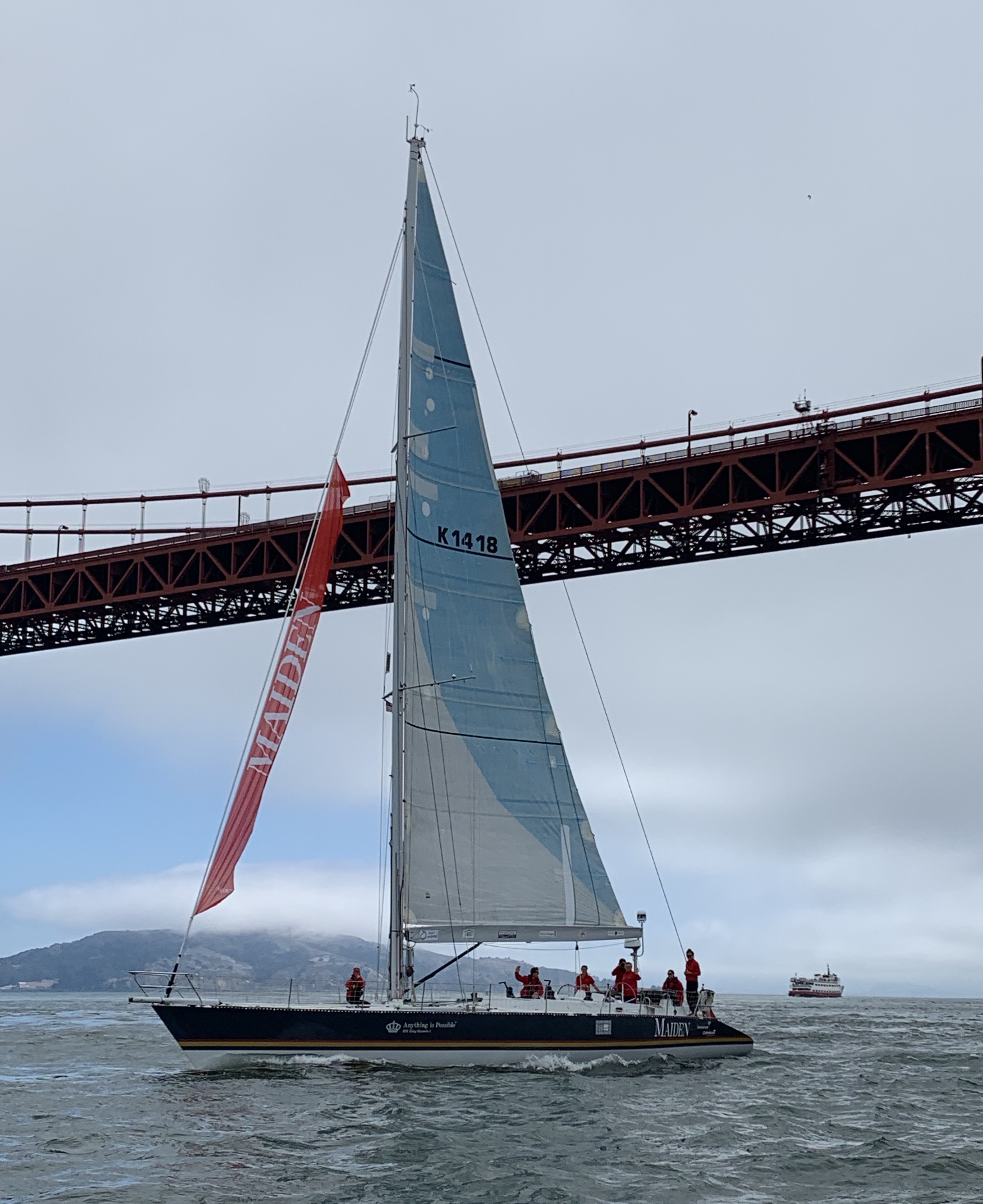 Greta Thunberg Sails Into New York
Swedish climate activist Greta Thunberg arrived in New York on Wednesday after a highly publicized Atlantic crossing aboard the IMOCA 60 Malizia II.  "After a 15-day sail that was obsessively tracked by European news media, cheered by fellow climate activists, mocked by critics and rocked by rough waves off Nova Scotia, Greta and the boat's crew went through Customs on Wednesday morning while anchored off Coney Island, Brooklyn," the New York Times reported.
Malizia II and Thunberg were greeted by young activists at North Cove Marina, according to the Times. "The boat's black sails had come into sight just blocks from Wall Street, the heart of the global financial system whose investments in fossil fuels are one of the main targets of climate protesters — and an area that climate change threatens with sea-level rise."
Greta Thunberg's mission is not without controversy. On our Facebook page, some of our followers criticized the 16-year-old Swede for sailing in a boat made from petrochemicals. "She could have sailed a wooden boat," someone said (with what degree of seriousness we're not entirely sure). In mid-August, we received a letter from a 30-year reader who said they would not renew their subscription because of our "ongoing platform for the discussion of 'global warming.' I was under the impression that you folks were interested in sailing, not politics." (We think Latitude has always waded into conversations about public issues, even as ownership, and certain, opinions have changed — but OK.)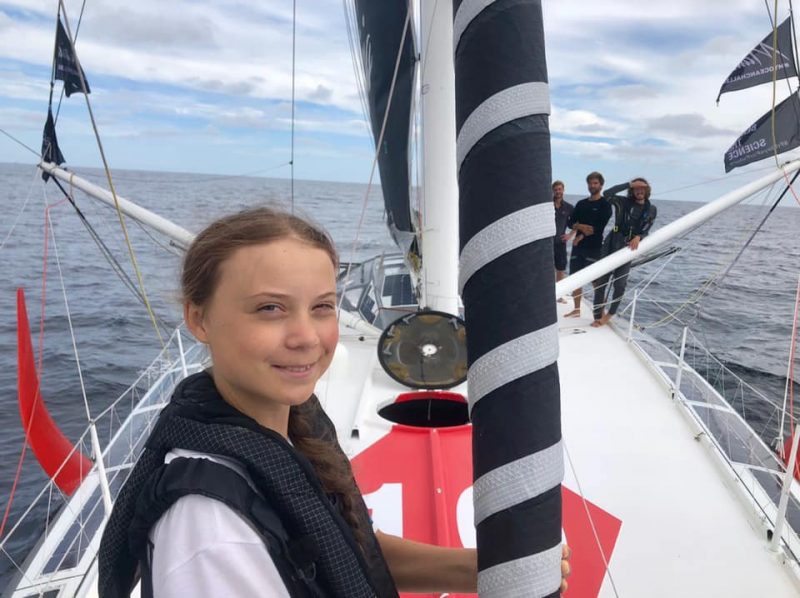 "Greta has her detractors," the Times wrote. "She was criticized after single-use plastic water bottles were seen on the yacht. Some have labeled her call to 'pull the emergency brake' on emissions simplistic or even undemocratic." As we discussed in our Plastic Plague series, it is both difficult to know exactly where to put our energy, concern and outrage in terms of effecting meaningful change, and even more difficult to unravel ourselves from the pollutants that have become integral parts of our everyday lives.
Regardless, we believe in doing something, in having a dialogue, and in pressuring governments and multinational corporations into taking action. In this sense we tip our hats to Greta and the crew of Malizia II. 
Receive emails when 'Lectronic Latitude is updated.
SUBSCRIBE