Liz Clark Breaks Her Neck
Imagine an Olympic downhill ski racer falling down and breaking a leg on a bunny hill. That's probably how Liz Clark of the Santa Barbara-based Cal 40 Swell, who has been cruising French Polynesia for years now, feels right now. As many of you know, she was a champion surfer when attending UCSB, and has surfed some of the most dangerous tubes in French Polynesia. Yet it was while body surfing in small surf off Torrey Pines (San Diego) on October 8 that she broke her neck!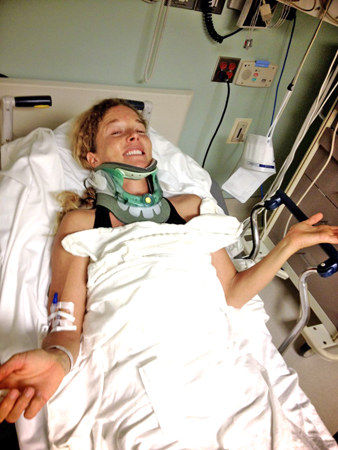 Here's how it went down:
"The tide was dropping, and one particular sandbar beckoned. With half an hour to kill and a bladder full of tea, a swim seemed in order. So without another thought, I was zipping up my Patagonia R1 spring suit and hopping down the rocks, one fin in hand. I limped across the short strip of sand and collapsed into my beloved ocean at knee deep. Ahhhh!
"My second wave looked like a beauty. It approached from the north, standing up as I kicked into it. But as I plunged down the two-ft face, an odd warble cropped up, tossing me head over heels. Totally unexpectedly, my head hit the sand. My body was angled such that all its weight and momentum fell upon the forward part of my head, snapping it backwards in the process. "No way," I thought. I came to the surface. 'Okay. I'm conscious.' Check. 'I can move my arms and legs.' Check. 'I'm okay. I'm okay.'
Liz wasn't really okay. Unable to get help because her cell phone was out of minutes, she drove herself the three miles to her sister's house, her neck feeling "unstable and weak," where she lay down in pain. She called a friend who is an ER nurse, who rushed the health insurance-less Liz to Sharp Hospital.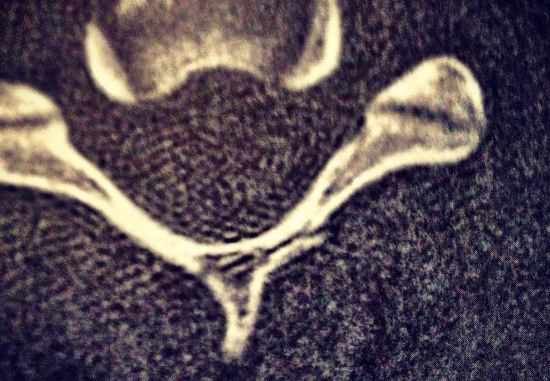 The results from the CAT scan showed no break, so Liz and her nurse friend were ecstatic. But Dr. Healy, double-checking the image, rushed in to say, "Don't move that neck brace!" He'd found that Liz had indeed fractured her neck at the C3.
Liz has been taking the injury with gratitude that she didn't damage her spinal cord, positive thoughts, and humor. Indeed, she's seemingly become obssessed with how ridiculous her hair looks from having to lie down all the time, posting photo after photo. Our favorite is a side-by-side comparison of her and Dog the Bounty Hunter. When you can laugh at yourself, you've got a whole lot going for you.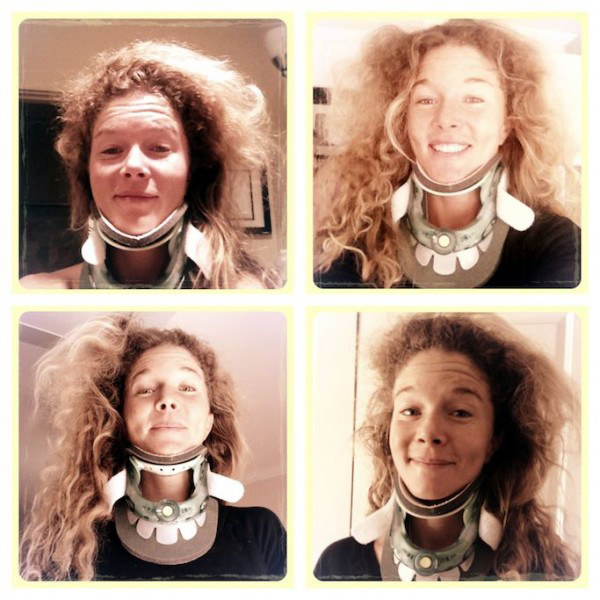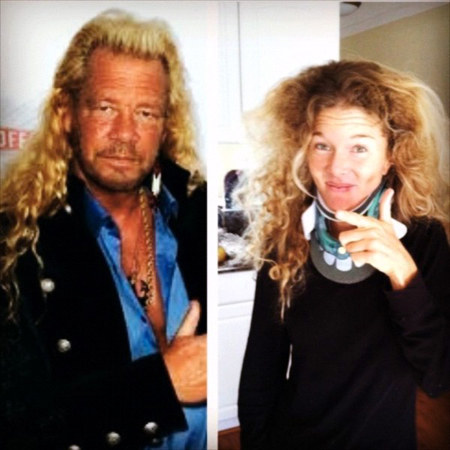 By the way, we'd hoped to post Liz's favorite cruising recipes in the November issue of Latitude, but that will have to wait until the December issue because of space considerations.
Receive emails when 'Lectronic Latitude is updated.
SUBSCRIBE