Keeping Inflatable Life Jackets in Life Saving Condition
Do you use an inflatable life jacket? Have you checked it recently, or ever?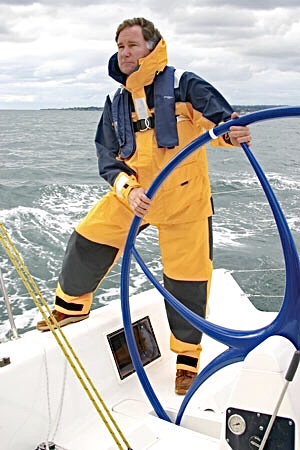 Last week, May 16th to 22nd, was Safe Boating Week, and US Sailing posted a great video (below) in their free online Starboard Portal called Keeping Inflatables in Life Saving Condition. In this excellent presentation, our good friend Chuck Hawley covers all the basics you need to tune up your inflatable life jacket, and wear it with confidence.
We know that not all sailors prefer inflatable life jackets, but we feel that the best vest is the one you'll actually wear, and inflatables excel in lightness and comfort. As we settle into the hot summer boating season, we're glad to have our light, ergonomic gear.
Chuck Hawley is uniquely qualified to explain the pros and cons of inflatable life jackets. He served as chair of the US Sailing Safety at Sea Committee from 2011 to 2017, and we've read his committee's reports explaining well-known sailing accidents like the Low Speed Chase and Wingnuts incidents.
Part of the First West Marine Store
After college in Santa Barbara, Chuck started out working in West Marine's first Palo Alto store, and bought a yellow Moore 24 soon afterward, in 1979. Many solo practice sessions on Monterey Bay culminated in the 1980 Singlehanded TransPac race, which Chuck sailed a second time in an Olson 30. Since the '80s, he's sailed over 40,000 ocean miles. This has included everything from setting an Atlantic record and a near-faceplant on Steve Fossett's PlayStation catamaran to losing the keel on a 70-ft ultralight and turtling a Viper 640 in Monterey Bay. Chuck also is the father of five daughters, including triplets. His adventures, as it were, have been varied.
We met Chuck in 1995 when he was Vice President of Product Development at West Marine. He had his hand in the development of scores of new products, including a new generation of inflatable life jackets.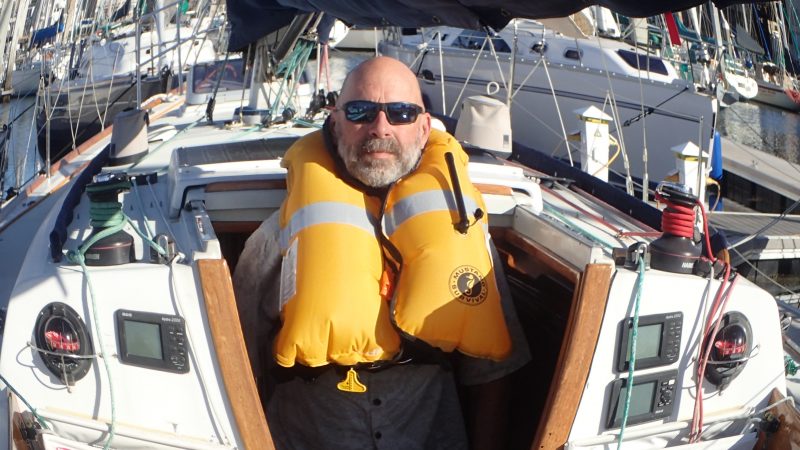 Safety at Sea
Since retiring from West Marine in 2013, Chuck Hawley has remained dedicated to US Sailing and Safety at Sea. He's been the master of ceremonies at over 80 Safety at Sea seminars sponsored by US Sailing. If you're going to sail offshore, especially if you're thinking of a Hawaii race in the future, there's no better source on how to do it safely. And if you're just planning on servicing your inflatable life jacket, or if you don't think inflatables are even a good idea, watch this video.
Chuck Hawley checks in this coming Monday, when the World of Chartering section is delivered with the June issue of Latitude 38. His story covers a recent Wilderness Medical Society-sponsored "MedSail" trip, which he frequently leads. These trips to the British Virgin Islands are group charters that offer continuing education credits to doctors.
Receive emails when 'Lectronic Latitude is updated.
SUBSCRIBE