Hurricane Lorena Approaching Cabo
It's easy to get complacent about things like a Category 1 hurricane when you've recently witnessed, at a distance, the impact of a Category 5. However, if you're in the path of a Cat 1 or even a tropical storm, complacency is the last thing you want. Hurricane Lorena brushed along the coast south of Banderas Bay with strong winds and rain, and is now approaching Cabo with its Category 1 status. It looks as though it may peel west and weaken but, nonetheless, the impact of the resulting wind, rain and waves could cause damage.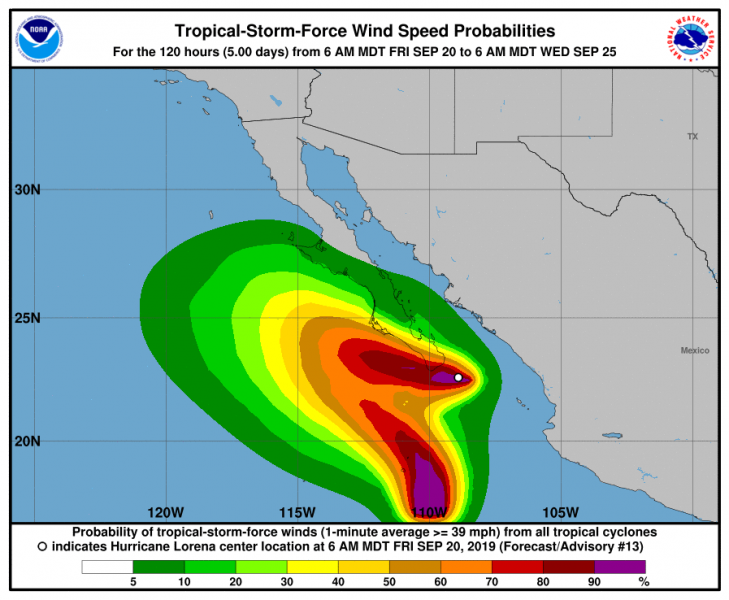 The word from Dick and Gina Markie at Paradise Village Marina in Banderas Bay is all good. Lots of rain from Lorena for a day, but no problems from the wind and waves. We also spoke to the crew at Marina Puerto de la Navidad to the south, who also experienced lots of rain and strong winds but, luckily, said there was no damage.
Now, as Lorena approaches the cape, we know boat owners and harbormasters from Cabo to La Paz are battening down the hatches, preparing for a blow while hoping the whole thing dissipates and slides west. Regardless, as Texans know from the recent 35-plus inches of rain from Hurricane Imelda, charts are one thing, but storms do whatever they like. We'll keep our fingers crossed for everyone nervously preparing for the arrival of Lorena.
Meanwhile, in the Caribbean, it's looking like Hurricane Jerry will hopefully stay north of the islands, perhaps just brushing by Anguilla and Barbuda. Fingers crossed there too!
Receive emails when 'Lectronic Latitude is updated.
SUBSCRIBE