Hurricane Earl Approaches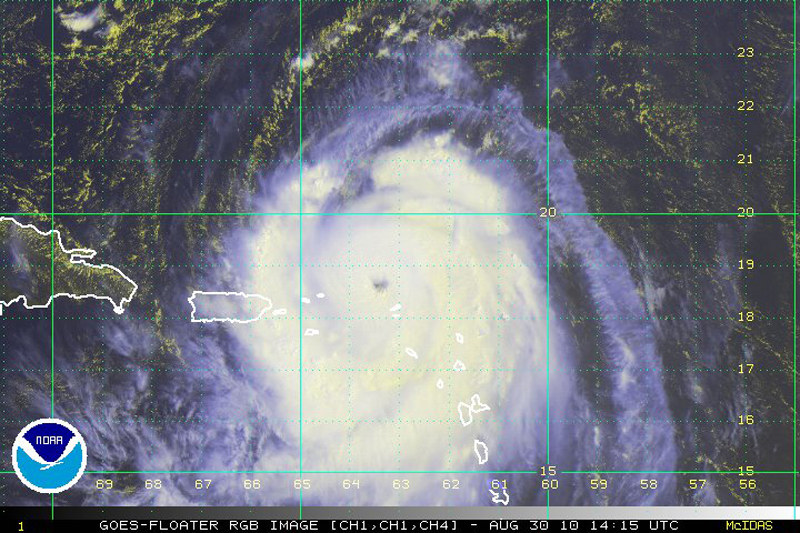 "The eye of Earl will pass near or over the northernmost Virgin Islands this afternoon and this evening," NOAA reported this morning.
This is spooky stuff, because Earl is a Category 3 hurricane, with winds over 100 knots, and the Virgin Islands, British and U.S., are home to thousands of charter and privately owned sailboats. Among those is 'ti Profligate, the Leopard 45 cat owned by the publisher of Latitude. She was to go out on charter starting tomorrow, and is heavily booked for the upcoming season.
While Earl has been continuing to build, there is some reason for limited optimism. The eye of Earl, which is moving WNW at 14 knots, is currently forecast to pass just to the north of Tortola, the biggest of the British Virgins. If so, the winds will be coming from the NNW, which would be the weakest quadrant, and most of the boats would be in the lee of the mountainous island. There would still be extensive damage, but not as much as if Earl were to pass to the south of Tortola. Both Anegada and Virgin Gorda, less populated islands with fewer boats, are closer to the current path of the eye.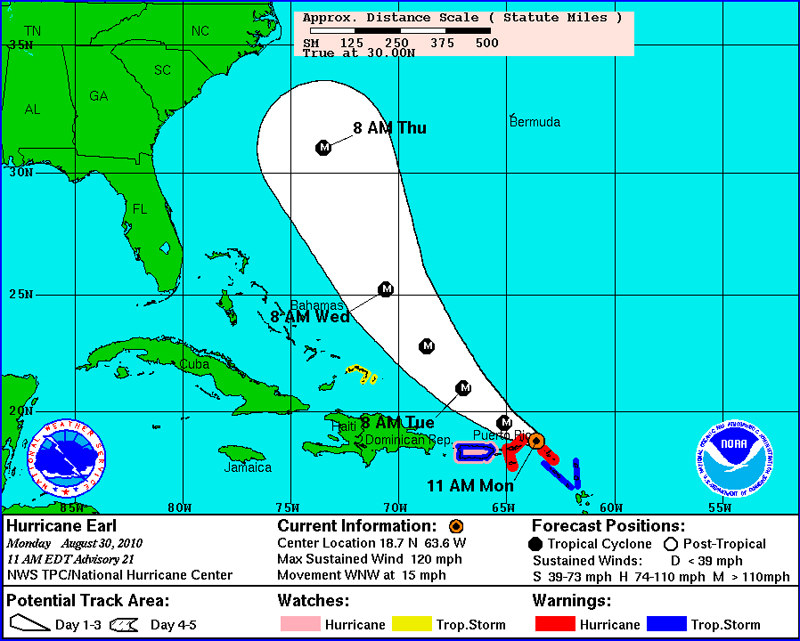 Earl, however, is not to be trusted. Just a couple days ago, he was forecast to pass safely to the north of the Leeward Islands. But then he continued to move more to the west than the north. As of 8:00 a.m. Pacific Time, Earl was about 150 miles NNE of St. Thomas in the U.S. Virgin Islands. As he moves WNW, he's going to get closer to that island, but hopefully not much closer. By Tuesday, he's predicted to move much more to the north and away from land.
Earl has hit St. Martin, Anguilla and St. Barth already. While there hasn't been much communication because everybody is hunkered down and in many cases the electricity has been shut off, the strongest gust reported in St. Martin, a huge sailboat center, has been 70 knots. That's not good, but it could be much worse. So let's everyone keep our fingers crossed for the people in the path of Earl.
Receive emails when 'Lectronic Latitude is updated.
SUBSCRIBE