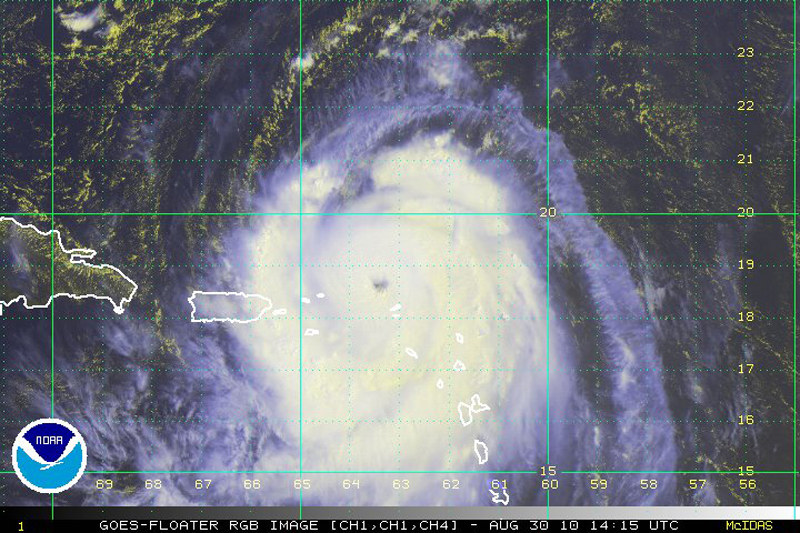 "The eye of Earl will pass near or over the northernmost Virgin Islands this afternoon and this evening," NOAA reported this morning.
This is spooky stuff, because Earl is a Category 3 hurricane, with winds over 100 knots, and the Virgin Islands, British and U.S., are home to thousands of charter and privately owned sailboats. Among those is 'ti Profligate, the Leopard 45 cat owned by the publisher of Latitude. She was to go out on charter starting tomorrow, and is heavily booked for the upcoming season.
While Earl has been continuing to build, there is some reason for limited optimism. The eye of Earl, which is moving WNW at 14 knots, is currently forecast to pass just to the north of Tortola, the biggest of the British Virgins. If so, the winds will be coming from the NNW, which would be the weakest quadrant, and most of the boats would be in the lee of the mountainous island. There would still be extensive damage, but not as much as if Earl were to pass to the south of Tortola. Both Anegada and Virgin Gorda, less populated islands with fewer boats, are closer to the current path of the eye.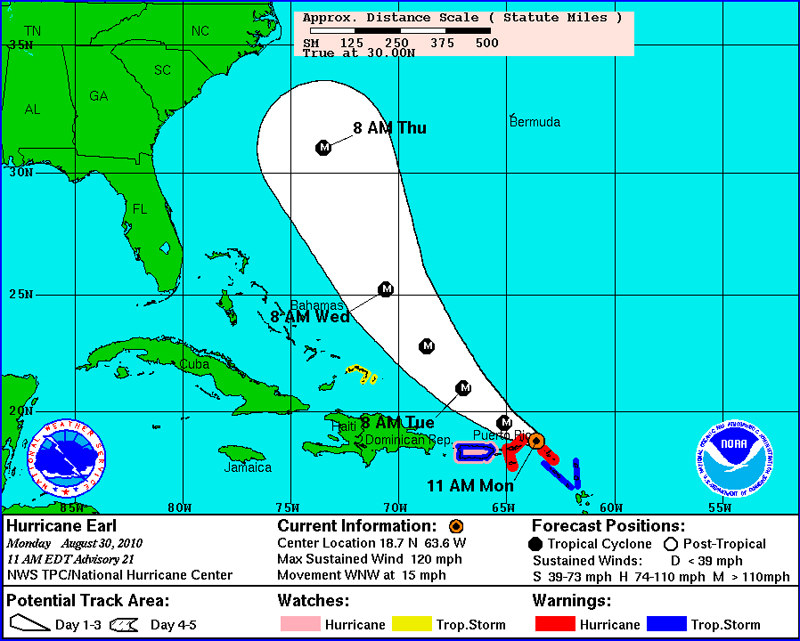 Earl, however, is not to be trusted. Just a couple days ago, he was forecast to pass safely to the north of the Leeward Islands. But then he continued to move more to the west than the north. As of 8:00 a.m. Pacific Time, Earl was about 150 miles NNE of St. Thomas in the U.S. Virgin Islands. As he moves WNW, he's going to get closer to that island, but hopefully not much closer. By Tuesday, he's predicted to move much more to the north and away from land.
Earl has hit St. Martin, Anguilla and St. Barth already. While there hasn't been much communication because everybody is hunkered down and in many cases the electricity has been shut off, the strongest gust reported in St. Martin, a huge sailboat center, has been 70 knots. That's not good, but it could be much worse. So let's everyone keep our fingers crossed for the people in the path of Earl.
When you see somebody with a big cat, you assume he/she has a lot of money. But as Gary Burgin of the Capitola-based Marples 55 catamaran Crystal Blue Persuasion can tell you, that's not necessarily true.
Gary left California as part of the '08 Baja Ha-Ha hoping to get to the Caribbean coast of Mexico as soon as possible to begin service in the charter trade. He didn't have much money, but that was to come with the charters. Alas, when he got to the charter site, the deal and facilities weren't what had been described. Then there were some serious mechanical problems with both engines and both transmissions, some of which Burgin manfully acknowledges were a result of a foolish mistake he made with a couple of t-valves. Things got so bad he was forced to clean bottoms for money at Isla Mujeres, and all but became a subsistence fisherman while making repairs to the cat's mechanics. He figures he was living on $200 a month.
But there was a good side to it, too. When he left California, he was muscular, but weighed nearly 300 pounds. Because he'd basically had to switch from a steak and burger diet to a fish diet, and because he was working so hard, he dropped 80 pounds.
"When I left California, I was wearing pants with a 42-inch waist. When I was in Mexico, I got into pants with a 32-inch waist." When he saw the accompanying photo of himself, he said that he couldn't believe it was him. "And I later got even thinner than that."
About six months ago, Burgin got the cat in good enough shape to head back to the Canal and California, funded mostly by a series of paying guests. But there were lots of crew changes, and times when he had to singlehand the 55-footer — and without an autopilot. And with virtually no food or fuel. He describes times when he had to make a choice between reefing the main to keep from ripping the sail and reeling in a fish so he'd have something to eat. And times when going north from southern Mexico and along the coast of Baja he only had a jib, twice ripped, for propulsion. It took him 10 days, for example, to singlehand the 300 or so miles from Manzanillo to Mazatlan.
Burgin eventually made it back to California — thanks, in part, to Servicios Annabelle in Turtle Bay coming forward to offer him $500 in diesel. Gary is currently on the hook on the cat at Capitola, not sure what is coming next. He's a construction worker, and like almost all construction workers, is having a very hard time finding work. In fact, he recently flew all the way to Alaska to take a three-week job.
Burgin says it's been a very interesting sailing experience, and that he's a much better sailor and boat mechanic than he was before. And waxing philosophical, he echoed Nietzsche's maxim that what's doesn't kill us makes us stronger. He's hoping he can do another Ha-Ha next year, but can't say for sure. We wish him and his cat the best of luck.
Receive emails when 'Lectronic Latitude is updated.
SUBSCRIBE