"I think a young Coastie can be forgiven for not knowing where Hospital Cove is because s/he may never have heard the name before," writes Tony Johnson, who sails his Catalina 22 Whisper out of San Francisco. Johnson is referring to Max Ebb's October article on radio etiquette, where Max writes: I remember listening in (on Channel 16) one time when a boat was on fire right in Hospital Cove, and the kid on the Coast Guard radio didn't even know where that was.
"For years I'd wondered about the location of Hospital Cove on Angel Island," Johnson continues. "No one I spoke to seemed to know for sure where it was. It was listed on page 10 of your tide book under 'Locations for Current Differences from the Golden Gate' but it didn't appear on the chart.
"With some modest research, I discovered that the name of this cove was officially changed to Ayala Cove in 1969. In 2011, I informed NOAA's National Ocean Service, the federal agency that is responsible for tidal data, of the change and, notwithstanding the government's reputation for red tape and dawdling, within a day or two they had updated their online database to reflect the correct name. However, the tide books we commonly use are printed by private companies, not the government, and I was unaware that they don't automatically download the new data from the NOS. So when the 2012 books came out, the old name was still there. I alerted the publisher, San Francisco's Tidebook Company, and lo and behold, the 2013 volume finally displayed the correct name, 44 years later."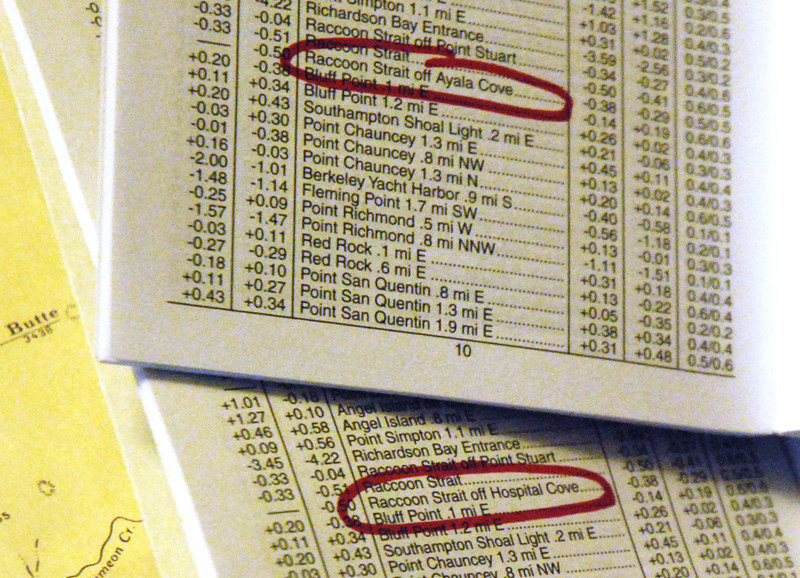 It's nice to see local sailors keeping tabs on the government, and good on Johnston for following through to help all sailors correctly ID Ayala Cove. And who would think the government could work so quickly!
Receive emails when 'Lectronic Latitude is updated.
SUBSCRIBE