Hawaii Yankee Jesse Andrews, Part Two
We profiled Jesse Andrews in Monday's 'Lectronic Latitude. Now we'll continue our discussion with Jesse. He's been an assistant coach for the University of Hawaii's Rainbows for 23 years, after completing an All-American sailing career at the UH Manoa campus. In his spare time Jesse is also the sailing director at Kaneohe Yacht Club, as well as being a husband and the father of two active, athletic kids.
Last year Jesse was one of three inductees into the Intercollegiate Sailing Association (ICSA) Hall of Fame. He also received the Graham Hall Award, which recognizes "organizers, administrators, advisors, or coaches in a professional capacity who have served the best interests of college sailing at the team, conference, or national level."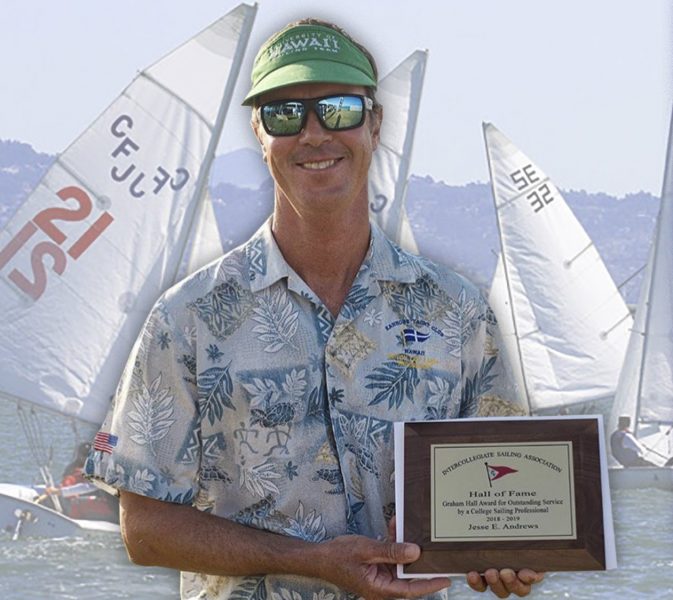 Jesse, what's your favorite thing about teaching sailing?
Since sailing is such a big part of my life, I love sharing my passion with the kids and young adults. I've had the pleasure of coaching kids at Kaneohe Yacht Club as youths all the way up to college sailing at UH. Seeing them mature from groms to young adults who still enjoy sailing and becoming members of our sailing community is really rewarding. I now have a second-generation sailor in my program since I've begun.
The great group of members at KYC have supported the sailing program over the years and really helped make it a premier racing program. Working with others, learning the rules and how to be a good sportsman, seamanship, boat maintenance, planning events, preparing mentally and physically for events are all key preparation that transfer to successful skills in life. Challenging your brain to understand mechanics and engineering tasks like adjusting rigging to optimize for wind conditions is practical learning and gives tangible rewards. Sailing gives people so many lifetime qualities, friends not just locally but globally, as we all know how tight sailing communities are.
What's your favorite thing about sailing or why do you sail?
Along with the great social aspects of sailing, I am really competitive. Sailing is unique because it is such a complex and mental sport. Being keen at observing all the little things translates to success. You will always see the best sailors standing up in the pre-start looking for wind and doing all the homework on the start and first beat. I always stress for racers to get out early and sail the course and do a few practice starts. This is key for getting insight and confidence for the first race. Also learning from race to race what you're doing well and what needs to be improved is crucial. The tactical aspect of sailing and team racing is the most fun for me. Trusting your intuition and balancing risk and reward is something I am still learning more of every year. Being mentally confident from years of practice and coaching helps, especially as a tactician or just racing day to day.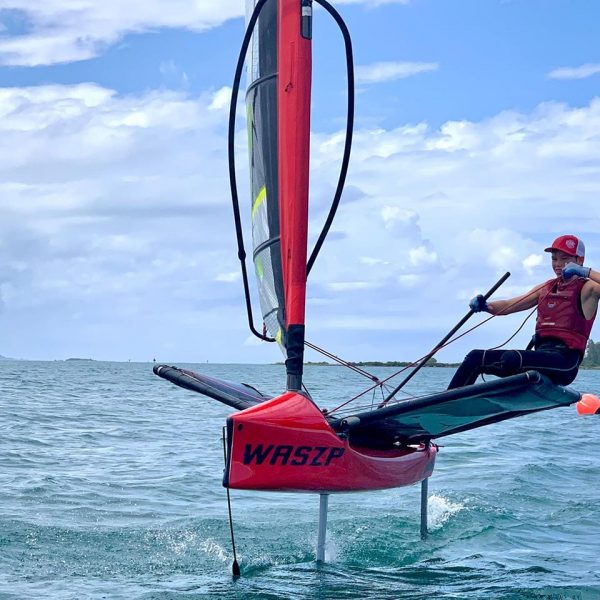 What is the best thing about sailing in Hawaii?
We are lucky in Hawaii and in California that we don't have much of a down season, and we are blessed with consistent winds ideal for foiling on flat water in the bay. Growing up in Connecticut, I would drive to Newport to race Lasers in the middle of winter and chip ice off the decks to keep the weight down. We would also get a few good days a year to iceboat, which is one thing I miss doing. But I'll take foil-sailing in 80° temps in February over frostbiting and iceboating. The foil is really revolutionizing our sport. It's really breathing new life into windsurfing and also keeping kids involved who were getting bored with traditional racing. Our newest endeavor is growing a fleet of Waszps, thanks to the help of Kaneohe Yachting Foundation. We have about 10 kids who are super-competitive with each other in Waszps, and they're really enthusiastic. We are all learning new skills. It's tricky to keep the boat balanced and anticipate weight movement, but it becomes intuitive with more time in the boat.
One thing we can really appreciate during these times is what a great sport and lifestyle we sailors have, with such ideal conditions here and in California. I look forward to doing another San Francisco Bullship soon, and possibly watching some Hawaii Waszp sailors in next year's SailGP in San Fran!
We also have a talented group of local sailors racing Cal 20s. This year our Kaneohe Yacht Club team won the two annual Hawaii Sir Thomas Lipton Cup events. One is sailed in Cal 20s and the other is PHRF. We also race a little PHRF with our Hobie 33 and a friend's Melges 24 and 32. There are a few distance races that I enjoy sailing in, one to Kauai and another from Maui to Oahu over Labor Day Weekend. The Hobie and Melges 32 are both super-fun downwind boats to race. We sailed the Melges 24 once back when we had an inter-island ferry to ship it over to Maui. That was a fun sail back to Oahu in 15-25 knots of wind!
Receive emails when 'Lectronic Latitude is updated.
SUBSCRIBE