Hanks or a Headfoil? What's Right for an Express 27?
Latitude 38 reader and Lake Tahoe Express 27 owner Greg Felton wrote in with some appreciative comments, and a question for Max Ebb and Lee Helm about whether he should have hanks or a foil for his new jib. We have a reply from Max and Lee, but thought readers could share their thoughts in the Comments. Greg wrote:
#1: A belated "Thank You!" for taking on Latitude 38 and keeping this gem alive and flourishing for our wonderful sailing community. (It's our pleasure, Greg. Thanks for your feedback.)
#2: I hope "Max and Lee" can help me with a quandary. I recently purchased an Express 27 (by the way, one of the best designs ever … big enough to handle coastal and transpacific races; small enough to fit on a trailer and keep costs down; light enough to launch with most local hoists; simple enough to easily doublehand; comfortable enough to cruise; agile, fast, and plentiful enough to make racing a gas; and designed by an absolute gem of a person who left us far too early, Carl Schumacher). Most decisions have been easy. One is vexing me — should I go with hanked-on jibs or a headfoil? Turns out there's a split in the fleet, even among boats finishing at the top. My former headfoil disintegrated during the move of the boat from its former home, so I'm either going to have to buy a new foil or pay to have my jibs converted to hanks. Either way there will be some expense, so let's just set that entirely aside and weigh the other pros and cons of the options:
Why hanks: 1) Handling when not changing is easier (around the weather mark, or when out with my honey or shorthanding: Just let the halyard go and the jib will drop and remain on deck with no need to go to the bow); 2) Reliability (will never pull out of the feeder or the track).
Why a headfoil: 1) With the exception of time on classic boats (e.g. Shields, ICs, Birds) and the new IC37, that's what I'm accustomed to; 2) Changes while racing should be faster; 3) Less likely to snag and tear the kite; 4) It must be more aerodynamic, right?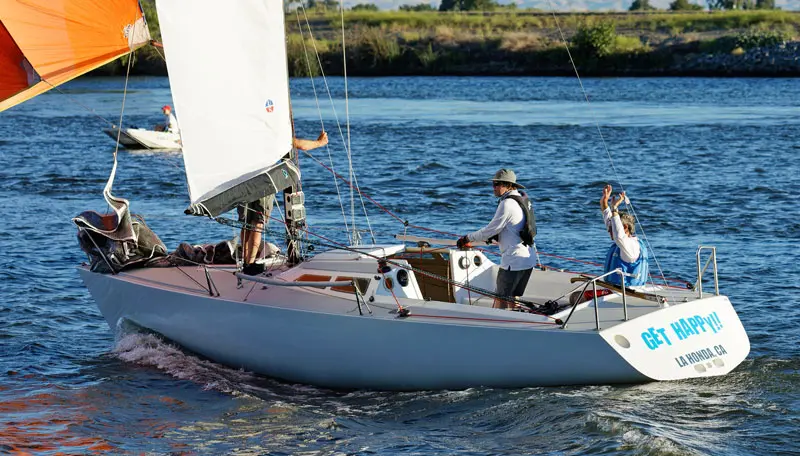 Aerodynamics is turning out to be the swing factor. How much will I be giving up if I opt for hanks?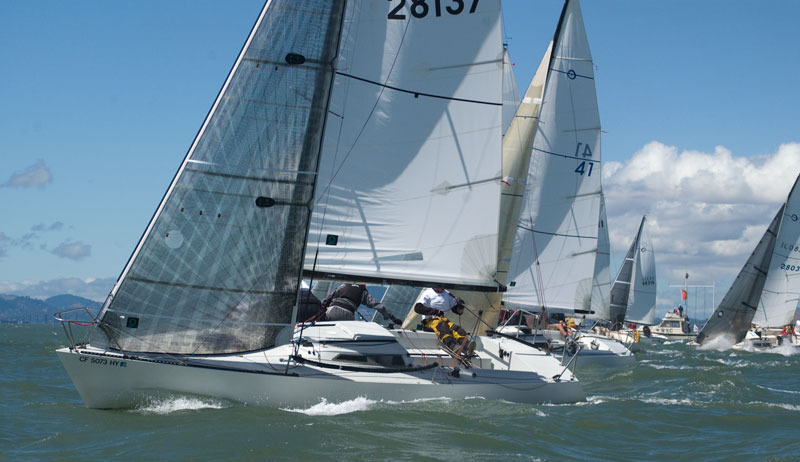 Thanks again for your wonderful rag!
Avid reader,
Greg "Radar" Felton
Stateline, NV (Lake Tahoe)
Max and Lee replied:
Go with the foil for reasons #3 and #3a: Less likely to snag the kite, and also makes a spinnaker wrap around the forestay a little looser and easier to pull out.
But Lee likes foils for reason #4, the aerodynamics: "Gets the effective luff of the jib just a little ahead of the forestay, and fairs in the entry." Although she can't come up with any data that prove this is worth the extra weight of the foil.
We both agree that in that size boat you will almost never do a peel change. On the Bay, the legs are short enough to let you change jibs on a downwind leg. On the ocean, the extra minute for a bald-headed change is not a big deal. Second day of Vallejo Race sometimes calls for a jib change, but even then, the time spent with crew weight on the bow is as bad as a bald-headed change — and also reason #2: With a foil, the bald-headed change can be much quicker than if you have to deal with all those hanks.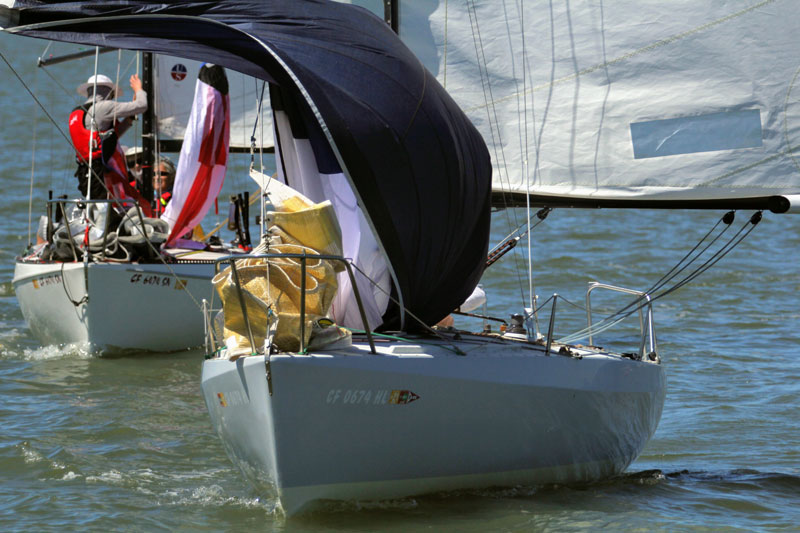 The good news is that with a fractional rig, you can get a lot more range out of each size jib. It's why a fractional rig should be a high priority in choosing a cruising boat, especially if you insist on roller furling.
The product we both want, and no one seems to make, is a single-luff lightweight headfoil optimized for aerodynamics.
max ebb
What do you think? Let us know in the Comments below.
Receive emails when 'Lectronic Latitude is updated.
SUBSCRIBE