Giant Catamaran 'Manta' Prepares to Take on Ocean Plastics
A giant catamaran is preparing to unleash an attack on ocean plastics. Swiss organization The SeaCleaners has unveiled the Manta, "the first factory boat designed to collect and process large quantities of floating plastic macro-waste at sea." The vessel, which is the result of three years of research and development, will "also serve as a cutting-edge scientific laboratory for the observation, analysis and understanding of ocean plastic pollution and as an educational platform open to the public."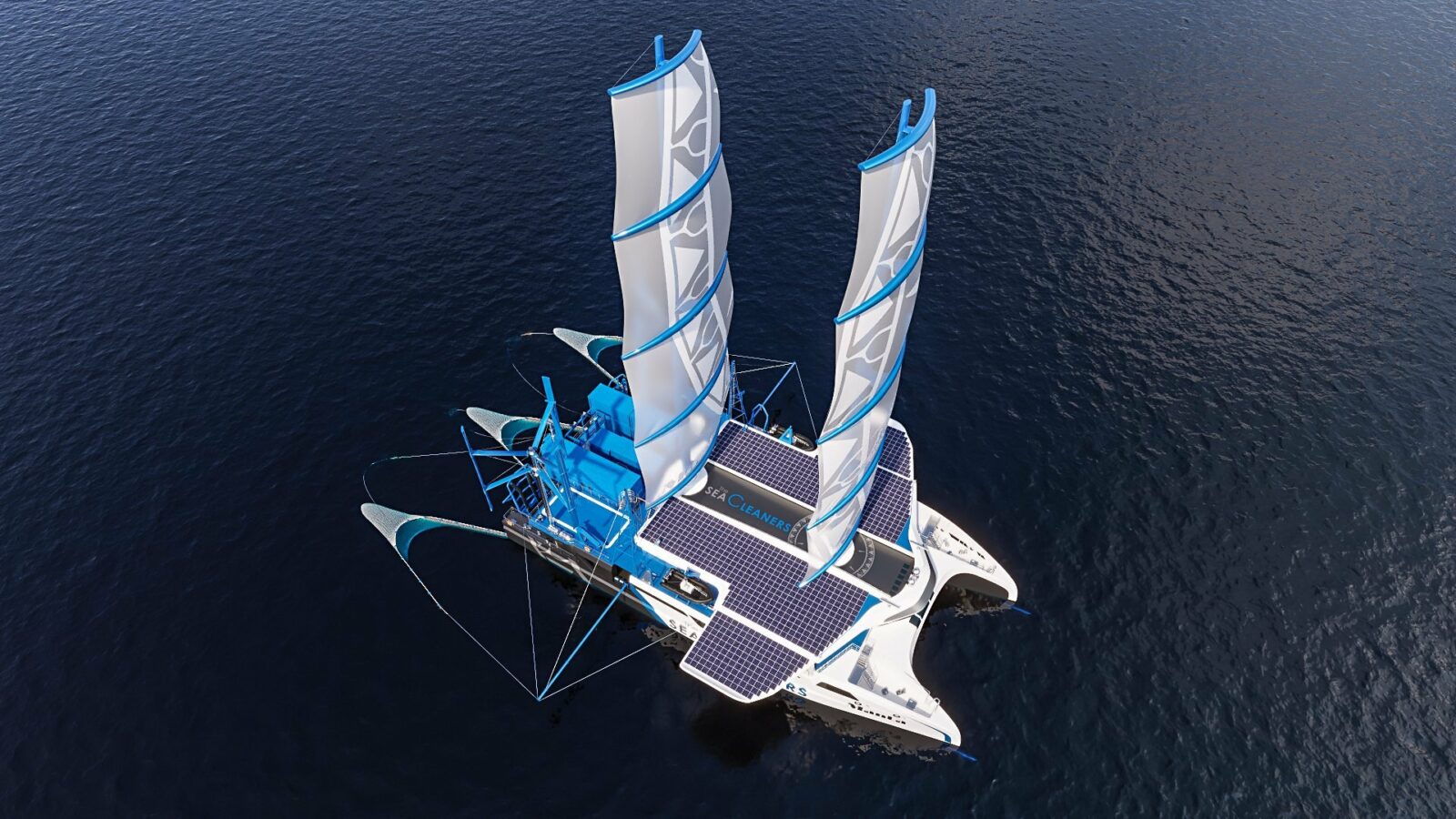 According to The SeaCleaners' website, the Manta will minimize its own energy consumption, carbon footprint and operating costs by using sails and rigs as its preferred propulsion mode. It is designed to function "75% of the time without fossil fuels, thus becoming the first workboat with such a high level of energy autonomy."
It will carry two wind turbines, which will generate up to 100 kW of electricity; nearly 500 m² of photovoltaic solar panels that will generate approximately 100 kWp (kilowatt-peak) of electricity (one third of these panels will be located on retractable wings that give this vessel its manta-ray appearance, hence its name); two hydrogenerators, which will provide up to 100 kW when the boat is under sail propulsion; a waste-to-energy conversion unit, which will generate up to 100 kW In accordance with international regulatory requirements; and two diesel engines to permit low-speed maneuvering and ensure safety of the crew. This Increased maneuverability will allow the Manta to come close to the coastline while collecting and processing plastics. It will also carry two smaller boats, the Mobulas (eagle rays) 8 and 10, which will access narrow and shallow areas such as rivers, streams, ports, lakes and such.
"The Manta sailboat emulates the manta ray, passing water between its hulls to filter for plastic pollution feeding its waste-to-energy conversion unit to create energy for its propulsion system, and in turn, accomplishing its principal mission of "cleaning the seas.""
Outlines of the Manta's mission indicate that it has four collection methods and an on-board plant with pyrolysis to sort, process, repurpose and manage 100% of the waste collected. It will also carry state-of-the-art scientific facilities to geoposition, quantify, and record details of plastic pollution. The resulting information will then be shared with the scientific community.
This video gives you a look at the boat in its concept form:
The Manta will carry a crew of 32 people and is due to be launched in 2024
Receive emails when 'Lectronic Latitude is updated.
SUBSCRIBE