Galápagos National Park — A Dream Dive Destination
In 2008, Dustin Reynolds almost lost his life after the motorcycle he was riding was hit by a drunk driver. Sailing became a large part of his recovery, and in the years since, he became the first double amputee to sail around the world singlehanded, a record he set with a 7.5-year circumnavigation from Hawaii. This month we shared another part of Dustin's sailing story in the September issue of Latitude 38.
The Galápagos have been a dream of mine as a dive destination for most of my life. Since first seeing videos of schooling hammerheads, whale sharks, and penguins, it was destination No. 1 on my bucket list and the place that first put the idea of world cruising in my mind.
Sailing to the Galápagos is tricky and very expensive, which is why a majority of boats bound for Polynesia sail right by them. An agent is required to file your permits at least two months in advance. My permit and agent fees for two months and the four inhabited islands were $2,500. I was fortunate to be awarded the Ocean Cruising Club Challenge Grant, which is the only way I was able to afford it.
My trip from Panama to the Galápagos was a tough one. It was past the good season to make the trip, and the ITCZ was way north, bringing SW winds for me the whole way. Nine days pointing as high as I could into 15-30 knots of surprisingly cold winds for being near the equator. I even tacked the first five days south before turning west 80 miles north of Ecuador. It had been a long time since I purposely bashed into the wind and waves on a passage. This rough trip revealed some new leaks to fix and how tender of a sailor I had become after two years of cruising the Atlantic.
Arriving in the Galápagos is a special thing. During my last two days at sea, I had several red-footed boobies painting my deck and solar panels white and green. Sailing north of San Cristóbal Island and down the leeward side reminded me so much of Hawaii: volcanic mountains rising from the ocean, fishing and tour boats zipping around, and dolphins swimming in Tiama's wake. After dropping anchor, I went for a quick swim to check the anchor and rinse off nine days of salt and sweat.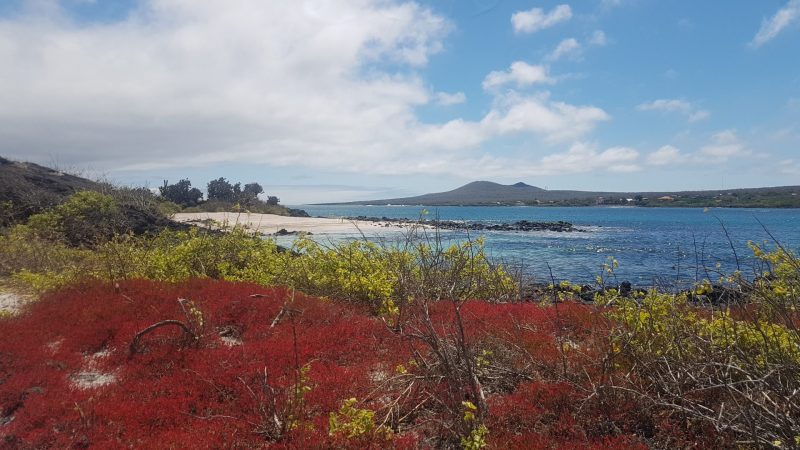 My check-in process was fairly easy. All the officials and my agent Gian came to the boat along with a doctor to do a health/COVID test. A diver also swung by to check the bottom for growth. My boat was fine, but I do have a friend who had to sail 40 miles out to clean the bottom and come back in.
San Cristóbal was an amazing first stop. As soon as you take the water taxi to shore there are lounging sea lions, pelicans, and marine iguanas on the dock. San Cristóbal sea lions are like town drunks — barking, moaning, and growling incoherently. I saw them passed out on beaches, sidewalks, benches, and even atop a lighthouse. The waterfront is lined with restaurants and tourist shops, which were open but mostly empty during COVID times.
I did two self-guided hikes on San Cristóbal — one south of the airport along Playa Loberia and up the hill to Acantilado La Loberia, and the other north of town that offered incredible hilltop views in the company of a statue of Darwin. Down the stairs from the statue, I discovered my favorite Galápagos swimming hole in a protected bay on the leeward side of the island that was full of playful sea lions, indifferent turtles, and lounging iguanas.
Continue reading Dustin's story at Latitude38.com.
Receive emails when 'Lectronic Latitude is updated.
SUBSCRIBE