In the Fog of War, a Win at the Santa Cruz 27 Nationals
For many, the ongoing wildfires created a weekend of disappointments on September 11-13, with poor air quality forcing the postponement or cancellation of popular racing events, including the Island YC Island Nights series finale, the YRA Doublehanded Encinal Regatta, the Estuary Extravaganza and the Singlehanded Sailing Society's Half Moon Bay Race.
So the 2020 Santa Cruz 27 National Championship in Santa Cruz was welcome news — and not only because the regatta actually happened. For the 2020 champions — Mark Voropayev, Rachel Cherry and crew — the result was as much a personal victory as it was a tactical one, as they competed for the first time together in the Nationals as 'Team Kasatka'.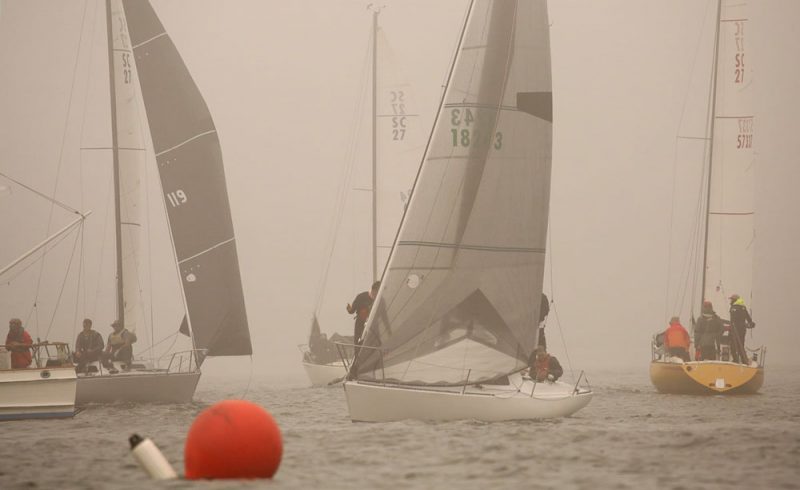 You may have read about Mark and Rachel's bid for SC27 supremacy in Latitude 38's September 2020 issue. That bid started in earnest with a self-driven refit of their craft (sail #119), followed by a division win at Richmond YC's 2019  Great Pumpkin Regatta. But, nabbing the top spot was never a given — not only because of the stiff competition from the Santa Cruz-based racing community, but because of the regatta format and conditions.
The 2020 SC27 Nationals featured seven races over three days. The course extended from a point off Walton Lighthouse (on the west jetty of the Santa Cruz Harbor) to Natural Bridges State Park to the northwest, and to Soquel to the southeast. The format required both buoy racing skill and staying power, not to mention a good dose of navigational acumen. The entire region experienced thick smoke and fog over the weekend, which added a significant complication. Rachel Cherry mentioned on Facebook that "(the course) was perfect… but like 50 feet visibility."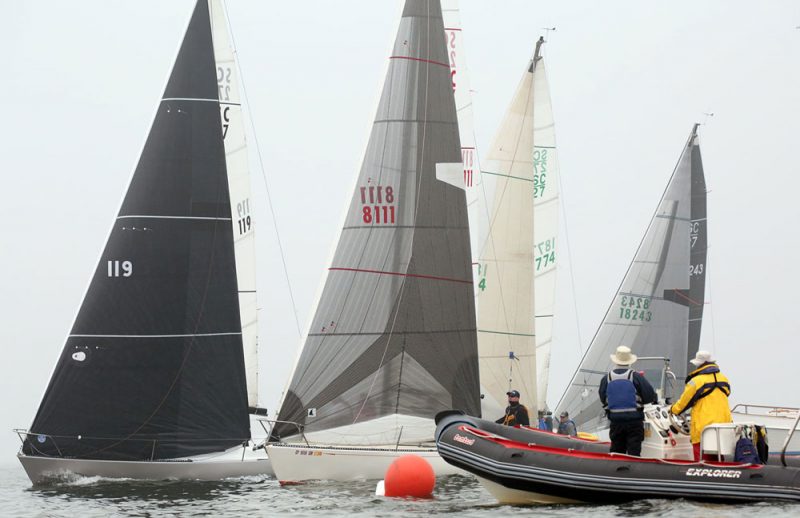 Kasatka stood up to a strong defense from reigning SC27 Nationals champion Evan Diola, who until the very days leading up to the Nationals was refitting his boat, Mistress Quickly. But, low visibility may have been in part responsible for Evan losing his title. "Day 1 in the books, so smoky and foggy we couldn't find the weather mark or the finish. Ugh," commented Evan on his Facebook page. Well, they say sailing is like 3D chess. And sometimes, it's chess with the fog of war thrown in for good measure.
Back at Santa Cruz Harbor, Mark didn't reflect so much on the weather as the hours of preparation that led up to the win. It was Mark's first Nationals on Kasatka (Rachel drove in 2019, with Mark crewing on another boat), but one race of many within the SC27 fleet. The combination of the refit and experience from many hours of racing reinforced Team Kasatka as a competitive entry.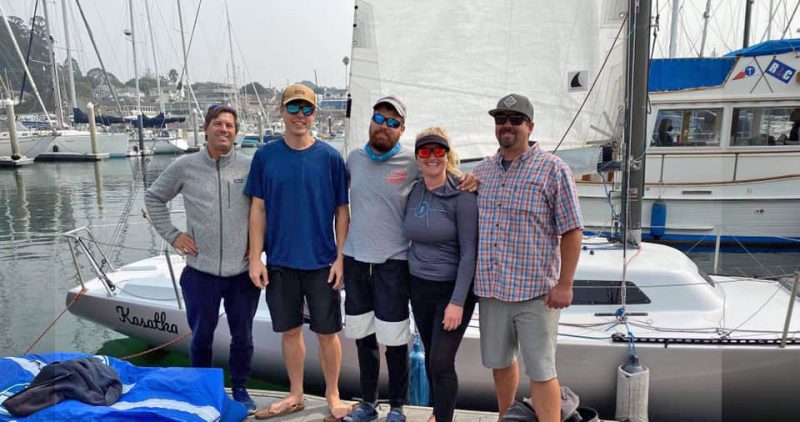 From Mark: "The long distance beat up to Natural Bridges was nice and because of good decision-making; that multiplied into a good lead. We were off the line well, managed to stay in front, and extended the lead almost every tack."
Beyond great tactics, Rachel did confide in a more personal motivation. She shared, "It was great to finally be the winner. It's just something I've wanted since my first Nationals in Monterey on Mistress Quickly. I really wish Rob Schuyler was here to congratulate us."
Rob Schuyler was a past SC27 National Class president and commodore of Santa Cruz Yacht Club. He encouraged many young adults like Rachel to engage — or re-engage — in the sport of sailing. Mr. Schuyler passed away in 2019.
Above all, Kasatka's skippers expressed gratitude for everyone who helped their team reach the 2020 Santa Cruz 27 National Championship. For Rachel, the most memorable part of the weekend was "how much support we got from everyone: The Santa Cruz Sentinel, Greg Haws (SCYC's manager), both of our parents (who came to spectate), our shore crew Katie Judge, our Protector crew Joe Kauhaahaa, our sailmaker Seadon Wijsen from North Sails… Seemingly, the entire SC27 fleet and Bay Area sailing community was rooting for us this year. It was very special, and Kasatka felt all the love."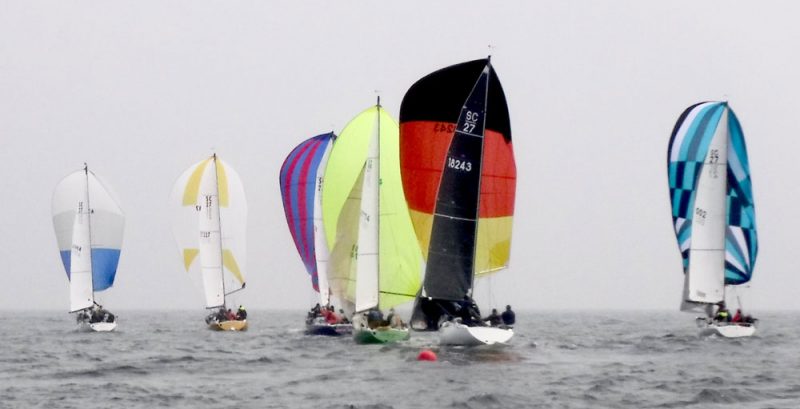 You can read further coverage of the 2020 Santa Cruz 27 National Championship in the Santa Cruz Sentinel. And SCYC's regatta chair Stefan Berlinski has filed a race report for October's Racing Sheet in Latitude 38.
Receive emails when 'Lectronic Latitude is updated.
SUBSCRIBE