The Female Factor in the Vendée Globe
Clarisse Crémer First Woman to Finish
French sailor Clarisse Crémer, 31, on Banque Populaire X, finished the Vendée Globe solo round-the-world race on February 3, placing 12th out of 33 starters. In the final days of her race, she cautiously battled stormy seas and 30-knot winds in the boisterous Bay of Biscay before reaching the finish at Les Sables-d'Olonne.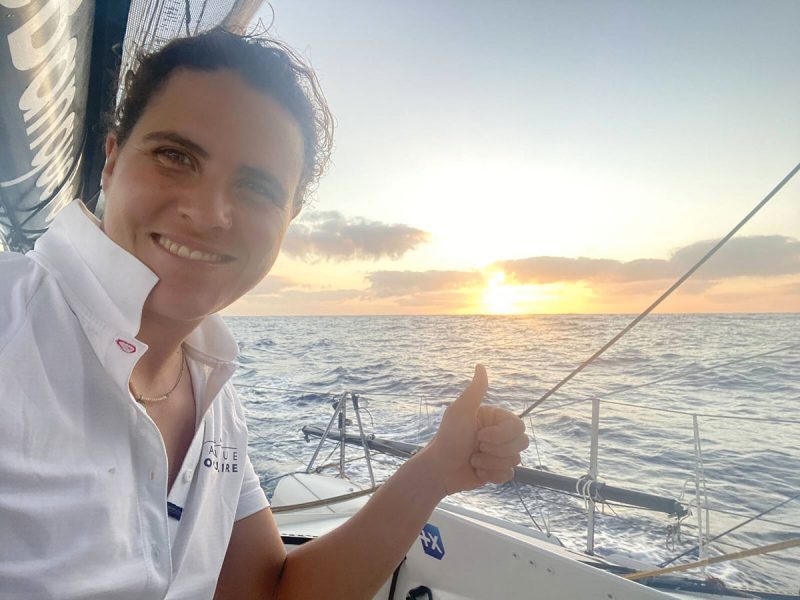 Her elapsed time of 87 days, 2 hours, 24 minutes breaks Ellen MacArthur's 21-year monohull solo nonstop record for a female skipper of 94 days, 4 hours. MacArthur set the record when she took second in the 2000-2001 Vendée Globe. Dame Ellen sent Crémer her congratulations: "Just a little message to say a big bravo for your race around the world. It's great to see you at the finish line. It's truly an exceptional lap. Well done for everything you have done!"
Pip Hare First Briton
Pip Hare, 47, finished in 19th place, the first Brit in a mostly French fleet. Her 21-year-old IMOCA 60, Medallia, is the oldest boat in the fleet. Hare emerged from the bitterly cold Bay of Biscay in the midnight hour of February 12. She's only the eighth female ever to finish the Vendée Globe in its history. Her performance is all the more remarkable considering that her first IMOCA class race — the Rolex Fastnet Race — was in August 2019.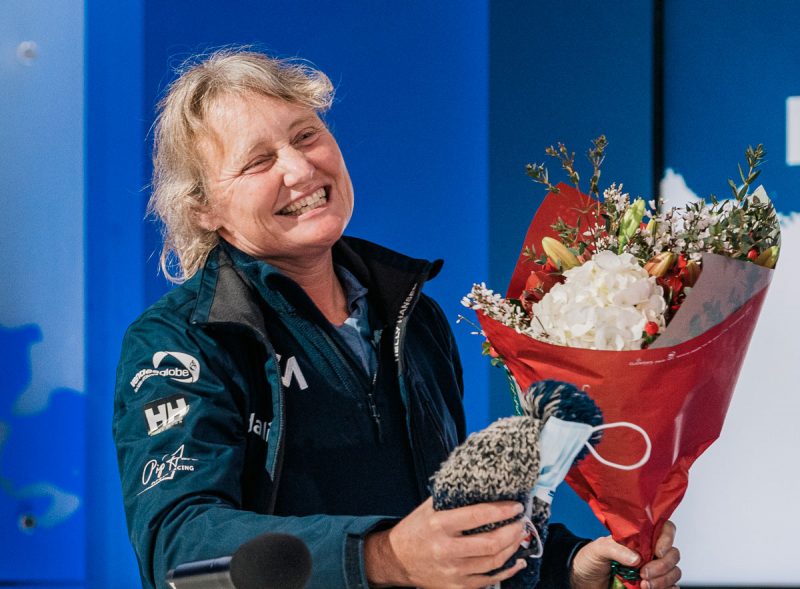 She's one tough cookie. She lost one of her hydro-generators on November 29. That meant saving all her diesel for power generation, sparing none to heat her cabin. She had to ride out the discomfort of being wet, cold and damp in the Southern Ocean. On January 2, her wind sensor failed. The cups stopped rotating, and the boat crash-jibed as the autopilot stopped receiving information. The AP would no longer steer in wind mode, and she had no accurate wind information. From then on, she was on a high state of alert, and the sharpness of her attack was dulled.
On January 7, some 1,000 miles to Cape Horn, she discovered a crack in her port rudder stock. Fortunately, she was carrying a new spare rudder, and she had practiced installing it. Replacing the rudder in big seas and 25 knots of wind allowed her to stay in the race and keep close to a group of four fast rivals. In the South Atlantic she slowed down in order to laminate a repair to reseal the rudder tube, which was letting in significant amounts of water.
Hare's sponsor, Medallia, is "a customer and employee experience management company" based in San Francisco. We'll have more about Pip Hare in an upcoming issue of Latitude 38.
Melinda Merron and Alexia Barrier
Two more women then finished the race. Brit Melinda Merron, 51, arrived on February 17. Merron had tens of thousands of ocean miles under her keel going into this race. Her sailing career started in 1998 when she was part of Tracy Edwards' crew vying for the Trophée Jules Verne record — alongside a young Sam Davies. In 1999 Merron won the 50-ft class of the Transat Jacques Vabre with Emma Richards. French skipper Alexia Barrier, 41, completed the Vendée Globe loop at dawn on February 28.
Samantha Davies and Isabelle Joschke
During the night of December 2, British skipper Sam Davies, 46, sustained a violent collision with a floating object south of Cape Town. She abandoned her race, which had been going so well. She had been sailing at 20+ knots when her IMOCA 60 Initiatives Coeur stopped instantly. The sudden impact threw her across the interior of her boat, injuring her ribs.
Three days later, she pledged to return to sea and complete her solo voyage. "In my head the race was dead. I had stopped sailing, I had retired, I already could picture myself at home wearing my little dress ready to pick up our 9-year-old son, Ruben, from school and being back to making food at home," she told the media in South Africa. "Instead of that, I changed my mind. I came to my senses."
Her technical team, supported by local Cape Town ocean racers and boat builders, worked tirelessly around the clock to effect the necessary repairs. Davies was back on the water on December 14.
Off the Brazilian coast, Davies reconnected with her longtime friend and rival Isabelle Joschke. The Franco-German skipper had had to abandon due to keel ram failures, but, like Davies was finishing the course unofficially. Joschke had struggled for 16 days to bring her boat to safety into Salvador de Bahia, Brazil, where she met with her technical team to make the repairs that allowed her to put to sea again and complete her first circumnavigation. Davies and Joschke stayed in close and regular contact for the rest of their passage.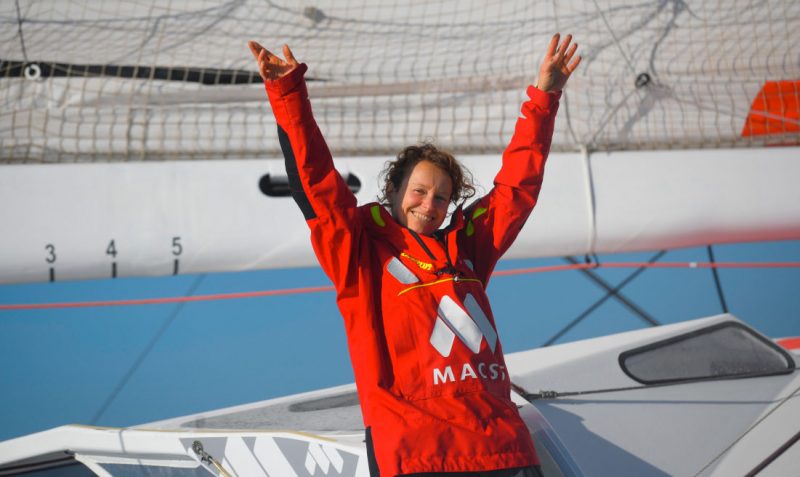 On February 11, in the northeasterly trade winds of the North Atlantic, Davies lost her forestay and her J2 headsail. She saved her rig but had to slow down. On February 26, she sailed back into sunny Les Sables-d'Olonne, fulfilling her pledge to complete the course. Thousands of well-wishers lined the quaysides to welcome her back and pay tribute to her solo round-the-world voyage.
By completing her circumnavigation Davies maintained huge public support for the Initiatives Coeur project. She raised over 1.2 million euros to fund more than 100 heart surgeries for children from Third World countries.
Only one boat is still racing, Ari Huusela's Finland-flagged Stark, with about 275 miles to go as of this morning.
Receive emails when 'Lectronic Latitude is updated.
SUBSCRIBE