Fatal Capsize at Route du Rhum Finish
Tragedy Strikes the Solo Transatlantic Race
While Charles Caudrelier was sailing into Guadeloupe to not only win the 12th Route du Rhum but to also smash the course record, the joyous celebration that would follow was marred by tragedy. With details emerging just after we posted Wednesday's 'Lectronic update, we have all been deeply saddened to learn that two of the race organizers have tragically passed away. While traveling to the finish to greet Caudrelier and his trimaran Maxi Edmond de Rothschild, a powerboat chartered by the race committee capsized while carrying 11 people. Two of the passengers, both employees of Route du Rhum organizers OC Sport Pen Duick, did not survive.
According to multiple reports, local Guadeloupe prosecutor Patrick Desjardins has opened a judicial investigation into manslaughter. While the events that led to the tragedy are still under investigation, reports indicate that a collision was unlikely, but perhaps the boat capsized due to crossing another boat's wake at high speed in the dark. Caudrelier finished in the early hours of morning.
The two people who died suffered cardiopulmonary arrest after being trapped under the upturned hull of the the powerboat. They are Alex Picot, project manager at OC Sport, in charge of the Arkea Ultim Challenge 2023 and the Solitaire du Figaro, and François Naveilhan, commercial and partnerships manager of OC Sport. This is a staggering loss to the French sailing community. There's been an outpouring of sadness from all over the Route du Rhum world — from skippers, teams, organizers and fans alike. The day's festivities and celebrations were postponed.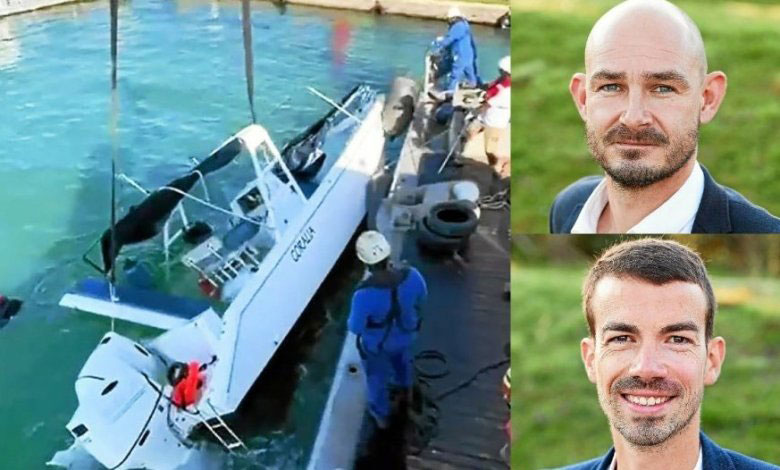 Winning skipper Charles Caudrelier learned of the news just moments after finishing what must surely rank as the biggest win of his career. "We are all very upset by this," said Caudrelier. "This should have been a party but in the end it is a tragedy." Hervé Favre, president of OC Sport Pen Duick, added, "All our thoughts go out to the families of our two employees and to all of the profoundly affected members of our teams. All the stakeholders of the organization share the immense pain of the families and send them their deepest and sincere condolences."
Additional Finishes
While this edition may have been shaken by the tragedy, it has not diminished the excitement of the record-setting race. Just after our last update, Thomas Coville on Sodebo Ultim 3 finished in third place in the Ultim division. 2018 winner Francis Joyon and IDEC Sport came home in fourth. Yves Le Blevec and Actual Ultim 3 rounded out the top five.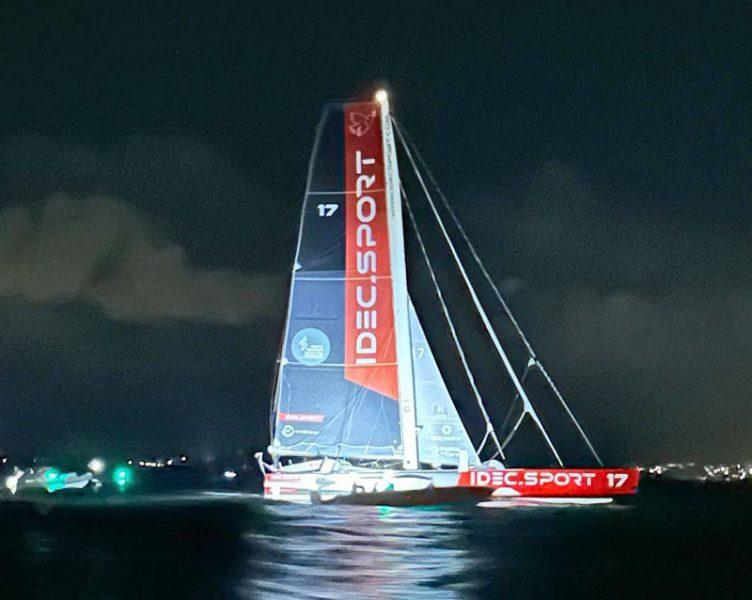 Divisions Still Racing
No other divisions have seen finishers yet. The Multi 50 trimaran fleet should come rumbling into Pointe-à-Pitre next. The IMOCA fleet has seen a bit of a shakeup. Thomas Ruyant and LinkedOut have caught and passed Charlie Dalin's Apivia, though the two boats remain virtually neck and neck. Englishwoman Pip Hare and her IMOCA sponsored by San Francisco-based corporation Medallia has moved up into 13th place. She's now the third female in the IMOCA fleet. San Francisco Bay native Alex Mehran and his Class 40 Polka Dot have moved back up to 12th place in the 55-strong Class 40 fleet. (Only 39 are left racing).
Stay tuned to 'Lectronic Latitude for more coverage of this legendary race.
Receive emails when 'Lectronic Latitude is updated.
SUBSCRIBE