Express 37 Nationals a Retro Weekend
October 1-3 was an '80s retro weekend with big hair, shoulder pads, corduroy OP shorts and the Express 37 Nationals Regatta hosted by Berkeley Yacht Club. This is a three-day, one-design regatta featuring these classic '80s-era boats. Seven boats competed in this Top Gun event with some of the boats traveling from as far away as Los Angeles and Monterey. And why wouldn't they? It's San Francisco Bay sailing!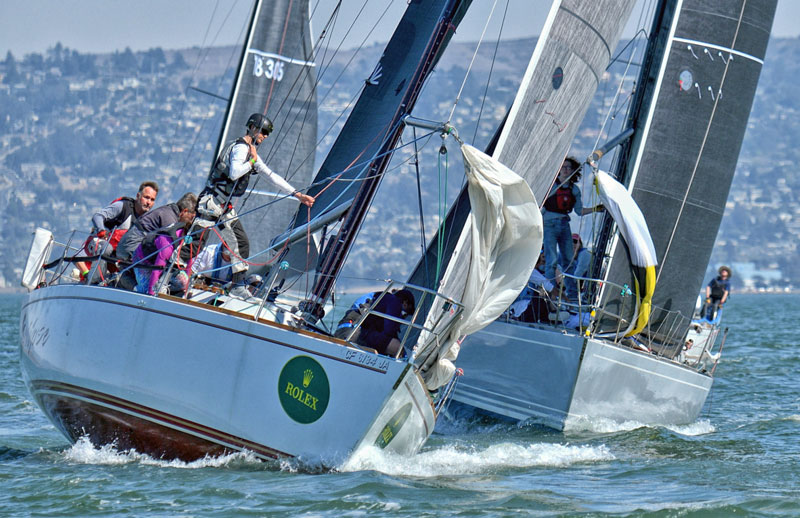 Friday
Friday started out with light winds at 5-7 knots coming from the WNW. The first race was a short two-mile windward/leeward warm-up starting and finishing at the Berkeley Circle. Shawn Ivie's L.A.-based Limitless took first. That was long enough for the wind to come in and shift to WSW and build to 10-15 knots. This brought lunchtime, a new course and a fresh attitude.
Race 2 was twice around the windward/leeward course with a gate at the leeward end and a downwind finish. This was where things got real. A crowded, contentious start brought contact between Jack Peurach's Elan and Sandy Anderson's Eclipse, knocking Eclipse's horseshoe life ring into the Bay. Protests were filed. Elan, being the leeward boat, won the protest, as Eclipse failed to give right of way. The second protest involved Elan hitting a mark at the gate rounding and failing to do proper penalty turns. As it turned out, both Elan and Eclipse were disqualified for Race 2. Once again, Limitless took first in Race 2. Tears were shed. Beer was drunk. Burgers were grilled.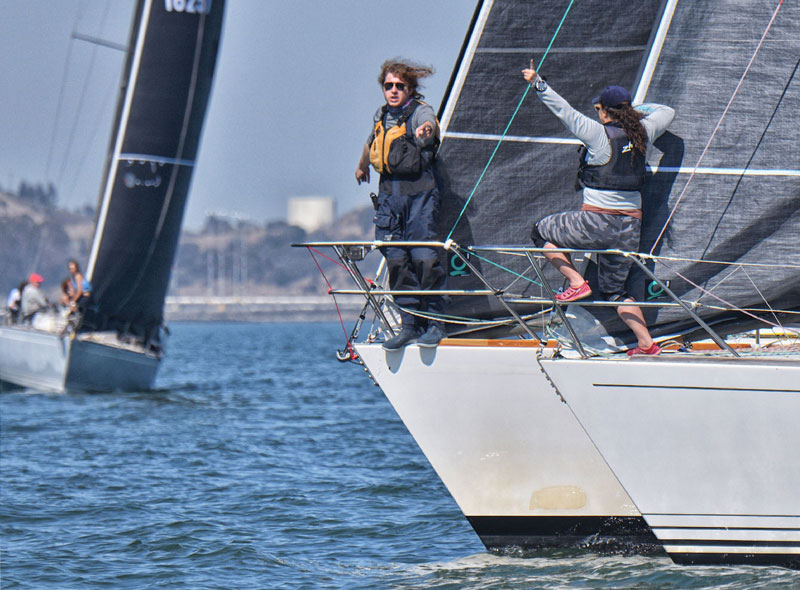 Saturday
Saturday brought similar weather with light wind and sunny skies. This time however, the wind started at 5-7 knots out of the WSW and built without shifting south — very good news for the mark-set crew. At the request of the skippers, the race committee made the buoy course slightly longer, with the windward mark at 1.25 miles out. The first race was another twice-around with a leeward gate and a downwind finish.
Once again, it was looking as if another evening of protests was in store. The lead boat tacked over at the pin end and headed back down the line on a port tack in front of the other boats to avoid being over early. The rest of the race was clean and close, with Limitless taking first place for a third time in a row.
Race 2 was a 12-mile distance affair taking the boats from the Olympic Circle to Harding Rock, then across to Blossom Rock and back to the start for a downwind finish. This time it was Andy Schwenk and crew on Spindrift V taking first place.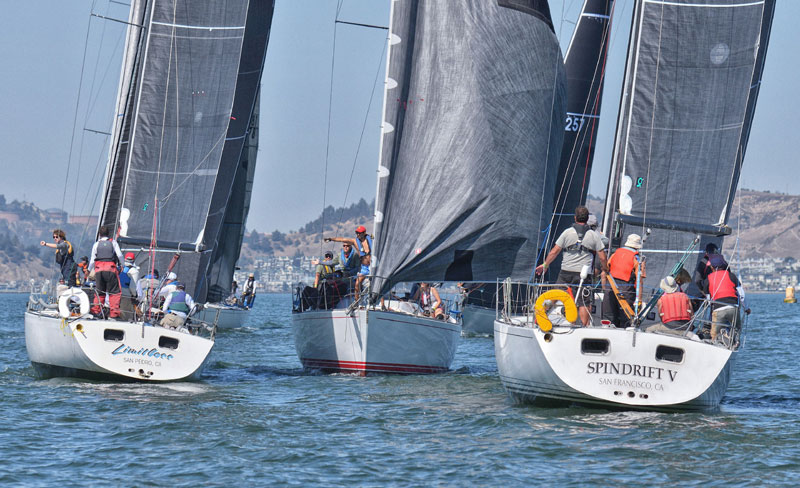 Oddly, there were no protests that evening. The lesson learned here is to make the protest hearings long and close to dinnertime. Speaking of dinner: The regatta dinner was Chef Lauren's world-renowned paella, which is almost certainly why the E-37 racers keep coming back. It is worth buying an Express 37 just to attend the paella dinner.
Sunday
Sunday's weather was a carbon copy of Saturday's, with light winds and sunny skies. It was all windward/leeward buoy racing. By this time everyone was relaxed, and the starts were clean. No contact. No protests. Two races and two laps around for each race brought the boats and crews in early for trophies and in time to get home. It was the very competent crew of Limitless again taking first place in both buoy races Sunday.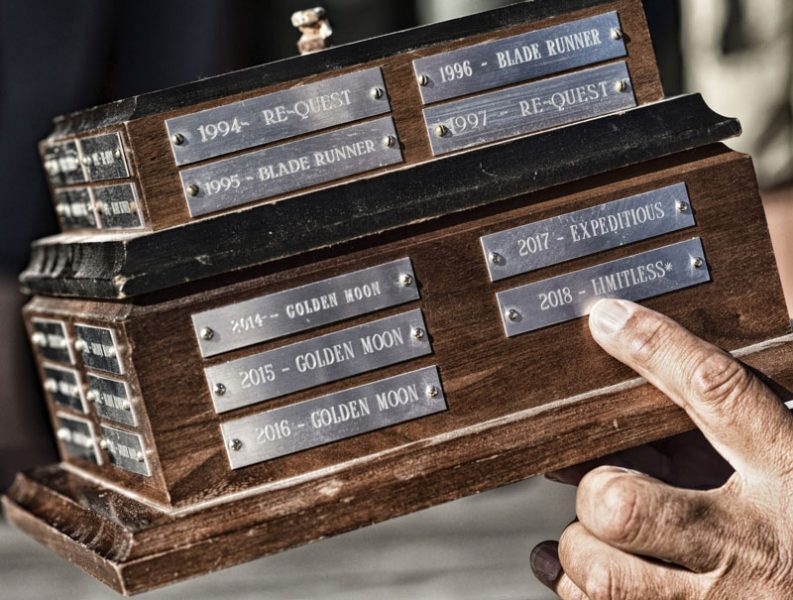 A giant thank-you to all the Berkeley Yacht Club volunteers who staffed the race committee and the protest committee, and who cooked and presented not only the paella dinner but also breakfasts each morning and appetizers, hors d'oeuvres, and all that goes with it. It takes an army.
For complete results, see Jibeset. Then look for more coverage in Latitude 38 in the November issue's Racing Sheet.
Receive emails when 'Lectronic Latitude is updated.
SUBSCRIBE