What a difference a Bay makes. This past weekend we joined our friends, Randy and Jennifer Gridley, for a weekend 'sail' up to Drake's Bay aboard their Sabre 38 Aegea. The forecast was good and the local destination ideal for a weekend great escape. The only thing missing was the sail part. Regional forecasts were for nice winds on the Bay and light winds everywhere else. However, it still made for great day for whale watching and fishing.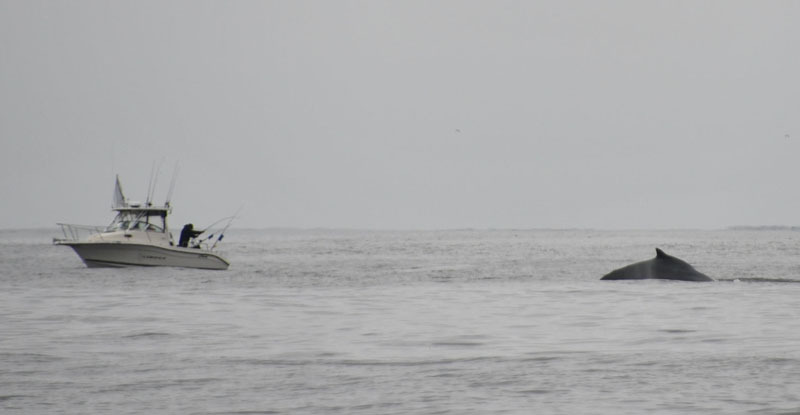 We left Sausalito at a relaxed 10 a.m., hoisted the main, and motorsailed to the Golden Gate hoping to find some breeze as the fog burned off. Neither happened. The fog and calm seas remained for the entire 6-knot, 5-hour motorsail to Drake's Bay. Nonetheless Marin's dramatic coastline provided a fabulous backdrop, and whale sightings became so frequent they seemed like deer in our yard. They're always cool to spot, but the excitement diminishes while you keep your distance.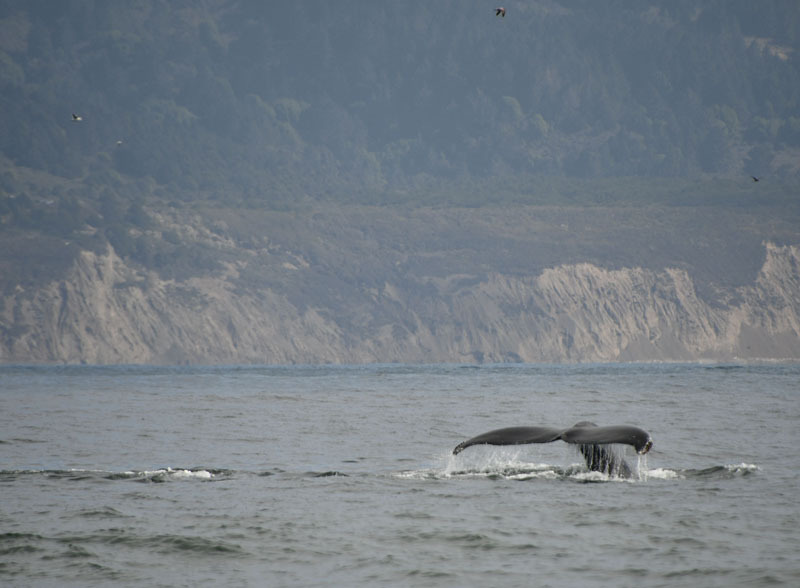 We anchored in 17 feet of water in the calm, protected waters behind the southern hook of Point Reyes that forms Drake's Bay. The holding was good and the anchorage protected, making it a relaxing cruise to this nearby yet 'remote' destination.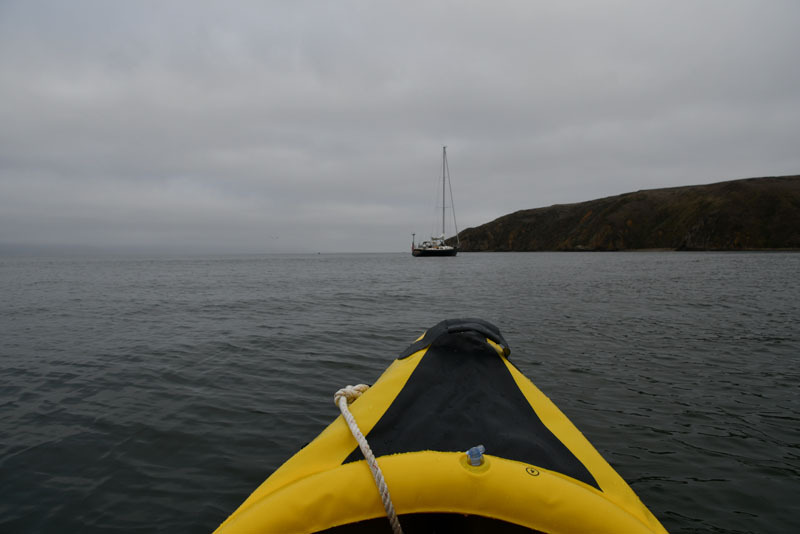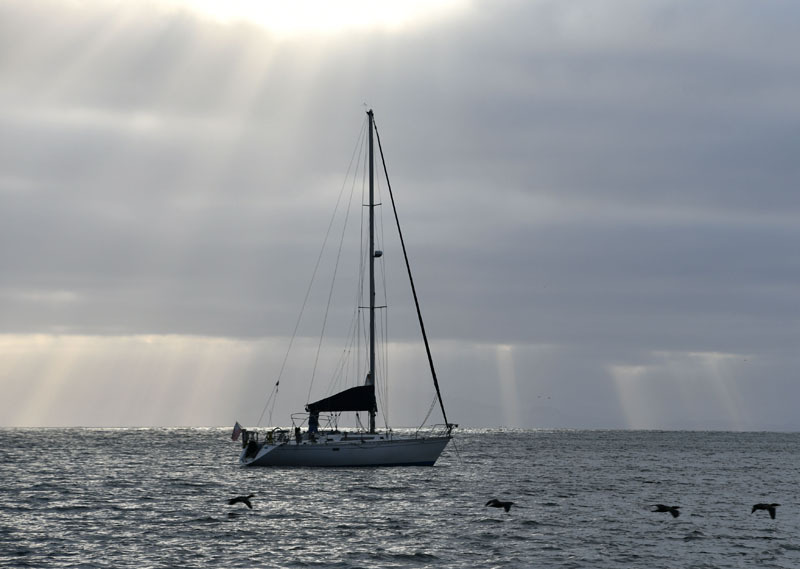 The following day we left at a comfortable 9:30 a.m. with light breeze and flat seas. Clear sun showed up at about 11, but enough wind to get us home by the end of the day never materialized. We sailed for about an hour before we finally reverted to motorsailing, along with about four other sailboats in sight that we imagine are coming in from the north on their way to Mexico. It'd be nice to join them.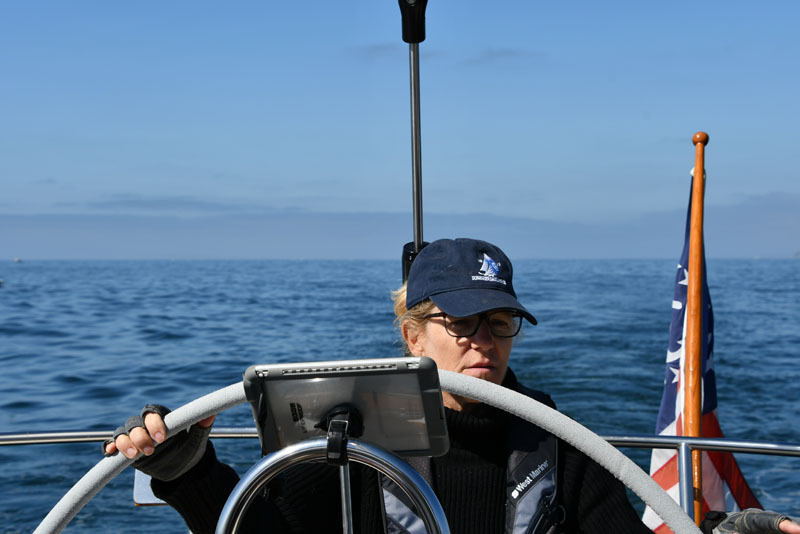 We neared the Golden Gate after crossing a mill pond above the Potatopatch and watched the wind build as we joined boats enjoying a brisk sail on San Francisco Bay, the site of the only wind we saw the entire weekend. It was a great trip and reminds us of the unique sailing conditions created by the Coast Range and the single cut through it at the Gate. Offshore can be calm and peaceful while the conditions in the Slot are like the air escaping from the balloon of the entire Pacific Ocean.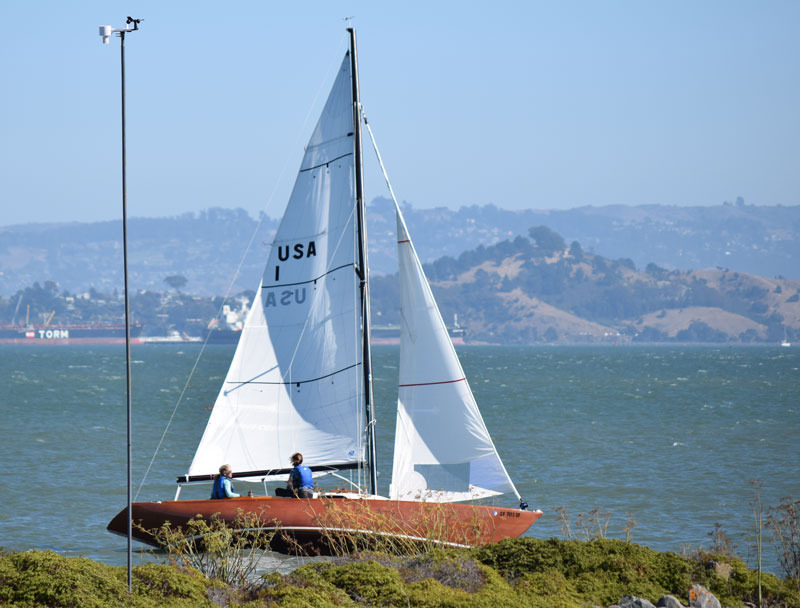 Yes, what a difference a Bay makes. Just about any weekend you can find the conditions you desire. Great breezes to rip across the Bay, calm and warm behind the headlands or in the Estuary, or great destinations if you decide to venture offshore or farther inland to the Delta. It's a sailors' paradise with plenty to explore.
Receive emails when 'Lectronic Latitude is updated.
SUBSCRIBE