Coasties to Participate in and Protect Fleet Week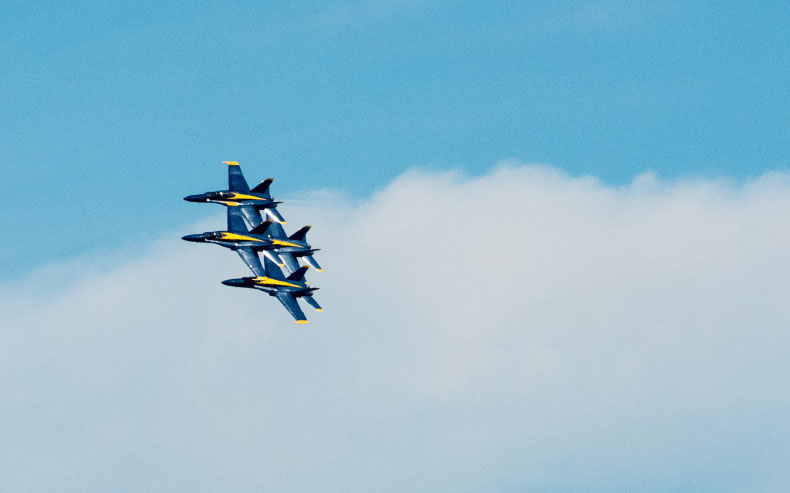 San Francisco Fleet Week kicks off today with a series of public events, including the arrival of military vessels to the Port of San Francisco. Several branches of the Armed Services will offer a variety of ship tours and static displays. Among the ships, the USCG's Terrell Horne, a 154-ft fast response cutter from Los Angeles, is slated to arrive in San Francisco on Wednesday. Steadfast, a 210-ft medium-endurance USCG cutter from Astoria, OR, is scheduled to arrive on Friday. Additional Coast Guard assets participating include the cutters George Cobb, Pike, Tern, Sockeye, Hawksbill and Dorado; Maritime Safety and Security Team San Francisco; and Stations San Francisco, Rio Vista, Vallejo, Golden Gate and Monterey.
The Coasties will also be on hand to protect the safety and security of participants and on-the-water spectators. "We are looking forward to another exciting Fleet Week and want to remind everyone to be safe while participating in the many events throughout the week," said Capt. Marie Byrd, the Coast Guard Sector San Francisco commander. "Coast Guard members are standing by ready to respond."
As captain of the Port of San Francisco, Byrd has enacted a special local regulation for the on-the-water Fleet Week activities on Friday, October 10, through Sunday, October 13. Traffic will be restricted throughout most of the Central Bay from the Golden Gate Bridge, south of Alcatraz, to just south of the Bay Bridge. This is to accommodate the Parade of Ships as vessels pass under the Golden Gate Bridge to their assigned piers. A 500-yard protective zone will also be enforced around each military vessel the entire time they are in port.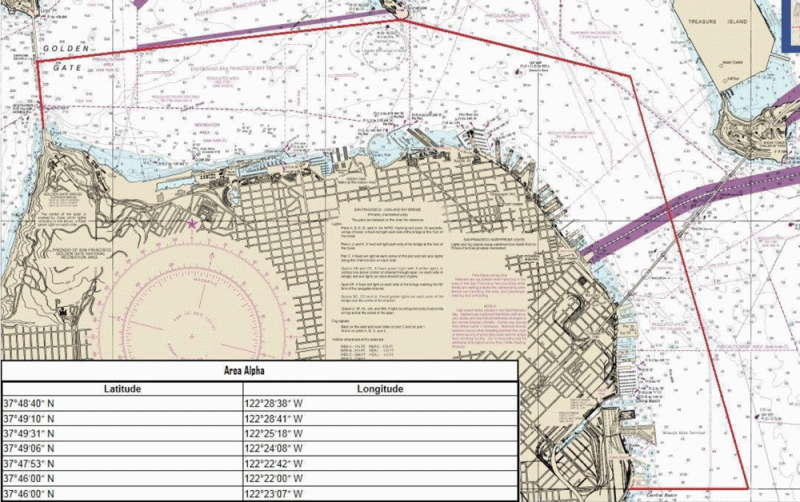 The regulated area for safety will also be enforced during air show practice from 12:30 p.m. to 5 p.m. on Thursday and from noon to 4 p.m on Friday, Saturday and Sunday for the air show featuring the Navy's Blue Angels.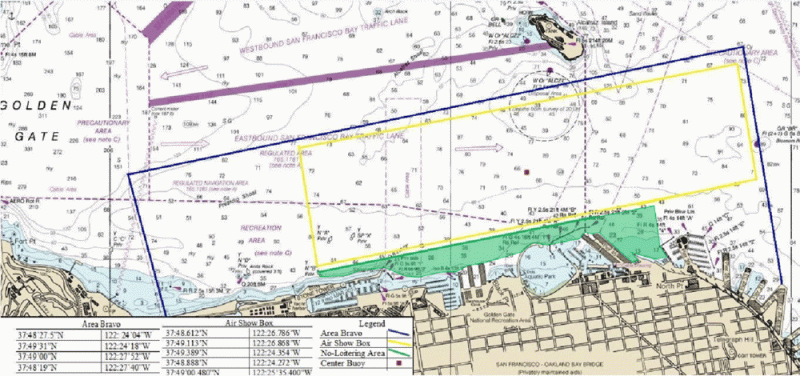 For the awareness of mariners and the public, the above graphics show regulated areas for the Parade of Ships and the Blue Angels respectively. Mariners should monitor VHF channel 16 for up-to-date information regarding these regulated areas.
For more information on this year's events, contact the San Francisco Fleet Week Association at (415) 306-0911 or visit www.fleetweeksf.org. Mariners can glean safety tips for Fleet Week at www.fleetweeksf.org/safety. Find more info about the protective zones and areas to watch from the water at www.homeport.uscg.mil/port-directory/san-francisco.
And, we'd love to see your photos of Fleet Week (the crowds on the water, the crowds on shore, the air show, the ships).
Receive emails when 'Lectronic Latitude is updated.
SUBSCRIBE