Coastal Cleanup Coming to a Community Near You
Last year's California Coastal Cleanup Day became a COVID-safer DIY Coastal Cleanup month. (Volunteers were invited to go out and pick up trash in their own area every or any Saturday in September.) This year is looking more like pre-pandemic years, with Cleanup Day on Saturday, September 18, in addition to a month-long push. "We're hiking out to preserve the Bay we love, by spending a few hours volunteering in this year's cleanup effort," writes Ros de Vries of Island Yacht Club.
Treasure Island
"Island Yacht Club is joining forces with the Sailing Science Center, the Treasure Island Yacht Club, the Treasure Island Sailing Center, One Treasure Island, the Stanford Sailing Team and the Cal Sailing Team," advises Ros.
"We will be meeting on Treasure Island and cleaning up from 9:30 a.m. to noon. The Sailing Science Center will provide gloves, trash bags and water to people who have signed up. Volunteers are welcome to enjoy lunch together at Aracely Cafe afterward. Be ready to get some light exercise and meet new friends!" Sign up here.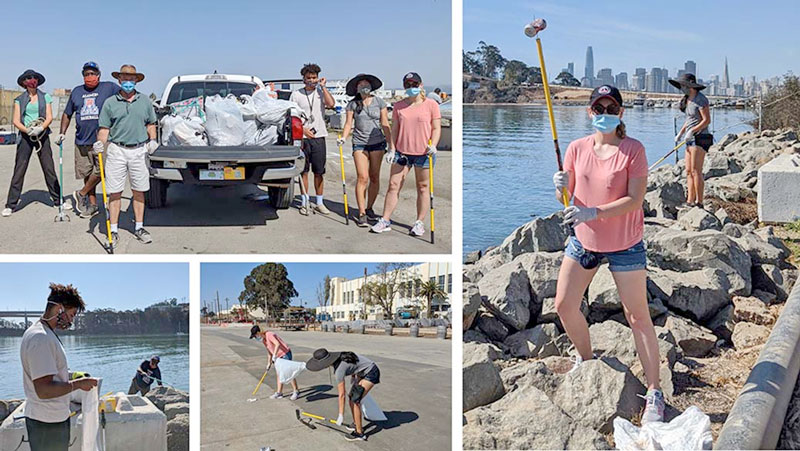 South Bay
"The historic South Bay Yacht Club of San Jose/Alviso is ready to remove the last of our 1960s-era rotten docks," writes Dean McCully. "After almost five decades of faithful service from the old docks, it's time to let the old docks retire and head off to their final resting place (at the bottom of the San Jose dump). So on Saturday, September 18, 9 a.m.-noon, Coastal Cleanup Day, we are gathering a big team of volunteers to chop up the old docks, then haul them out of the marsh for disposal. We need at least 50 volunteers to tear the old docks out. It should only take a couple of hours, so we expect to be finished by noon-ish."
A BBQ lunch will follow the labor for the hard-working volunteers. Find more info and maps and RSVP here: http://www.regathon.com/habitat.
Learn about the history of South Bay YC here: https://sites.google.com/site/sbycalviso/history.
California Delta
Although not strictly "the Coast," the California Delta is an estuary that feeds into San Francisco Bay. The farther upstream we can catch the trash the better. Many locations are available for the Delta Waterway Cleanup from 9 a.m. to noon. They include:
Register online for yourself or your group.
And Many More …
Cleanup sites abound throughout California. Find a site near you and check county COVID guidelines here: https://www.coastal.ca.gov/publiced/ccd/ccd.html. Not in California? Coastal Cleanup Day is actually international. Learn more here.
Receive emails when 'Lectronic Latitude is updated.
SUBSCRIBE