Catamaran 'Hokahey' and Her Crew Come to the Rescue
It was 9 p.m. on Saturday, 15 August, and three of us were enjoying a physically distanced glass of wine in the main salon of Hokahey, our 33-ft Seawind catamaran — enjoying a free week at Delta Bay Marina, as part of the Delta Doo Dah (an annual event encouraging sailors to explore the Delta).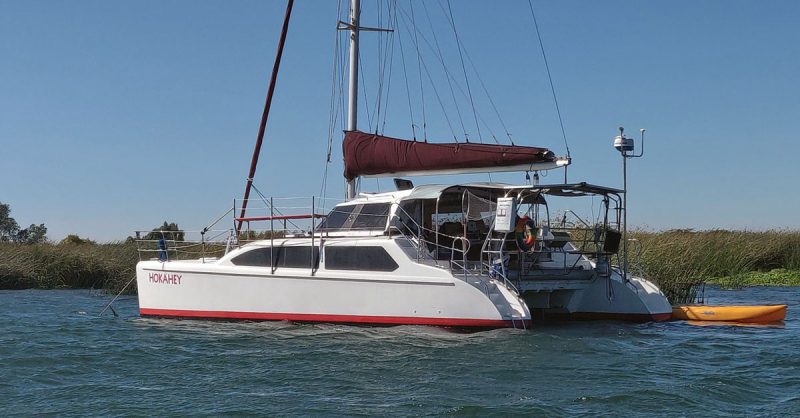 We were Jason Fontanoz, first mate and fix-it man extraordinaire; Conan Moats, an old racquetball buddy; and yours truly. We heard a conversation on the VHF radio between the Coast Guard and a 28-ft powerboat (a Bayliner) without power on the San Joaquin River.
Hmmm — my rescue instincts had been aroused. (It's been nearly 20 years since I was a volunteer EMT in rural Vermont.)
Normally, we only hear the Coast Guard side of these conversations as the person in distress is usually miles and miles from our location, but this time we were hearing both sides of the conversation.
It is also worth pointing out that the rural Delta town of Isleton, at 9 p.m. on a Saturday night, is not especially near any 'AAA for boats' and the nearest Coast Guard station is quite some distance (by water) in Rio Vista.
An hour earlier I had told Conan that unless he was really keen, I wasn't inclined to take Hokahey out in the dark for a spin (it was his first time seeing the boat), and thus we decided to just chill and enjoy some time at the dock.
Yet Vic and his wife were in distress, at night, on an old powerboat, on their first day of owning this Bayliner, and were, sadly, adrift (their fuel pump wasn't working).
We did a quick review of where they were and where we were, and realized they were less than two miles away.
And we kicked it into gear.
Shorepower cord off, engines down, navigation lights on, locate the spotlight for the plethora of floating islands of hyacinth that we wished to avoid (as well as to help find the Bayliner), and away we went.
About 30 minutes later, we located the Bayliner. Jason was able to get from Hokahey to the Bayliner with only a small kiss of the boats. My hope was that Jason might be able to help get it running, but a busted fuel pump is a busted fuel pump. Next, we motored up to the Bayliner and Conan threw Jason a long towline while I rigged a bridle off the stern, and we towed our adrift friends to a fuel dock (Willow Berm Marina) about a mile to the north. Amazing what two little 9.9-horsepower Yamaha outboards can do.
Other than the unwanted kiss between the two boats, we pulled off the rescue without incident. It was a good thing, too, as the Bayliner was pretty near to going aground, which would have made rescue much more complicated. (I neglected to ask if they had an anchor — or knew how to use one — which would have been a 'next-best' option.)
Conan got his ride on Hokahey after all. And the new boatowners on the old boat didn't end up stuck on the mud overnight on the San Joaquin River. Especially as less than 12 hours later the area was confronted with some freak weather system — thunder and lightning, rainbows, hailstorm, rain, wildfires and sunshine!
Vic did slip Jason a little cash appreciation, which covered a nice dinner the next evening in Pittsburg on the way back to Richmond.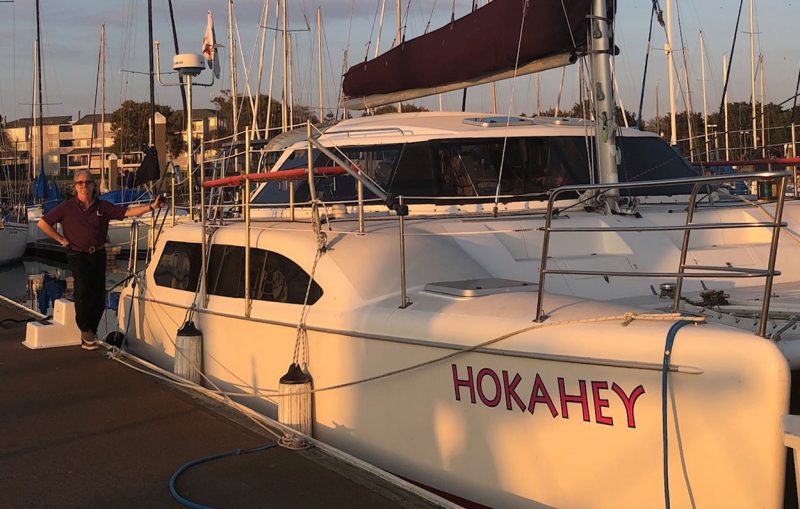 All's well that ends well!
Receive emails when 'Lectronic Latitude is updated.
SUBSCRIBE