Cap'n Fatty Goodlander Survives by Looking at Jib Telltales
We always get a good laugh reading a story from renowned sea gypsy Cap'n Fatty Goodlander. We recently read one of his regular columns in the Caribbean boating publication All At Sea (page 22 of the February 2022 issue) describing how sailing helps him overcome discouragement at the state of the world.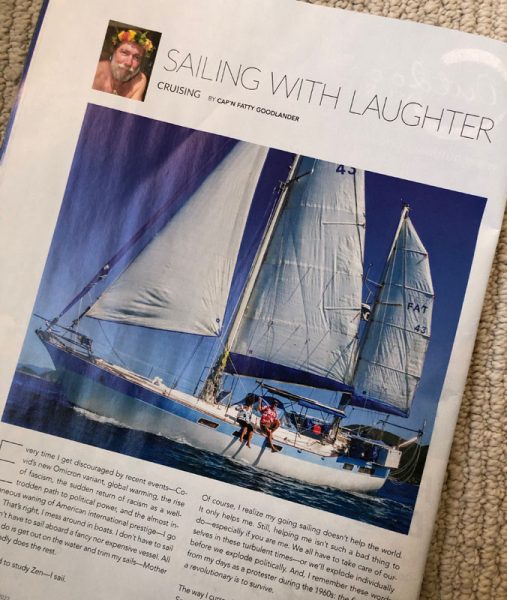 Fatty wrote, "Every time I get discouraged by recent events — COVID's new Omicron variant, global warming, the rise of racism, the sudden return of racism as a well-trodden path to political power, and the almost instantaneous waning of American international prestige — I go sailing. That's right, I mess around in boats. I don't have to sail far. I don't have to sail aboard a fancy or expensive vessel. All I have to do is get on the water and trim my sails — Mother Ocean kindly does the rest.
"I don't need to study Zen — I sail.
"Of course, I realize my going sailing doesn't help the world. It only helps me. Still, helping me isn't such a bad thing to do — especially if you are me. We all have to take care of ourselves in these turbulent times — or we'll explode individually before we explode politically. And, I remember these words from my days as a protester during the 1960s: The first duty of a revolutionary is to survive.
"The way I currently survive is by looking at my jib telltales in the South China Sea — by meditating on them."
Cap'n Fatty's description of the relief found in sailing struck us as a lighthearted version of the opening page of Herman Melville's Moby Dick, which we quoted in a story on our new page 'The Heeling Power of Sailing.'
Receive emails when 'Lectronic Latitude is updated.
SUBSCRIBE