California's Super-Dry February Is Causing Anxiety
Sorry to be dramatic, but we are spoiled here in California, where we demand that the weather be perfect.
The weather this February has, in fact, been objectively perfect. Spring feels like it's already sprung, and summer itself feels as if it's ready to start. The year-round sailing Californians have always enjoyed has been exceptional, even if the 'winter' breeze is a tad fickle. Yesterday, one sailor told us they were "deep in a major electronics refit" that had to be finished by Monday. "I'm glad it's not pouring right now. This project would be [in dire straits]," they said.
As wonderful as the weather has been, it's February, and it hasn't rained in forever.
Californians have also been spoiled by four consecutive wet winters, and have almost forgotten about the drought that preceded them. After a phenomenal start to the winter, where the Sierra snowpack was 109% of average as of December 2019, February has gone dry. Bone dry. "California is an arid state known for long periods without rain even in the middle of winter, but this dry spell is especially long, and some Bay Area residents may be wondering: Should I be worried?" SFGate wrote.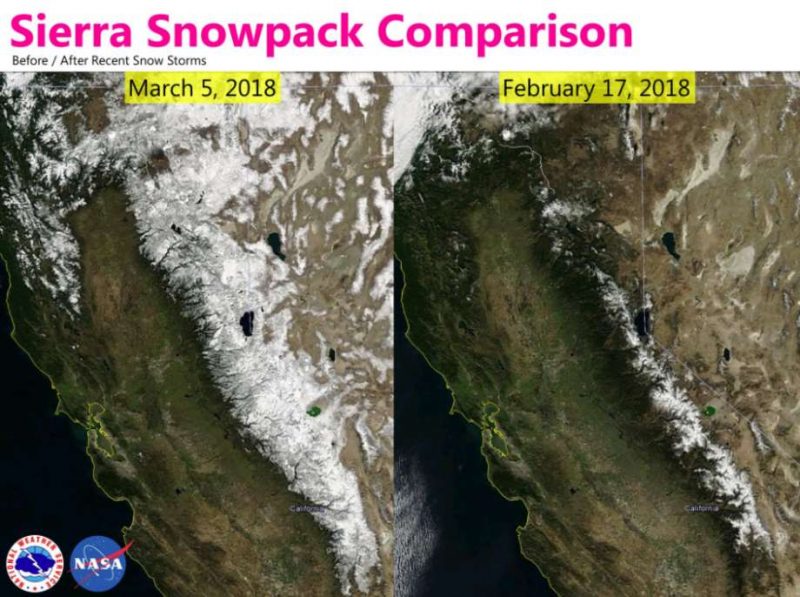 "There has only been one other year where there has been no precipitation in February and that was 1864," SFGate said, quoting Drew Peterson, a meteorologist with the National Weather Service Bay Area. "It looks like we're on pace to hit that again. At this point, we're all hoping for a March miracle [a wet spring]. We've had them before.  This is just wish-casting."
You might recall a warm, dry February in 2018, before Northern California got hammered with nearly three straight weeks of rain during what was dubbed (and pictured from above) 'Miracle March.' "Just two years ago in 2018, San Francisco went 27 consecutive days without any rain (Jan. 26 to Feb. 21, 2018)," meteorologist Scott Rowe told SFGate. "While many would like to see wet weather during our wet season, it's not unheard of to have a dry spell last three to four weeks."
So what is the outlook for the spring of a new decade? Long-range weather forecasts are known to be unreliable, and most of the meteorologists SFGate interviewed declined to speculate on future rain. Please take what we're about to say with a grain of salt.
The Farmer's Almanac is calling for cooler temperature and, yes, more precipitation in March. Granted, that same forecast also called for some heavy rain in February, so . . . yeah.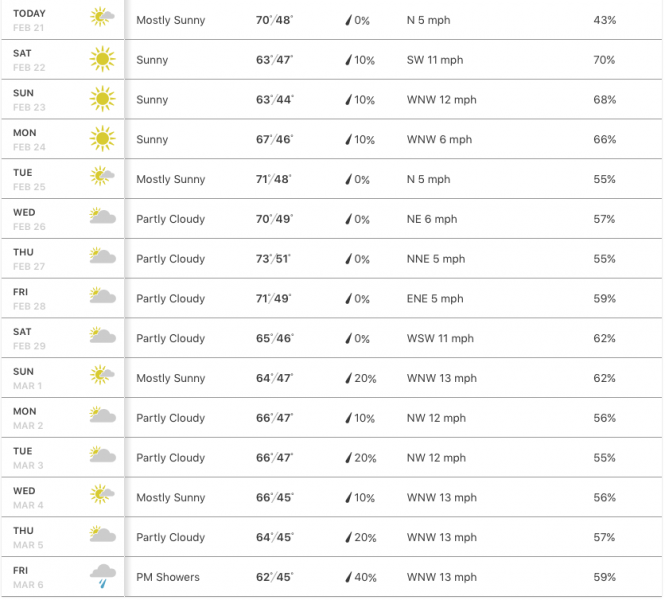 Some scientists are already talking about fire, because fires are already burning. "We have already seen an uptick in responses to wildfire calls," SFGate reported, quoting Scott McLean, a spokesperson for the California Department of Forestry and Fire Protection, or CAL FIRE. "As of Monday of this week (since Jan. 1), we had received and responded to 207 wildfires compared to 81 in 2019 in the same period of time. These all being very small. The US Forest Service had a wildfire at the 4,000-foot level the other day near Sierraville that burned approximately 102 acres."
How has this dry February affected you as a sailor? Have you been spending more time on the water rather than the slopes because the snow is so darn thin? Have you been getting more boat projects done? Please, let us know.
Receive emails when 'Lectronic Latitude is updated.
SUBSCRIBE