Breeze on From the Get-Go at Rolex Big Boat Series
"Today was pretty high winds: 25-27 knots," said John Egleston when we talked with him at the St. Francis Yacht Club docks yesterday evening following the first day of racing in the Rolex Big Boat Series. The Eglestons and their crew sail the sleek black 56-ft 1928 P Class cutter Water Witch.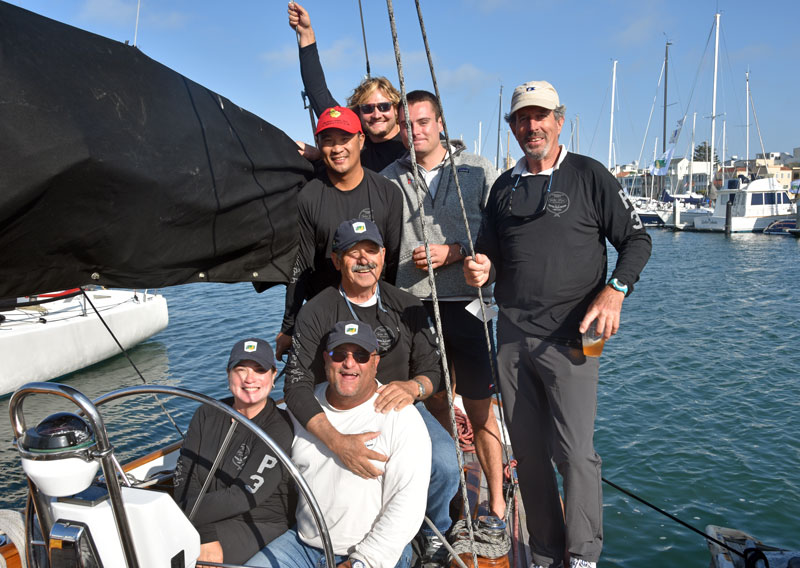 "I pulled into the parking lot this morning and there was breeze, so we knew we weren't going to have a postponement, and we didn't," said Cam Tuttle, pit on the Dehler 46 Favonius. He called it a "super-pretty day."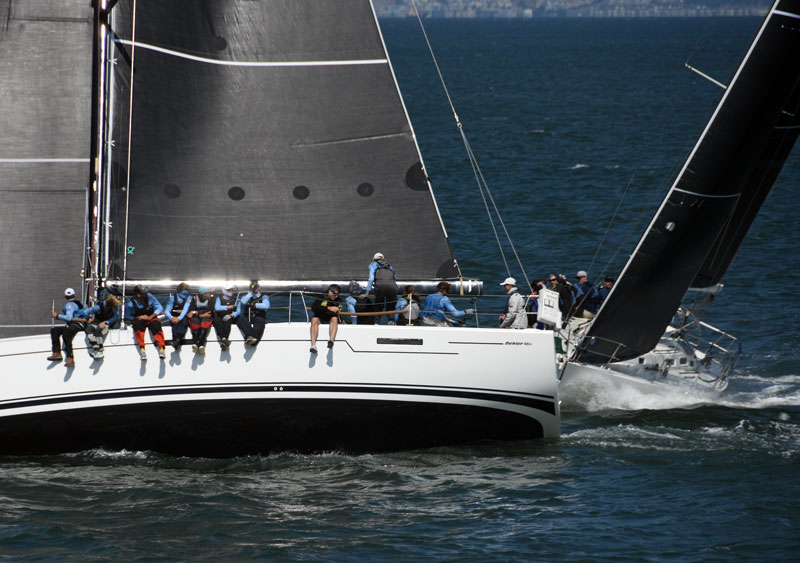 The Classics division was back with five entries. They have one race each day, starting and finishing in front of the St. Francis. (Other divisions have two races a day, Thursday-Saturday, and one Bay Tour on Sunday.) Michael Zolezzi's 8-Meter Yucca, with Hank Easom at the helm, finished first, but Beau and Stacey Vrolyk's 60-ft 1947 Alden schooner Mayan was hot on her heels.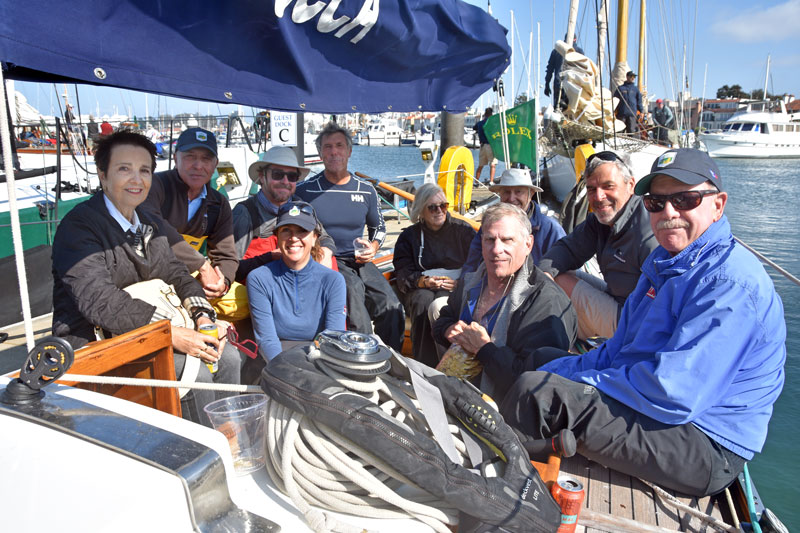 Synthia Petroka, sailing aboard Mayan, told us that their one race, on the second-longest course available, took about two hours. "Nice to be out there in so much wind. We set the kite three times. There were seven legs altogether, 11.7 miles. When we got up to the mark at Cavallo Point [Sausalito], the mark had gone walkabout. We were seeing this temporary mark over here, then we saw a mark on a race committee boat. They were zooming up as Yucca and us were neck and neck looking for the mark. They [the race committee boat] got there and set it, and we rounded. The race was very exciting. We were so close with Yucca the whole time. We were a schooner short-tacking up the Cityfront. Thankfully, I wasn't trimming any of the upwind sails," she said with a chuckle.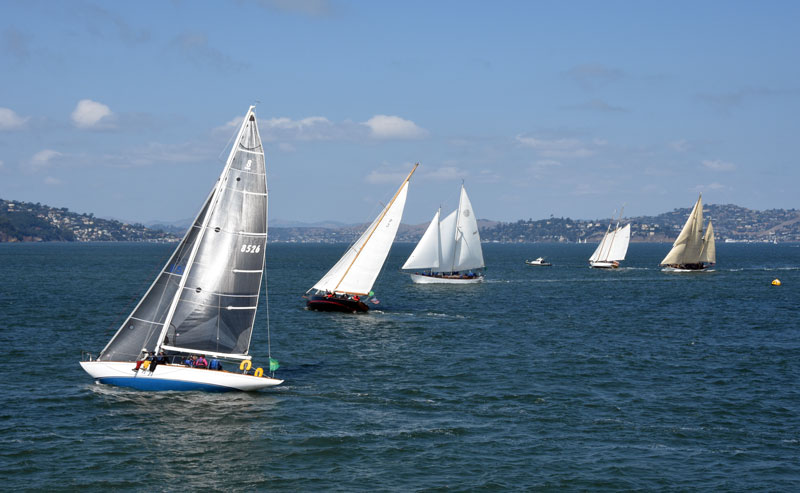 "Our mid-deck crew did an awesome job," continued Synthia. "I've heard that Yucca owes us time, but I looked through all of the race instructions and it doesn't show our ratings. We changed our sail configuration to less sail area so presumably we got a bit more of a favorable rating. But Yucca also went from a masthead to a fractional spinnaker, so hard to say. Last year, Mayan and Yucca were leading the pack and duking it out. This course really put us through the paces. It was fun!"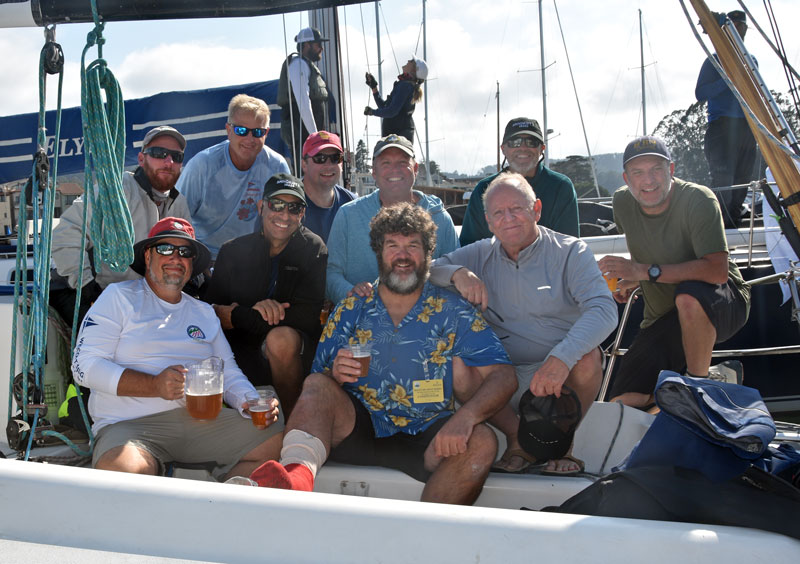 Aboard Chip Merlin's Merlin, the Bill Lee 68 sled, foredeck crew Dale Scoggin recounted some mishaps. "The first race we did everything well as far as boat handling, tactics, then afterward we heard on the radio the second-place boat Adjudicator protesting Merlin for sailing around the wrong second windward mark. The Fort Mason buoy was the actual mark. We went around another buoy that we assumed was the mark. Then we re-read the description and realized that is was the yellow can, actually."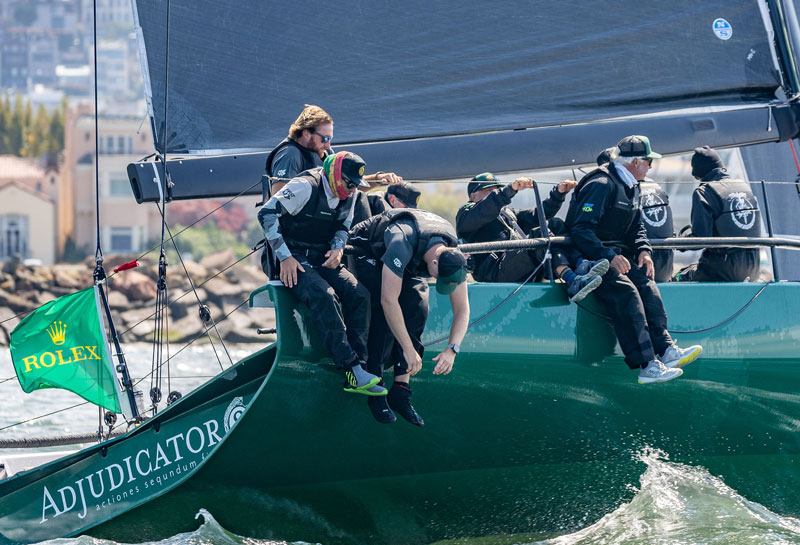 Merlin's troubles become more serious in Race 2. "In the second race, our spinnaker halyard got wrapped around the top of the forestay. We didn't notice at the time, but it chewed the forestay down to three strands. We could have lost the rig. When we came around the leeward mark, we couldn't get any tension. 'What's going on here? We can't get any forestay tension.' They were putting on backstay, saying, 'Something's wrong.' So we took everything down. Now we're talking to a bunch of different riggers to come and replace the whole forestay overnight. Hopefully we'll get that replaced and we'll be back in action for the rest of the regatta. It's very nice going through the water. Because of the flood, it's so flat out there, and the boat tracks upwind so nicely."
The yacht designer Bill Lee himself is sailing aboard Mayan.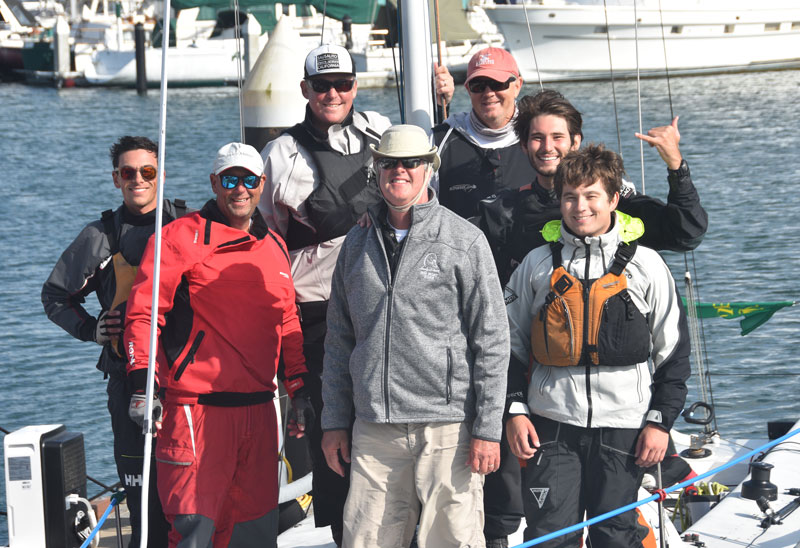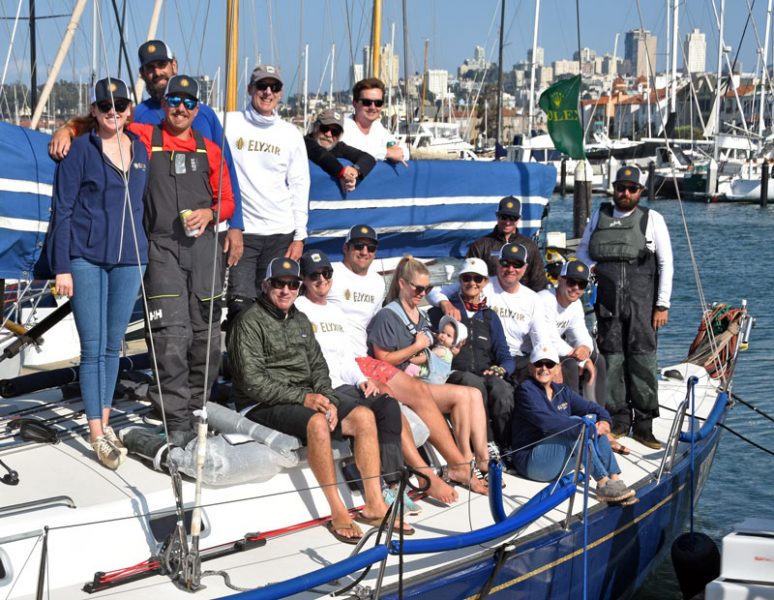 "It's the most exciting regatta in the United States," said Skip Ely, up from Santa Cruz again with his family's Santa Cruz 52 Elyxir. "Sailing underneath the Golden Gate Bridge and on the San Francisco Cityfront in 20+ knots of wind — it doesn't get any more exciting than that."
Receive emails when 'Lectronic Latitude is updated.
SUBSCRIBE