Back for a Day and Already Volunteering
Despite the travel restrictions associated with the pandemic, our 'Lectronic editor had managed to travel outside the US. While absent, she had been hearing news of home and the hard work being done by volunteers at Spaulding Marine Center. Little did she know that upon her arrival she would be roped into helping build the nonprofit's fleet of Pelicans.
"Been in town a day and he's already got you working!" Spaulding's president, Bell Edinger, commented upon seeing the newest volunteer with paintbrush and pot of epoxy in hand. And he was right. She had been there only 24 hours and was already helping out. But it was for a good cause.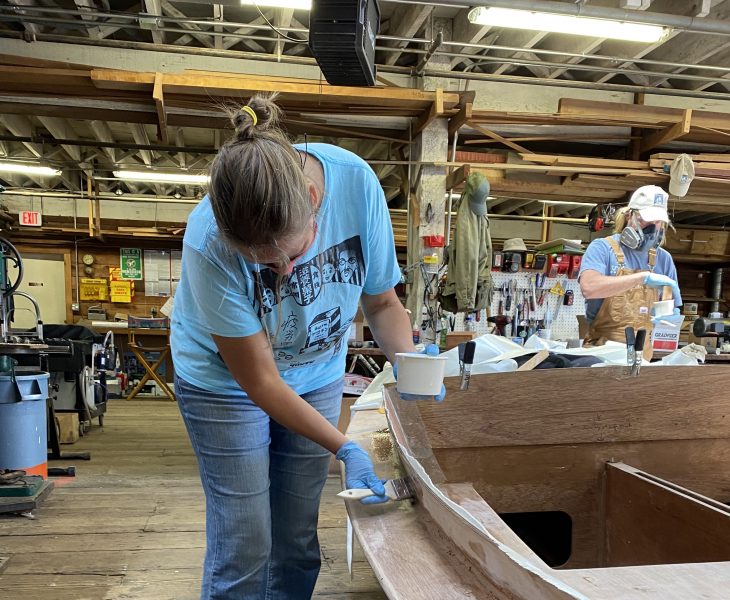 Spaulding Marine Center is building the Pelican sailboats for their upcoming youth camps, and for community sailing.
"We're getting there," education director Jay Grant said. "The volunteers we have are excellent, a good crew and very enthusiastic. They're fun to work with. But we could do with a few more people to help get the job done."
Here's a little clip we took of Spaulding's volunteers working on the Pelicans. As you can see, there is more work to be done.
With summer camps only weeks away, it looks as if our editor may find find herself building Pelicans on weekends. Want to join the fun? She tells us conditions are good and the work is rewarding. You can get onboard here.
Receive emails when 'Lectronic Latitude is updated.
SUBSCRIBE