Around Americas' International Legacy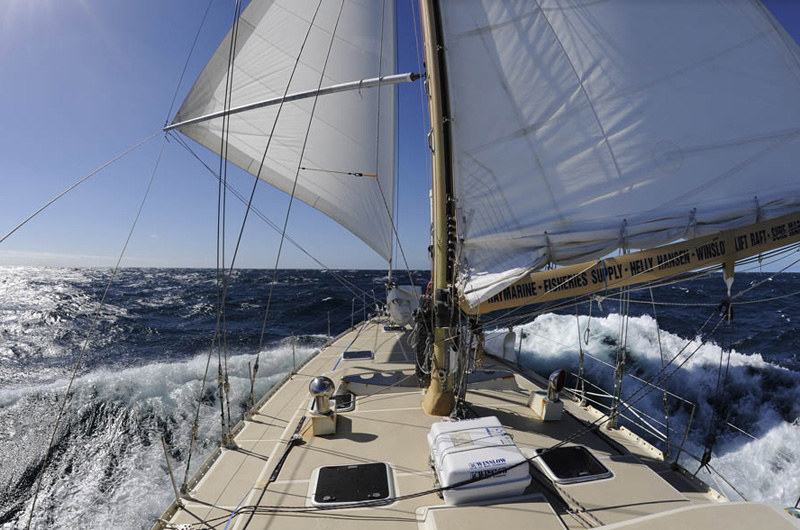 Last night, the full-capacity crowd at Tiburon's Corinthian YC was wowed by David Thoreson's dramatic photos of surreal Arctic ice formations and riotous offshore swells. Equally spell-binding were images of bright-eyed children from both North and South America who toured the 64-ft cutter Ocean Watch during her 28,000-mile Around the Americas expedition.
According to captain Mark Schrader — a two-time solo circumnavigator — the primary mission of the nearly-completed voyage was to positively influence the thousands who visited Ocean Watch during roughly 50 port calls, to make behavioral changes which will benefit both ocean and shoreside ecosystems. Thousands more followed this unique circuit via the expedition's excellent website, where the ship's scribe, acclaimed marine journalist Herb McCormick, chronicled the expedition's movements, as well as encounters with local scientists, educators, fishermen and others along the route. His accounts will soon be released in one of several books on the trip.
But what will be the legacy of Around the Americas? According to Schrader, if only a small fraction of the students whom he met are inspired to take positive action, or perhaps pursue studies in ocean science, all the effort will be worthwhile. As for the rest of us, the crew emphasizes that many people taking small steps can make a huge difference — such as cutting down on the use of plastics, i.e. with bottled water. Study the website and you'll learn that the oceans are in a state of crisis, but attempting to reverse the damage is not yet a lost cause. The educational components designed by the Pacific Science Center will continue to spread the word about ocean conservation for years to come.
Ocean Watch will pass under the Golden Gate Saturday morning bound for Portland, OR (June 10-12) and Port Townsend, WA (June 16-17), before completing the circuit at Seattle, July 17.
Receive emails when 'Lectronic Latitude is updated.
SUBSCRIBE