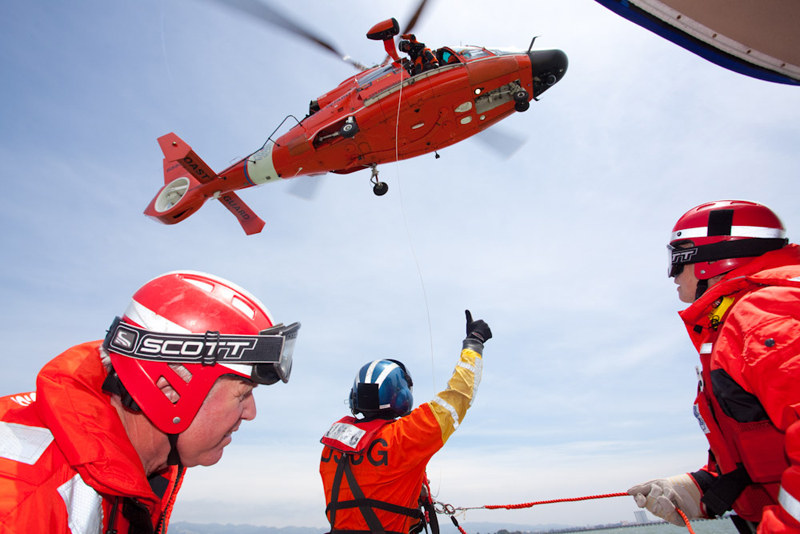 In May 26's 'Lectronic Latitude we ran a number of comments from readers regarding Ocean Race entry deadlines. Later that day, Coast Guard LCDR DesaRae Janszen wrote us to respond to a few points raised in those comments:
"We have a 24-hour Command Center watch who has the float plans on their desktops during the race," she wrote. "Before we had this requirement, we had experienced search and rescue cases where a boat in an offshore race called the Coast Guard with an emergency — such as a sailor badly injured or having a heart attack. When the helicopter arrives on scene, the crew can't figure out which boat is the one calling for help, because all the boats are bunched together. That is why we came up with the system of having a picture included with the float plan. The boat in distress calls the Coast Guard Command center, we dispatch the appropriate resource — boat, helo or both — and all the responders print out the picture of the boat and all the characteristics before they go. This not only can mean a faster response to save someone's life, but it is also a significantly more efficient use of taxpayer resources.
"We are not giving the go/no-go permission to the races. We are simply saying that if you don't turn in the paperwork, you don't get our permit. If you want to race without a permit, we are not going to stop you. If you decide to take this route, please remember that Coast Guard Sector San Francisco has the highest amount of search and rescue cases in the entire nation, so without this prior cooperation, you are making our jobs to save one of you in distress, much harder.
"The go/no-go for the race is still with the race deck and the individual, not us. I understand the resistance to the "intrusion" to have float plans and EPIRBS, but if you fall overboard and we search and search and search and can't find you, it's my Captain who calls your family to tell them that we did everything we could. This is heart-breaking and hits very close to home, experienced ocean sailor or not.
"The bottom line to why we are asking for the float plans before we give an off-shore ocean race permit is because we have very limited search and rescue resources and a huge amount of search and rescue cases. The Coast Guard budget was cut this year. As a result, we are cutting assets and staffing nationwide. Additionally, a large amount of Coast Guardsmen and Women from the Bay Area have been sent to the Gulf to respond to the oil spill crisis. If filing a float plan and having an EPIRB in advance of an ocean race will increase the efficiency of our search and rescue response, we might save someone's life who may have otherwise been lost. Just because this requirement is not what some of the sailors want, it may be just what they need if they get in trouble.
"We are open to ideas of how to streamline the process. This may be a burden on the race organizers though, as they are the ones who consolidate and send the info to us. All we want is to have the info in case of an emergency. If people have streamlining ideas, we are all ears."
While the new requirements for '10 have certainly left quite a few ocean racers feeling as though the community been singled-out unjustifiably, we'd be remiss to not point out that at least as far as we're concerned, the Coast Guard has been extremely responsive about the issue. The efficacy of an EPIRB in a near-shore rescue is definitely questionable. But as far as this editor is concerned — and I'm not speaking on behalf of anyone else at Latitude 38 — the fact that the Coast Guard wants to have our float plans for ocean races is awesome. We don't ever want to have to be rescued. However, if we do need a hand at some point, we want those most likely to lend it to us to have as many advantages as possible.
Receive emails when 'Lectronic Latitude is updated.
SUBSCRIBE