A Bit of Encouraging News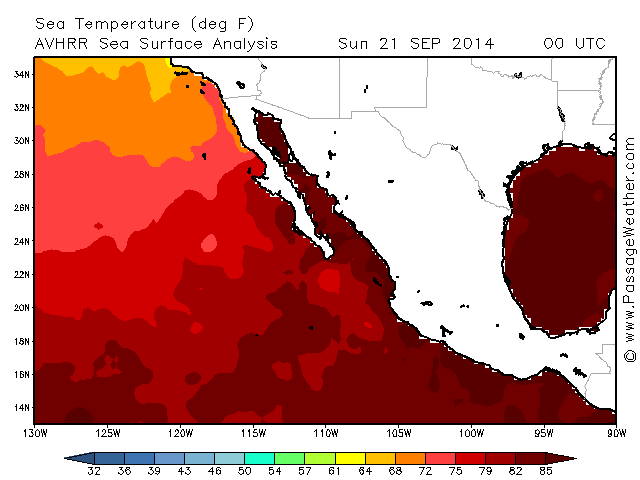 We don't exactly know what to make of it, but it can't be bad. As the Grand Poobah of the Baja Ha-Ha rally, we follow the water temperature situation in tropical Mexico very closely. What we've noticed in the last few days is that it's dropped noticeably. It seemed only days ago that it was 85° everywhere in the tropics. This is significant, because tropical storms need water for fuel. The cooler the water, the less likely the chance of a tropical storm developing or surviving.
We don't pretend to be experts on hurricane conditions, of course, and maybe it's just surface cooling caused by a couple of hurricanes passing through in the last week or so.
On the other hand, Mike Wilson of the Mazatlan-based S&S 44 Tortue reports that "It's cooling down nicely in Mazatlan." It seems a little early for the mainland to start to cool, but if it's not just a one-day thing, that would be great.
Wilson reminds us that it was 11 years ago when he, his wife Melissa, and many others had to weather Hurricane Marty, which ripped up La Paz. Largely because of the different wind direction, it did much more damage to boats than Odile, even though it wasn't as strong.
Receive emails when 'Lectronic Latitude is updated.
SUBSCRIBE