The Grand Poobah Recalls the 79-ft Ketch 'Miramar'
Some of the things that make this boat special are that she's 79-ft long; she's made of wood; she was built in Finland; and construction started on her 80 years ago!
There aren't a lot of 80-year-old wood yachts left in the world, particularly on the West Coast of the United States, and not many of them are in excellent condition. Miramar, the Jarl Lindblom-designed ketch I'm speaking of, is one of the wonderful exceptions. In fact, just a couple of years ago, she underwent a major refit with things like new planks and a new engine.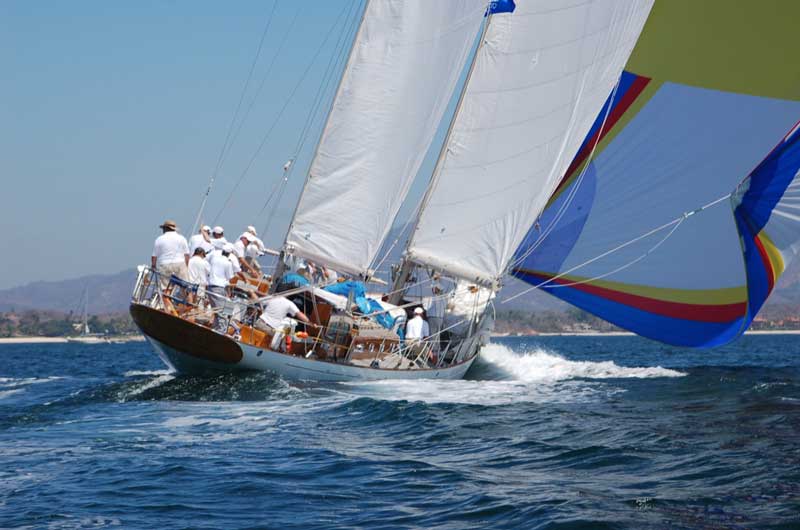 There's something else even more unique about Miramar: In 1969, when named Mir and under previous ownership, she was spectacularly dismasted while carrying full sail 250 yards from the Diamond Head finish line of the Transpac.
The valiant crew cleared up the mess and were determined to still sail her across the finish line. We've heard two versions of what happened next. (We weren't there so we don't know which is true, so take your pick.)
The crew somehow managed to hoist the mizzen, which had been furled on the boom. This allowed the big ketch to be sailed, or at least pushed, backward across the finish line.
The other version is that once the mizzen was set, the boat relentlessly kept heading upwind and away from the finish line. If you've ever owned a ketch, you'll know that's what happens if only the mizzen is set. So, according to this version, the crew miraculously managed to set Mir's mizzen spinnaker, and that got them across the finish line. It's possible that the mizzen spinnaker was backwinded, which would also have allowed them to be pushed backward across the finish line.
That legendary moment in West Coast yachting was, for many years, commemorated with a huge photo of the dismasting placed over the bar at the Hawaii YC. It might even still be there.
Miramar is now owned by 78-year-old Paul Scripps of the San Diego area. Paul is one of the 70 or so members of the family tree of the legendary E.W. Scripps, who started the family newspaper dynasty at age 24 with the Penny Press in Cleveland in 1878.
To say E.W. was a character would be a gross understatement. According to his assistant, he drank a gallon of whiskey each day and had a cigar in his mouth during all waking hours. Nonetheless, he founded or acquired no fewer than 25 newspapers. Yet he considered his greatest achievement to be the creation of United Press International (UPI) which decades ago was a competitor to Associated Press (AP).
E.W.'s newspaper readership was the working class. His editorial slant was basically that everybody in government and big business was corrupt, and that at some point even his biggest advertisers would go to war with him. A man unafraid to speak his mind, here's how he expressed it:
"A newspaper fairly and honestly conducted in the interests of the great masses of the public must at all times antagonize the selfish interests of that very class [the advertisers] which furnishes the larger part of a newspaper's income. It must occasionally so antagonize this class as to cause it not only to cease patronage, to a greater or lesser extent, but to make actually offensive warfare against the newspaper."
Yet E.W., with the great help of half-sister Ellen Browning-Scripps, somehow continued to succeed wildly, eventually owning the largest chain of newspapers in the country.
In the late 1800s, E.W. and Ellen, tired of the cold winters in the Midwest, moved to a then-remote ranch that encompassed what is now the Scripps Ranch Community and Marine Corps Air Station Miramar, just north of San Diego. They bought something like 3,000 acres for $500.
E.W. continued to run his mostly Midwest newspapers from his isolated ranch using the then-only phone line from California to the Midwest. Very unusual for back then, Ellen was college educated. E.W. credits her with saving him from bankruptcy several times.
In 1903, at the urging of Ellen, she and E.W. funded what became the world-famous Scripps Institute of Oceanography in La Jolla.
Rather than mellow with age, E.W. proudly became even more crusty and cantankerous as the years passed. Nonetheless, he and Ellen donated relentlessly to all manner of causes that significantly helped shape San Diego and La Jolla.
If E.W. was a quirky but wildly successful Elon Musk sort of character who cared little for money, Ellen, who once appeared on the cover of Time magazine when that was a big deal, was more like Jeff Bezos' wife, MacKenzie Scott, except on steroids. Before she died at nearly 100, Ellen had given away almost all of her vast fortune to local, national, and international organizations that promised, among other things, to advance democratic principles and the education of women. She didn't just donate money; she was very hands-on.
Women looking to find a progressive hero who made a big difference need look no further than Ellen Browning-Scripps.
All this is a roundabout way to get to the fact that at least some members of the Scripps family tree have always enjoyed yachting, even such as it was in the early 1900s. For example, E.W. had some kind of big yacht named Ohio. He even passed away aboard her at age 72 while off Monrovia, Liberia. God knows what he was doing on a boat off Africa at his age.
In the late '60s and early '70s, John Paul Scripps, one of the more than 70 members of the Scripps family tree, was racing his 90-ft schooner Novia del Mar to destinations such as Tahiti and Cabo San Lucas, the latter hardly even a village then. Novia del Mar caught fire halfway up Baja after a Cabo race and sank.
It was not long before 1977 that Paul Scripps acquired Mir and renamed her Miramar. He raced her in the 1973 race to Cabo and took line honors. He's since done other Mexico races with her.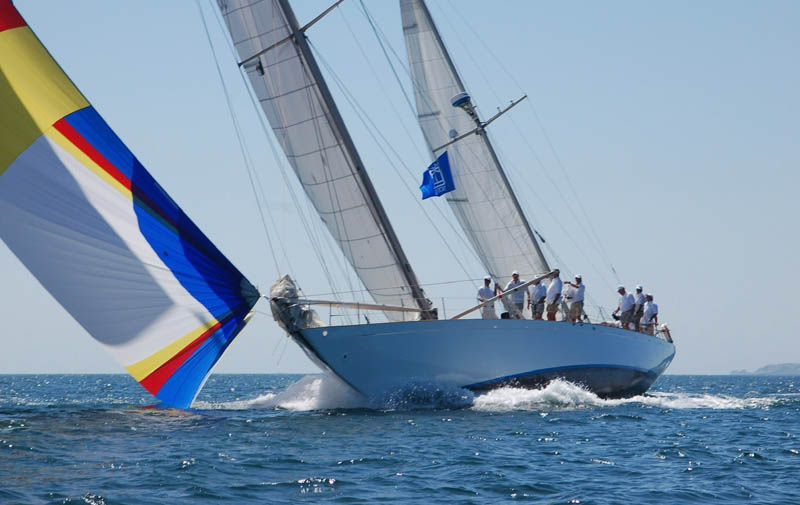 So what's the story behind the accompanying photos of Miramar with her mast up? In spring 2015 I knew there was a race from Southern California to Puerto Vallarta. At the time I was staying at my condo at Punta Mita. While hanging out on my terrace one afternoon, I noticed the top third of a spinnaker over the headland to the west. I knew it had to be one of the raceboats.
So I grabbed my camera, took the elevator seven floors down, hopped onto my motorcycle, and rushed to the El Coral Restaurant, where my dinghy was on the beach. By now, the fast-moving boat that would turn out to be Miramar was about 300 yards from being directly abeam of me. I powered out as fast as I could, and managed to get on the scene just in time to cross her bow, take a few photos, then get a couple of more shots from on the beam and astern. Those are the shots you see here.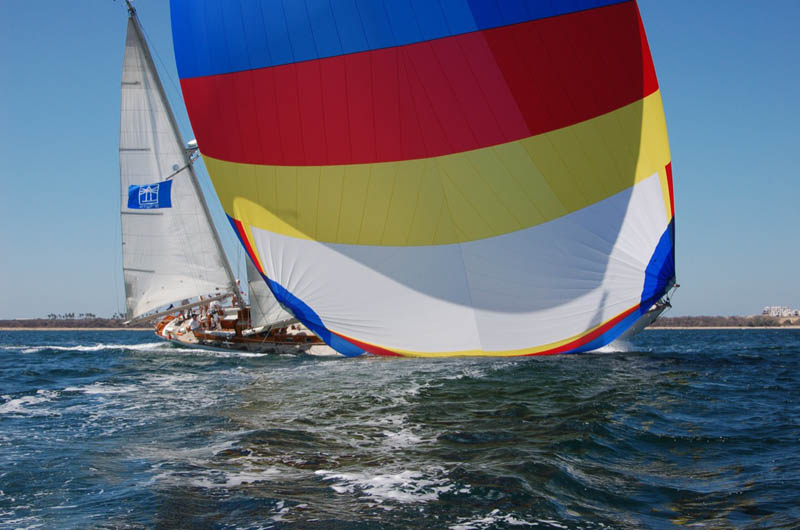 A few days later, I met a most gracious Paul Scripps at the awards ceremony, and he bought a couple of the photos.
Here's where my memory gets a little fuzzy. For years now a very large blowup of Miramar has graced a window at the bottom of the stairs leading up to the Brigantine Restaurant on Shelter Island. I'm thinking Paul must have given them the negative to blow up, because I don't remember doing it. But as I say, my memory is fuzzy so I don't know for sure.
Receive emails when 'Lectronic Latitude is updated.
SUBSCRIBE