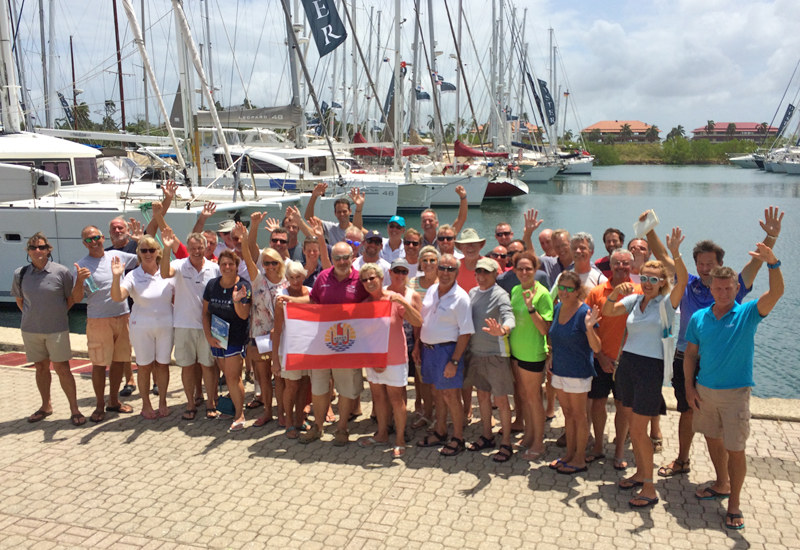 It would be hard to imagine visiting Panama at this time of year and not meeting a wide variety of cruising sailors who are heading west, as this is the ideal season for jumping off to the South Pacific islands.
In addition to the dozens of Pacific Puddle Jump boats staging for departure on both ends of the Panama Canal this week, we've been getting to know the crews of 29 splendid Oyster yachts that are traveling in company on the second Oyster World Rally.
Having begun their circumnavigation in Antigua January 15, the gleaming fleet — which includes boats from 45 to 82 feet from at least nine nations — is currently awaiting its westbound Canal transit, after which the fleet will catapult into the Pacific, bound for the Marquesas with a pit stop along the way at the Galapagos. After touring French Polynesia, fleet members will visit Tonga, Fiji, New Zealand, Vanuatu, Australia, and Indonesia, then sail on across the Indian Ocean to South Africa and up the Atlantic to Brazil, Grenada and Antigua, where the Oysters will cross their tracks in April 2019.
The first Oyster fleet circumnavigation several years ago was meant to be a one-time event, explains technical support specialist Eddie Scougall of Oyster. But the owners who participated had so much fun that many more wanted to follow in their wake. "Twenty-two people actually bought boats specifically to do this rally," says Eddie. Given such success, the rally will likely be repeated every four years or so.
On Saturday Latitude, along with partners from Tahiti, Fiji and New Zealand, met dozens of other international cruisers — all registered with the Pacific Puddle Jump — at the second of two Tahiti-South Pacific Bon Voyage events last week. (We'll report on that gathering here on Wednesday.)
And in the coming weeks, you'll find additional PPJ reports, complete with cruiser photos and quotable quotes, in the pages of Latitude 38 magazine.
Receive emails when 'Lectronic Latitude is updated.
SUBSCRIBE