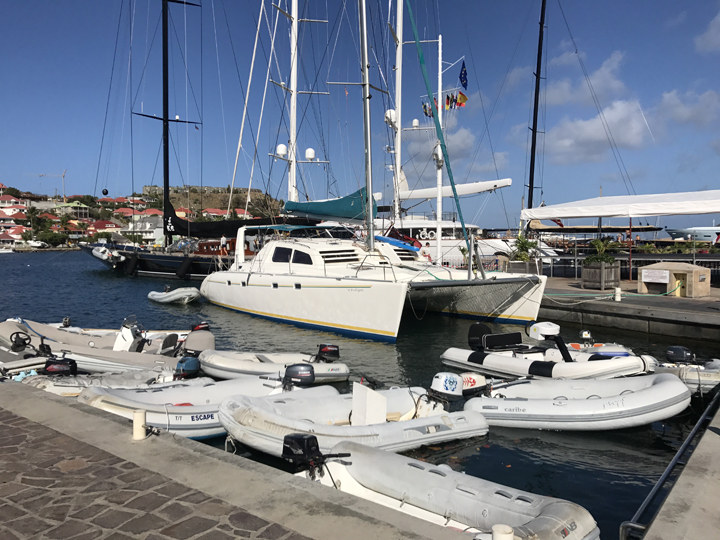 About three weeks ago the Wanderer reported on the miracle of getting our Leopard 45 'ti Profligate's Yamaha 15 outboard repaired for a dirt-cheap price, as darkness fell in Antigua on a Friday night. What were the chances? This last Friday afternoon we had another repair miracle, this time in St. Barth.
I was stunned by the price.
For the past two months, the starter motor on 'ti Profligate had been increasingly losing its mojo; then it finally gave up the ghost entirely last Friday. It wasn't the best time. A jerk in a steel rustbucket had double-anchored right on top of of my hook, we were almost out of water and needed both engines to get to the water dock, and without the port engine the freezer wasn't going to work.
Joe, who takes care of 'ti in Antigua, told us he figured a Yanmar replacement starter in Antigua, where everything marine is heavily taxed, might run $1,200 to $1,500. Bill Lilly of the Lagoon 470 Moontide, who is in St. Martin, reported having paid as much as $800 to get his Yanmar starter motors rebuilt in Central America. But, and this was a good but, Lilly had found a great source of after-market starters in Florida for under $200.
We figured our options were to either to pay big bucks for a starter in St. Martin or — what would the chances be? — St. Barth, and get it on Monday or Tuesday. Or wait a week or more to get a cheap one from Florida. In either case we weren't going to be able to make it to the water dock, so Doña de Mallorca wasn't going to be a happy camper.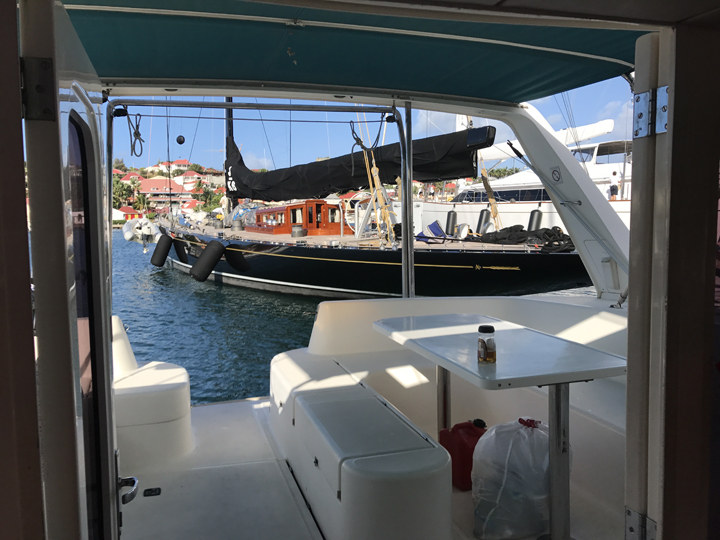 But this is another marine repair story that turned out shockingly well. I showed up at Hughes Marine in St. Barth when they reopened at 2 p.m. on Friday. Not only did they have both types of starters that fit my Yanmar 4JH3E, but the starter I needed cost — hold onto your hat — just 175 euros! This was even more stunning than the 7.50-euro rotisserie chickens we'd found at Marché U, and the fact that burger prices had been lowered at Le Select and beer prices lowered at Baz Bar.
As if the outrageously low starter price weren't enough, our new buddy Anthony Sosinski, current hero of Doña's life, and soon-to-be-famous in the print and big-screen versions of A Speck in the Sea, installed the new starter in less than 15 minutes. So in under two hours — including time for drinks at L'Oubli — and for less than $200 on a Friday afternoon, almost all our boat issues had been solved.
First thing on Saturday morning we worked our way free of the jerk's rustbucket in front of us, and got permission to go to the water dock in Gustavia. My Leopard 45 cat sure took the Charles de Gaulle Quai neighborhood down a notch, as we tied up next to Jim Clark's 135-ft J Class yacht Hanuman, the 185-ft Perini Navi Rosehearty that used to belong to Rupert Murdoch, and the J Class yacht Lionheart. A spinnaker on any of those yachts cost more than my entire 45-ft cat.
But we watered up, had a great time in the port captain's office with our old friend Jacques, got a coffee and a croissant at Choisy, said "Hi" to a dozen great friends who happened by, and managed — much to the surprise of the Hanuman crew — to extricate 'ti Profligate from the water-dock corner without scraping the length of the dark-hulled J-Class yacht. Not only that, we found a new spot to anchor off Corossol that was a couple of hundred yards closer to town.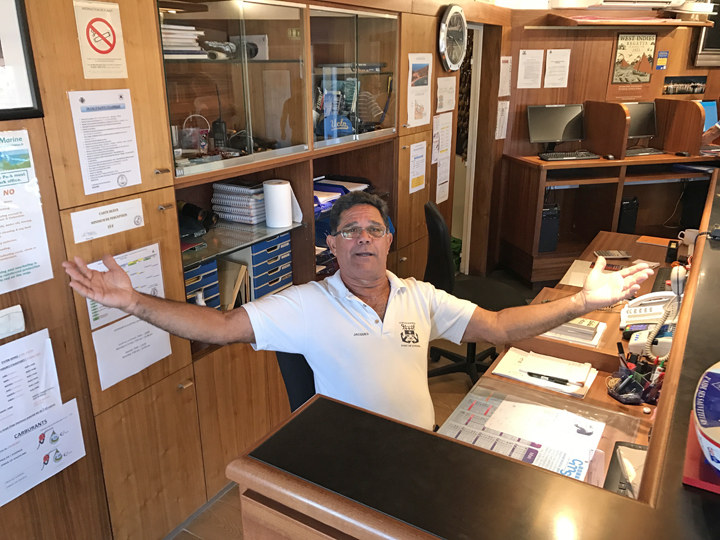 All in all, we were all ready for the rest of the weekend, and for the Thursday-through-Sunday St. Barth Bucket, on the island that is truly fantasyland for sailors who are over 40.
We're smiling, and that's a good thing, because the unofficial motto of St. Barth is: "Smile — or get the fuck off the island!"
Receive emails when 'Lectronic Latitude is updated.
SUBSCRIBE