Due to space limitations, we missed getting this report into the June issue of Latitude 38. The regatta took place on April 23-24. — ed.
Lido 14 and Banshee sailboats tied at the 55th Camellia Cup Regatta on Folsom Lake in a rare finish that had Steve and Pat Galeria on the Lido and Charles Witcher on the Banshee sharing honors as the Sacramento Valley's finest sailors.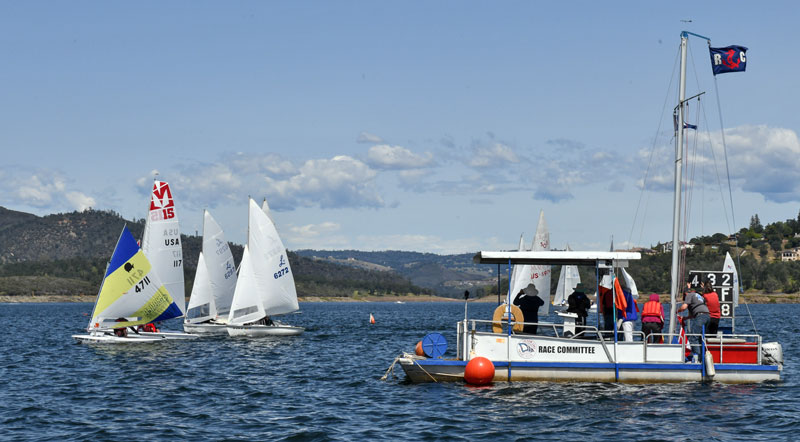 For the Galerias (a husband/wife team from Lincoln), it was their first win, while Sacramento's Witcher is the winningest Camellia Cup champion, with 10 victories in the venerable cup's history. Witcher is the only sailor to have ever tied twice (he did it once before in 1985).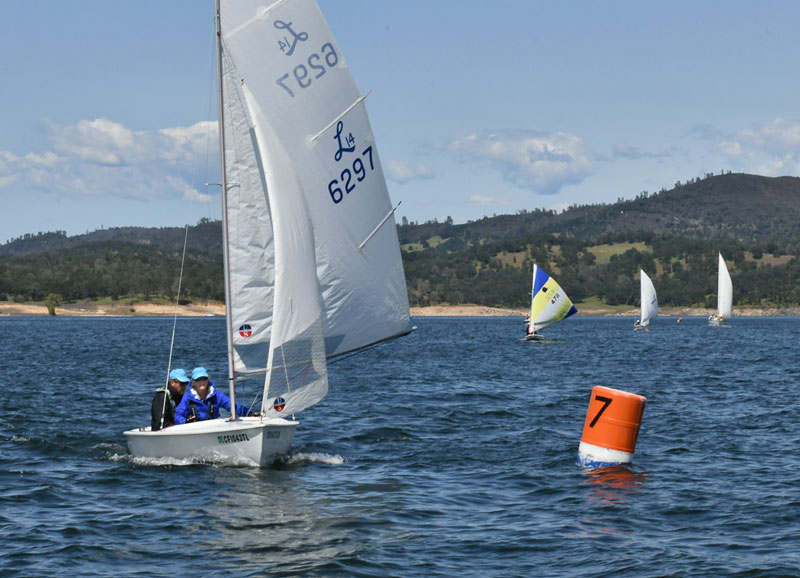 Years before, dozens of 14-ft Lidos competed in the regatta, yet it had been a decade since one had won. Sacramento's George Koch, then 85 years old, captured it in 2013. As for Banshee wins, they have come often, mostly due to Witcher's prowess on the 14-ft singlehanded dinghy.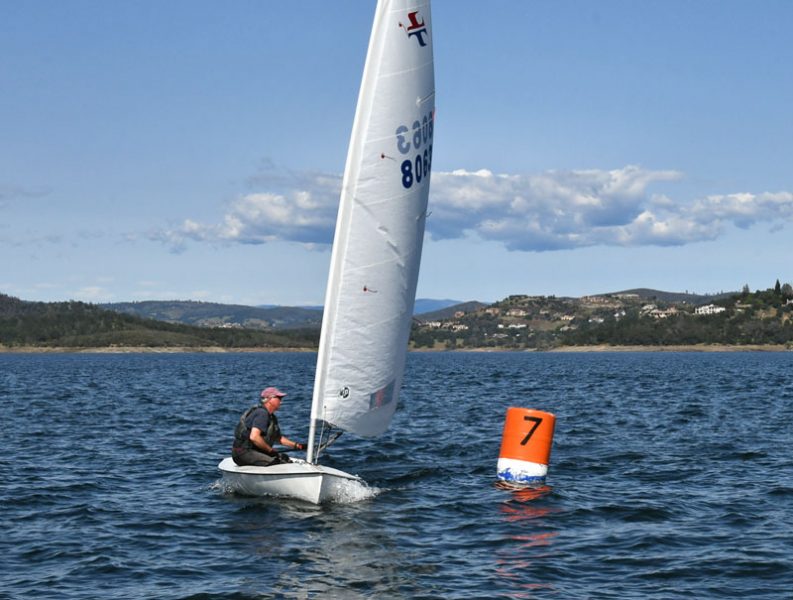 To share honors as Camellia Cup champion, the Galerias on Fair Play and Witcher on Ghost finished first in all four of their qualifying races. The fifth and last race was a throwout. For their reward, in addition to having their names jointly engraved on the 55-year-old silver cup, the Galerias' Lido and Witcher's Banshee will be featured on next year's CamCup commemorative shirt. They also received victors' battle pennants for class.
Experienced sailors, the Galerias purchased their Lido two years ago and competed in their first CamCup on it last year. To win the cup, they had to overcome five other boats in the Open Centerboard class, sailed by formidable competitors who crewed a Melges 15, two International 5O5s, a Sunfish and another Lido crewed by a brother/sister team (El Dorado Hills' Peter Davies, 17, and his sister Katie, 13), who were sailing a Lido in their first regatta.
The Galerias demonstrated poised and steady sailing, through both light and moderate winds that built to 8 knots. Lidos — developed in Southern California — and Banshees — in Foster City — are both known to do well in light air, but the Galerias' Lido had to overcome all the varied boats in its class, even when winds strengthened in two of the five races sailed, to win the Open Centerboard Class. Witcher dominated the six-boat Banshee Class.
More Division Winners
Dave Samson of  Fresno YC sailed Slo Mo, a Catalina 22, to the win the five-boat Blue Keel class. Fusion, a Santana 20 captained by FLYC's Mark Erdrich of Sacramento, won the five-boat Red Keel class.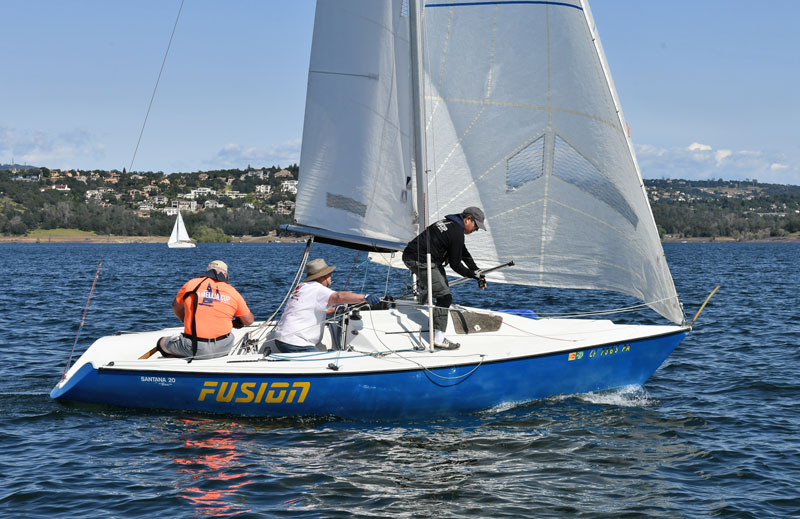 The 2019 Camellia Cup Champion, Emilio Castelli, representing Richmond YC, won the five-boat Laser class on Leaky Lena.  Find complete results here.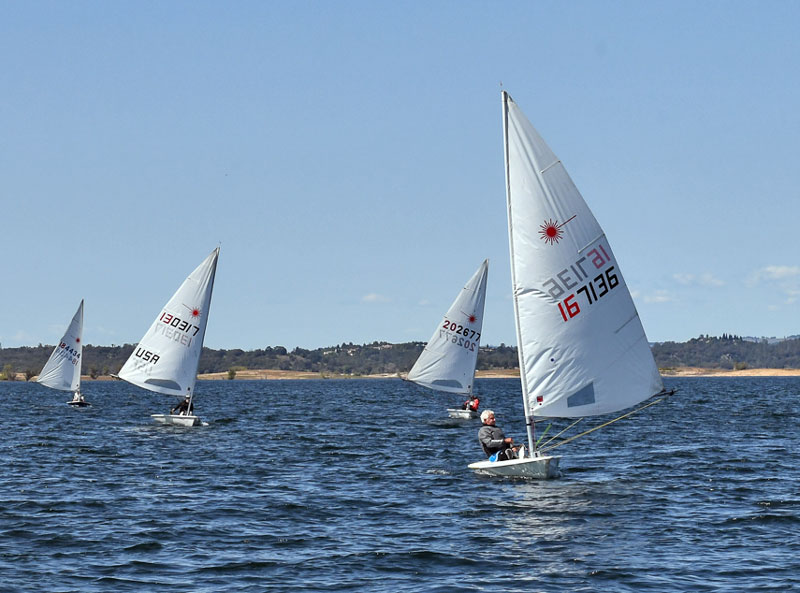 Model Yacht Competition
Also competing at Hobie Cove on Folsom Lake were radio-controlled sailboats, organized by the Sacramento Model YC as a separate element of Camellia Cup.
Eight J Class model yachts (1/16th-scale replicas of America's Cup yachts of the 1930s, as big as 8.5-ft long) competed, with SMYC's Gene Novak winning the class, sailing his replica of Svea, a Swedish J that in 1942 wasn't able to compete in the America's Cup due to World War II. Technical problems and protests made the model yacht class of this year's Camellia Cup a complicated event.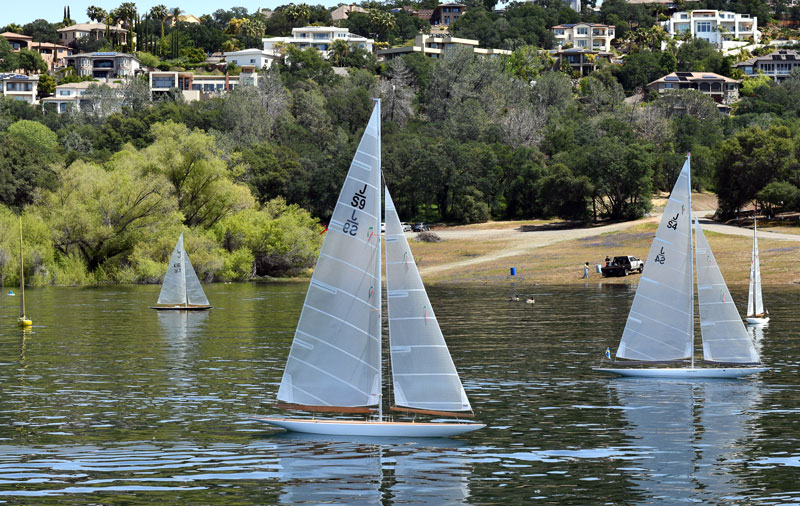 US Sailing governs radio-controlled sailboat racing, with rules similar to those used by full-sized sailboats. Many R/C sailors sail and compete on full-sized boats, though the sport also includes sailors who don't. The National Championships for the J Class and Canterbury Js will occur during Sacramento Sail Week in 2023.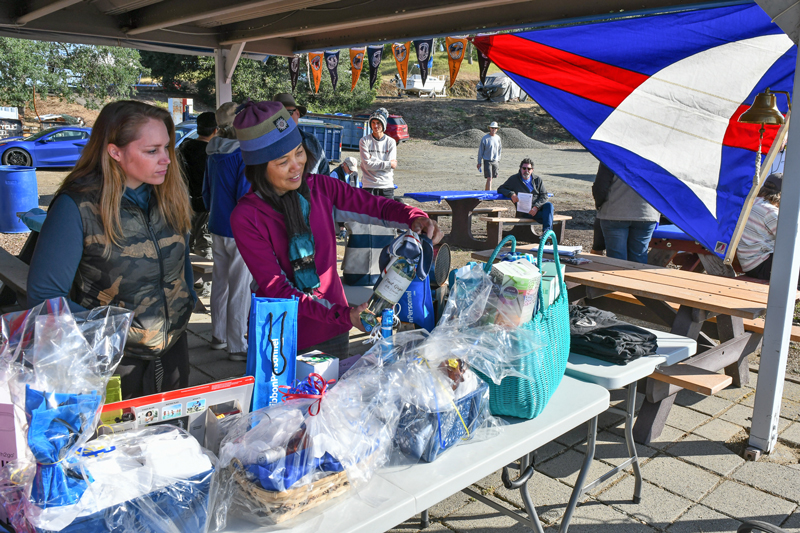 FLYC was established in 1957. It's located at Brown's Ravine within Folsom Lake State Recreation Area in El Dorado Hills. Find more about these clubs at www.flyc.org and www.sacmyc.net.
Receive emails when 'Lectronic Latitude is updated.
SUBSCRIBE