On Friday, the French press release called SailGP Marseille "Grandiose. Il n'y a pas d'autre mot pour décrire le spectacle livré par les six équipes de SailGP devant la digue de Marseille." "Grandiose," in French, carries a slightly different meaning than it does in English. It means "grand." ("Grand," in French, means "large.") The full headline translates to: "Grand. There's no other word to describe the spectacle delivered by the six SailGP teams in front of the Marseille seawall."
On Saturday their headline was "Grosse pluie, grosse bagarre!" ("Big rain, big brawl!")
On Sunday, the French celebrated a race win in front of their joyous home crowd. China, led by Kiwi skipper Phil Robertson, also won a race (the second one on Saturday). But it would be Aussie vs. Aussie in the final match. Tom Slingsby and the Australia SailGP Team vanquished fellow Australian Nathan Outteridge, skipper of the Japan SailGP Team. The last race of the inaugural season culminated with a 10-minute face-off between Australia and Japan. Australia secured the trophy and the US$1 million prize, the largest in yacht racing.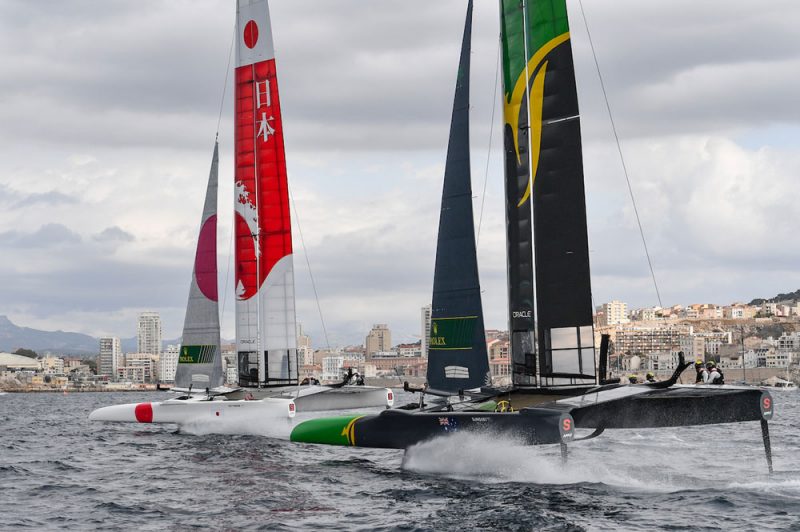 Two fleet races had been scheduled for Sunday, but, in light air, only one was held. China and Great Britain went into the day tied for points and vying for third place. But the Brits had a disastrous race, getting caught out by a wind hole at the start. Despite closing the gap, they finished in fourth place. China finished second after the French, claiming the third podium position. Rome Kirby and the USA team fell to last place in the final standings.
Japan led for the majority of the final match after Australia took a penalty for entering the start box early. But, according to the report issued by SailGP, "Race analysis determined that the final duel came down to a mere 78 centimeters at a crucial moment on the racecourse; if the Australians had been five-hundredths of a second slower, Japan could have forced them to incur a penalty. It was a risky play by Japan in an attempt to force Australia off its course that backfired and allowed Slingsby to move into the lead and ultimately take the win."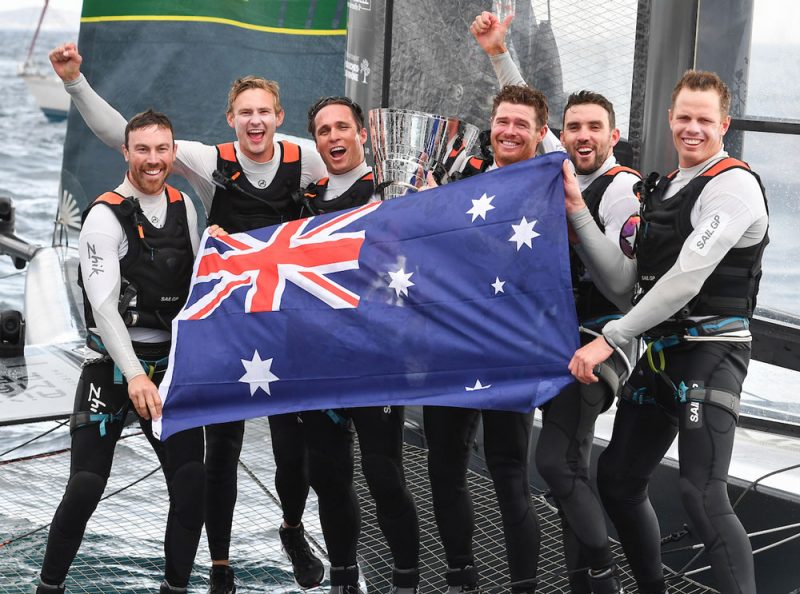 "I feel for Nathan and his team," said Tom Slingsby. "They have put in an amazing effort all year and it is just the way it is. One team has to win, and one team has got to lose. I am happy with the way it went, but those guys were unbelievable competition all year and it was such a close battle."
"We made one error, and that's what happens," said Nathan Outteridge. "But that's sport and we will just get ready for next season." The second SailGP season will kick off in Sydney, Australia, on February 28-29, 2020. See https://sailgp.com.
Receive emails when 'Lectronic Latitude is updated.
SUBSCRIBE