Josh and Christina are OK!
Along with the usual conversations and questions at our Crew List Party on September 11 came an unusual one from a number of people: "How are Josh and Christina on Tish?"
The reference was to Josh Longbottom and Christina Jeschke. In September's Changes In Latitudes, Josh had written about the young couple's decision to wait out hurricane season aboard their Bayfield 25 in the Bahamas. "It's the first of August and Christina and I are back on Tish again after a month in the US and a month in Europe," Josh wrote in Changes. "The Bahamas are great, really great, but it's hurricane season now, and — not as we planned — it's too late to go anywhere."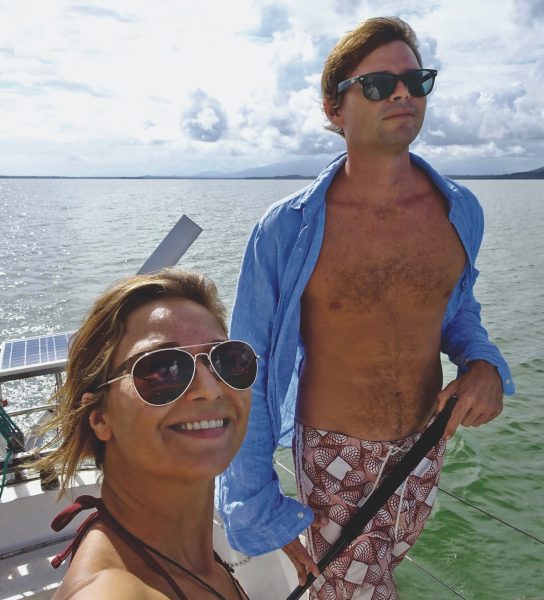 So they hunkered down in Green Turtle Cay and kept close tabs on the tropical depressions. One by one, they came, and either dissipated before arrival or turned to miss the islands. Then came Dorian.
We reached out to Josh the week after the storm. He was able to confirm in a quick email that he and Christina were OK. They were able to fly out of the Bahamas, but they had to leave Tish. He promised more information later. It arrived last night.
Here are a few excerpts of his report, which will appear in full in a future issue of Latitude.
"I won't do that again.
"I thought I would wait it out in the Bahamas, getting all zen on the hurricane season, waiting productively, chilling out on awesome beaches instead of hiding in a marsh full of mosquitos somewhere. But that's not how things turned out, not at all. And the thinking that led me to think like that will be suspect forever.
"When I arrived in the Abacos, in May, I fell in love with the place. The Sea of Abaco is between worlds; it is transcendent. When the sun hits, over soft waves, above sugar-white sand, you get that Bahamian blue on the surface of the water, one of a kind. Of course I wanted to stay, even if it meant braving storms.
"To tell you the truth, I thought I was safe, and was even super-excited to watch storms come marching [out] off Africa to my front-row seat. I was thinking, I'm going to get to watch storms that I would never have the guts to observe from the deck of a boat — from an island that's not much bigger than a big boat. It sounded great to me.
"Christina and I developed a set of rules that would reassure family who would be watching TV and worrying about us, as well as to help us make decisions, if it came down to it: Cat I: stay on the boat. Cat II: get a hotel. Cat III: get out."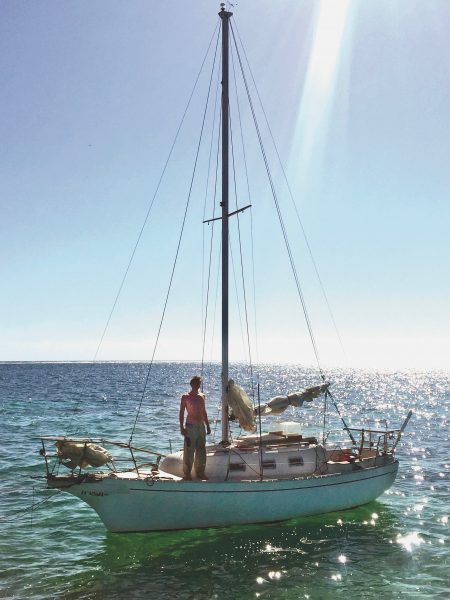 At the end of August, with the heat oppressive, the restaurants and bars boarded up, and "feeling like a bowling pin just before the pros set up," the novelty had worn off and Josh and Christina decided to make one more try to sail Tish to Florida. But with fickle headwinds, a strong Gulf Stream and the little boat's one-cylinder Yanmar, it wasn't happening. They ended up in the 'ghost town' of Old Bahama Marina, where they were the only boat among a hundred empty slips. The dockmaster said they couldn't stay.
"As we updated on weather, the picture came together, and family was calling worried. Maybe a Cat III. Maybe a direct hit. We had left Green Turtle Cay, where we had a plan. And here, on an island that is always getting hit, lies so very low, and that we've never even been to before, we had to make a new plan, a plan that was not going to be nearly as good.
"I've heard sailing friends say before, "I can't lose my boat." I don't feel the same. I can't lose my life, that's how I feel, and that is the only way to feel about. And now, it's real."
Josh and Christina were able to get Tish to Knowles Marina and Yacht Services in Freeport, where they unrigged the boat and caught one of the last flights out the next day. They watched the storm unfold from Austin, Texas.
Freeport was hit hard. "We watched Bahamian TV to try to get news. I think I might have seen the boatyard owner's daughter on the news, telling the story of her mother and father, struggling through the night, climbing to higher ground, through flood waters, to find a shelter, with only standing room," he writes. He found himself worrying more about them than the boat. He sent an email to them with a prayer for the family.
This story has a much happier ending than many coming out of the Bahamas in the aftermath of Dorian. All Josh and Christina's friends are okay. Some lost boats, but some boats have been recovered. And a week after the storm, the boatyard owner emailed back one sentence:
'Thank you, and your boat is safe.'
Receive emails when 'Lectronic Latitude is updated.
SUBSCRIBE