"Here's how we ended our Transpac this year: Less than 188 miles to Diamond Head, we were forced to retire," says Don Ford, trimmer aboard Stephen Ashley's Shoreline Yacht Club-flagged Beneteau First 40.7 Onde Amo.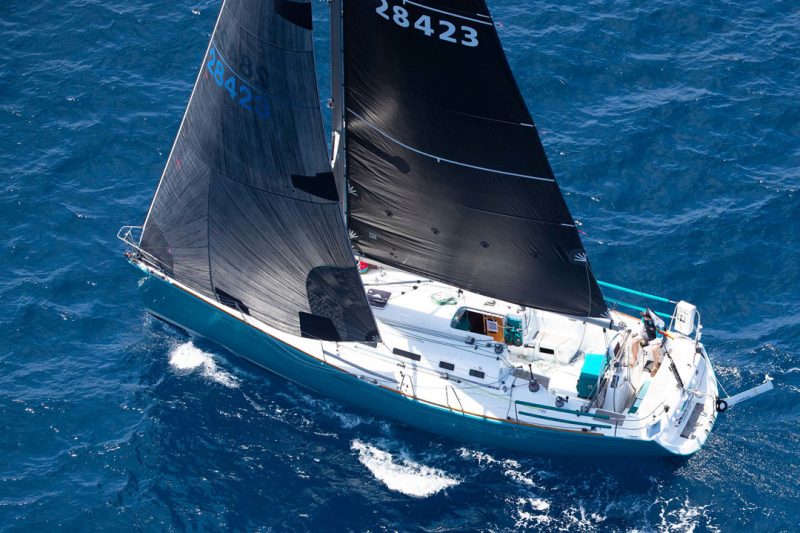 Skipper Stephen Ashley reported in the boat's blog: "On Monday, July 22, around midday, and looking at a midday finish on Tuesday, I heard the words that I have come to hate: 'I have no helm!'" Watch captain Debbie Kraemer and Ashley were just starting to repair the A2 (again). It had come apart the evening before after they had flown it most of the day. "The repair that we did before worked so well that it came apart at a different spot!
"Not suspecting a major failure like a missing rudder, I dove into the aft compartment to check the steering linkage," continues Ashley. "All seemed to be in order." At the wheel, Mike Arrajj could turn the helm and the steering quadrant responded as it should. Peter Shumar grabbed a pair of fins, tied a line to keep him attached to the boat, and went over the side to take a look. There was no rudder! "As Peter described it, he was counting appendages hanging down from the bottom of the boat: 1) keel, 2) sail drive, 3) hmmmm. OK, one more time: 1) keel, 2) sail drive, 3) hmmmm. It was now clear that Onde Amo's rudder was lying at the bottom of the Pacific Ocean in roughly 8,500 feet of water. I tried to get Peter to go look for it, but no luck.
"We deployed the emergency rudder, a rather heavy, clumsy stainless-steel contraption that took me almost an hour of swearing to deploy in the slip for our safety inspection. With several sets of interested hands, we were able to deploy it quicker than I imagined possible on the open ocean. While it was better than no rudder at all (the other option), it is not the easiest to use to control the boat. The blade of the emergency rudder (the part that sticks down in the water and actually steers the boat) is less than half the size of our regular rudder and has a much smaller range of motion. It is controlled by moving a stainless-steel pipe back and forth."
The crew notified the race committee, the Coast Guard and Ashley's fiancée by satphone of their situation. They doused their headsail (the #2 jib) to see if they could sail the boat with just the main up. "It worked for a while, but as the wind built, it became less stable, so we took the main down and sailed for a while with the #2 jib alone. This was manageable, but again, as the wind built, this became a challenge. Finally, we had to drop all our sails and turn on the engine for propulsion. At that point, we had to retire from the race. If you use your engine for propulsion, it is a rule violation. You can use your engine to charge the batteries, but not to push the boat.
"We contacted Boat US to see about a tow to Honolulu. Boat US is the 'AAA of the ocean'. As we were still 150+ nautical miles from Honolulu, it was suggested that we head for Molokai instead, as it was less than 100 nm away. There is a fisherman on Molokai that contracts with Boat US to do towing. Therefore, we headed for the channel between Maui and Molokai making the channel on the morning of Tuesday, July 23. Our plan was to get into Molokai, fuel up so we would have enough to motor all the way to Honolulu if we had to, and then catch up with Dedric Manaba for our tow the last 50 miles or so across the famed Molokai Channel (the channel between Molokai and Oahu).
"As we were motoring along the southern side of Molokai, the wind built to the point where we were seeing gusts of 35+, which made steering the boat a real challenge. Dedric informed us that there were Small Craft Advisories and that we should spend the night in Molokai and leave early the next morning to be towed to Honolulu. Although we were all ready to get into Honolulu, we opted once again for safety and settled into the tiny harbor at Kaunakakai. It was an interesting experience, as the wind was blowing 35 and we only ran aground three times trying to get into the two areas where they wanted us to dock for the night. We ended up getting part of our port quarter up to the end of the dock so we could at least get on and off the boat. We were able to get showers, walk into town for a cold beer and some groceries, and pizza for dinner."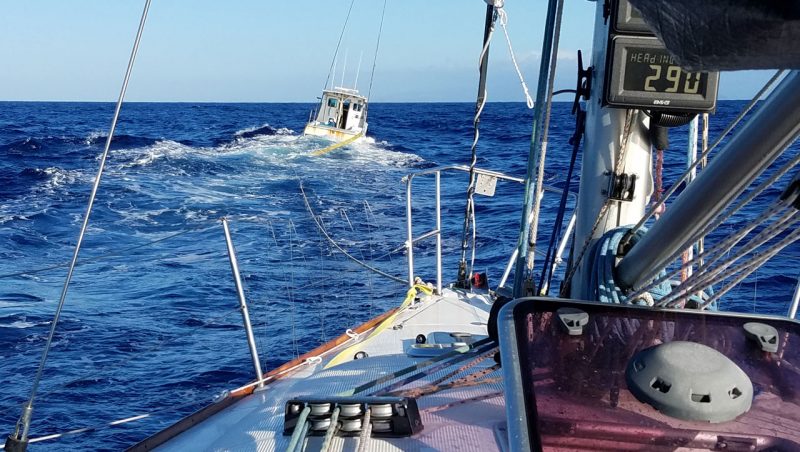 "We started out at 3 the next morning as the winds had laid down and Dedric wanted to get us to Honolulu and return to Molokai in the same day. The ride across the channel under tow behind his fishing boat was relatively uneventful, although the waves in the Molokai Channel did make it interesting to try and stay behind his boat. He was able to get us into Ala Wai Harbor where he turned us loose to meet our welcoming committee.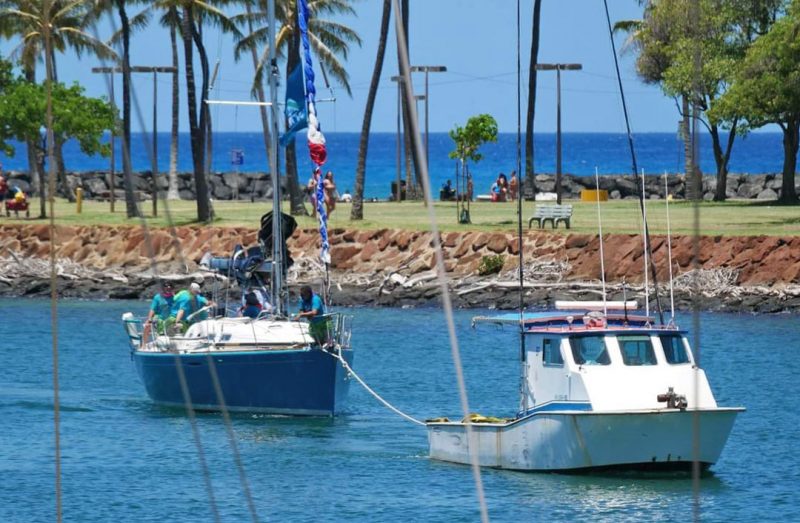 "We were still able to get our 'Transpac welcome' under our own power, and we were also able to get into our slip with the emergency rudder, almost by ourselves. I think we made the crew of Bolt nervous (they were in the slip next to us), so they were more than happy to assist with our landing. We had finally traversed the 2,250 miles of ocean between Long Beach and Honolulu in 14 days, almost to the minute. There is no official record of our time."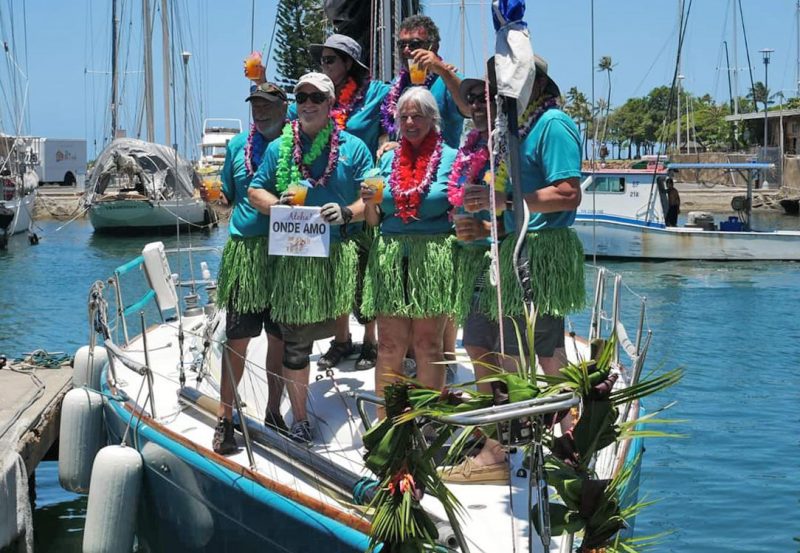 "Onde Amo sits in Ala Wai Harbor waiting for a shipping trailer to be sent over from San Diego so we can ship her home on one of the Pasha ships. As this was not our original plan for getting her home, it will be approximately six weeks before she will once again be a SoCal girl and we can commence the process of fixing all of her booboos, like a missing rudder and a spinnaker still wrapped around the headstay.
"Our team took every challenge that the race threw at us and kept going. Yacht racing has been described as one of the few sports where the playing field is changing under you as you compete. It certainly was for the crew of Onde Amo."
Receive emails when 'Lectronic Latitude is updated.
SUBSCRIBE