An 89-year-old lady recently won New York Yacht Club's Annual Regatta in Newport, RI. The lady in question, the Classic Six Metre Lucie, was skippered by Craig Healy, a dentist from Tiburon. The regatta, held on June 14-16, pitted Lucie against three other Six Metres, a pair of Luders 24s, and a Herreshoff R 40.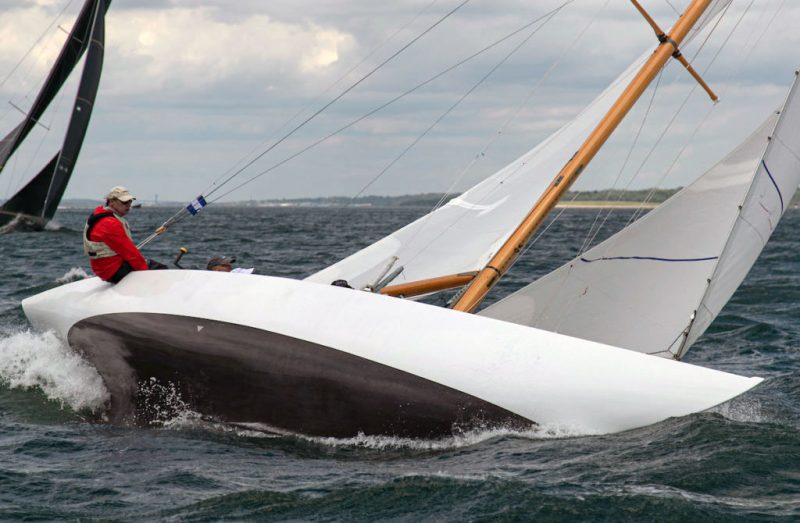 John Burnham, who holds multiple IOD World Championship titles, writes the blogs for Lucie and Dorade. He reported that, in the two days of around-the-buoys racing, the other Six Metres were not a factor due to breakdowns and retirements."Gamecock won a pair of races, but Lucie was second each time, and the resulting 1-1-2-1-2 scoreline was decisive in favor of Lucie."
Lucie and Scoundrel
In mid-July, Craig Healy skippered Matt Brooks' and Pam Levy's Scoundrel, another Six Metre, in NYYC's 175th Anniversary Regatta (they placed second in their division). But Scoundrel and Lucie are not sisterships. Craig explains: "The Six Metre rule is pretty straightforward. You plug in the various parameters of the boat — the length, the waterline, the sail area and so on. It's basically a mathematical formula. If, at the end you get 6.00 meters or less, you have a Six Metre. The boats typically tend to be long and skinny and heavy. Say, 34 feet long, 6 feet wide, minimum beam 2 meters, and they weigh maybe 8,000 pounds.
"As the years have gone by, like anything in yacht design, improvements have been made even though the rule hasn't changed. Advances have been made in yacht design and hydrodynamics. The biggest change in the meter boats was the wing keel. So, think '87 America's Cup: Australia beats United States with the wing-keel boat Australia II. That revolutionized meter boat design. You could invert the keel. In this case the wing keel has a very short root that attaches to the hull. It becomes very thick and longer as you go down. So the center of gravity is very low, and the wetted surface is actually less. To finish it off, wings were added down low extending off the keel. That adds a lot of extra lift.
"Lucie has just a traditional keel. The rudder is attached to the back of the keel. Whereas Scoundrel has a wing keel attachment and a spade rudder in the back. It's very, very efficient, much faster. Even though both are 'Six Metres'."
Six Metre Class Divisions
When they have major championships, the Six Metre Class divides the boats into Classic and Modern (or Open) divisions. 'Modern' boats were built from 1966 to today. "Classics would be before that. Most of the Classics were built in the '30s. There was a big boom in Six Metres after the Depression, as opposed to things like J Class boats. Wealthy people who sailed weren't so wealthy, so there were a lot of Six Metres built then, followed by a period of dormancy." Scoundrel was built in 1989.
The Nevins Boat Yard in the Bronx built Lucie in 1930 for Briggs Cunningham. "It was for his wife Lucie, who the boat is named for. (Briggs Cunningham invented the cunningham, as in the mainsail adjustment.) Matt Brooks and Pam Levy have kept Lucie in pristine condition, having restored it back in 2011. It has a wooden mast, wooden boom, wooden spinnaker pole, and truly Dacron sails — not modern 'dacron' that's not really Dacron. There are not many boats in the class that are kept in that original condition, maybe like five or six."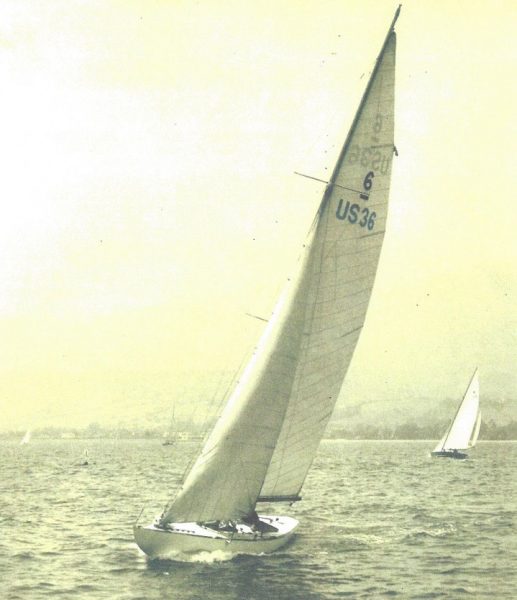 Lucie now lives on a trailer in Bristol, RI. Jens Lange takes care of  her at his boat shop, Baltic Boat Works. "Jens is in charge of the maintenance and any improvements to the boat. He does a great job," said Craig.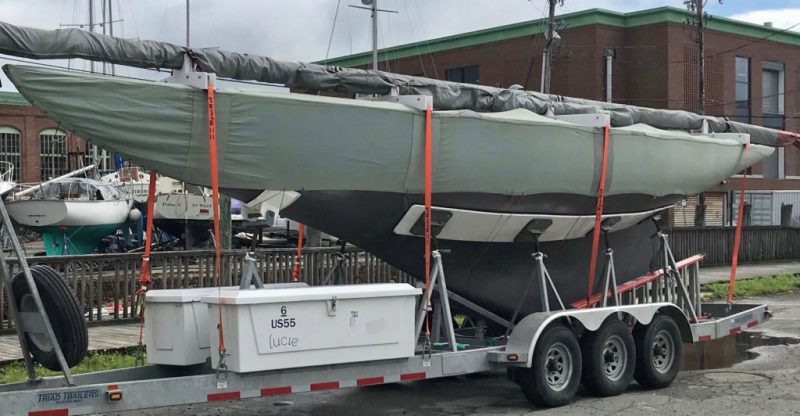 To Finland
Just today, Lucie arrived in Hanko, Finland, for the Six Metre Worlds. "After we raced, Jens took it back to Bristol, just a short tow from Newport, hauled the boat out of the water, and derigged it. The boat is delayed in shipping," reported Craig on Monday. "Our original plan was three days of practice followed by two days of Pre-World Championship Regatta on Saturday and Sunday, followed by the world championships. The best-laid plans have been foiled by shipping snafus. We'll focus on rigging and measurement, with a possibility of sailing on Saturday. The Worlds begin on Monday. We're kind of getting thrown right into the regatta, even though we had all these wonderful plans, super well-prepared."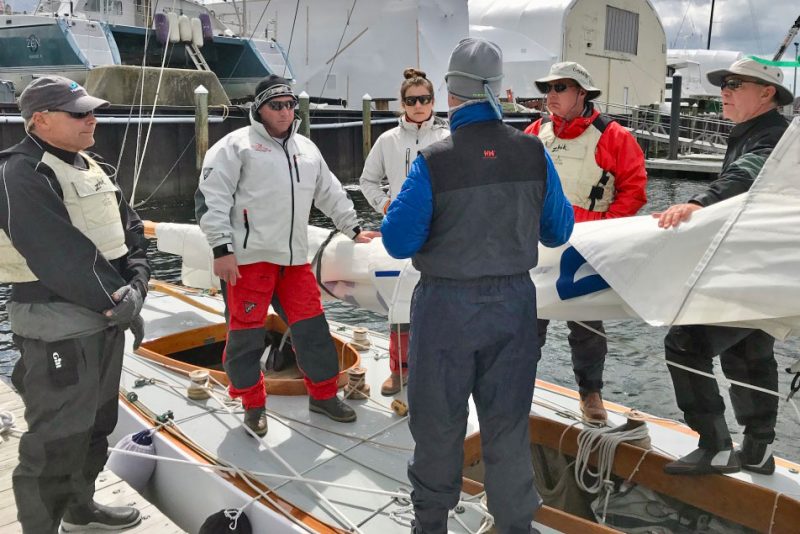 The crew flew out Monday night, arrived Tuesday, and were planning to sail on Wednesday. "Now we'll be fortunate to sail Saturday. We'll make the best of it, that's for sure. We're all resilient people."
Receive emails when 'Lectronic Latitude is updated.
SUBSCRIBE